Operation Bring Your Own Protein (BYOP) is in full swing.
Keeping it clean while traveling is daunting.  Traveling while on a competition diet is downright terrifying.
When I realized I was going to have to fly to client meeting at 3 weeks out from my competition, I immediately panicked started planning.  Eating 7 meals per day is hard enough without throwing airport security, conference rooms, and clients in to the mix.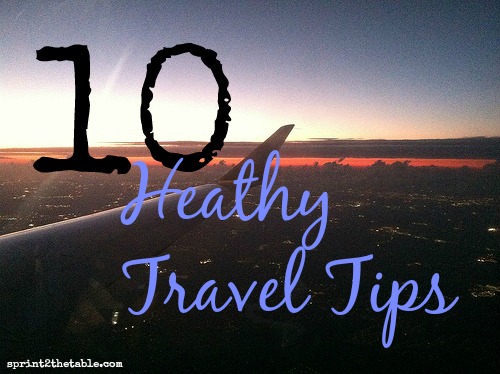 I had to think about what I could transport, how I could keep it at a safe temperature (food poisoning isn't the ideal way to cut pre-contest), and what I could do to avoid disrupting meetings when I needed to eat.
The packing process was simple.
I gathered all of the dry/room temperature foods and packed most of them in my suitcase.
The refrigerated stuff I measured out in advance and divided it into baggies.  This was my effort to avoid the last-minute panicked rush to get out the door.  All I needed to do was pull everything out and put it in a cooler when it came time to leave (the panicked rush still ensued… but food prep wasn't the cause).
The following 8 meals were all eaten on the fly (tee hee).  I thought a meal-by-meal explanation would be easiest to follow, but there are bullets tips at the bottom if you don't feel like reading the whole post (I know it's long).
1. Airport Dinner
My flight was scheduled to depart at dinner time.  For this meal I needed a protein, a carb, and 2 vegetable servings.  Of course, my flight was delayed… which was fine since it enabled me to spread out and eat dinner at the gate.
Chicken
Spinach salad (squirted with lime just before leaving the house)
Zucchini and celery sticks
Butternut squash cubes
2. Plane Snacks
No peanuts for me!  This meal required a protein and a vegetable.  I enjoyed homemade fro-yo.  The night before leaving, I mixed peanut flour, cinnamon, and a little Stevia into a single serving container of Greek yogurt.  Then I wrapped foil around it and stuck it in the freezer.
By the time I was ready for this snack, it had thawed just enough to be a fro-yo treat!  It was also dark on the plane – sorry for the fuzzy pic.
Added bonus: the frozen container helped keep my other items in my bag cool.
3. Dessert
I brought an orange, but spied apples in the hotel lobby and opted for that instead.  I made a peanut butter-chocolate protein "pudding" dip for my apple using protein powder, peanut flour, and water.  Stirred up in a hotel cup (I never use the glass cups – according to an ABC expose those are NOT properly cleaned).
4. Room Service Breakfast
The night before I filled out the breakfast order form and hung it on my door.  (Tip: time the delivery so that it's also acts as wake up call.)  Breakfast consists of fruit, a protein, and a carb.  I request oatmeal prepared with water only (no milk, butter, or salt), fresh fruit, and coffee.  Pretty basic, right?
Then I request some special sides: ice water and tons of lemon (a cleansing way to start the day since I couldn't bring my apple cider vinegar cocktail), and cinnamon.  Sometimes I ask for peanut butter too, but that wasn't on the meal plan this week.
In my oatmeal went ground flax seed and protein powder brought from home, the hotel cinnamon, and blueberries from the fruit plate.  Brown is beautiful.
5. A Bathroom Snack
Meal 2 had to be eaten at an awkward time.  No one else in the meeting was eating, and I needed a protein and a fruit.  I packed my Curried Tuna Salad (sans apple) in a baggie.  It is delicious, but curry and tuna have a strong scent.
One of the benefits of being female is that I can bring my bag to the bathroom without anyone questioning me.  this is exactly what I did.  I camped out in the Ladies with my tuna and a fruit squeeze.  I promise it tasted better than it looks in that baggie.
6. Bringing In Lunch
Predictably, they ordered sandwiches for lunch.  I needed a protein, a carb, and a vegetable.  I can't have "regular" bread or deli meat, so I brought my own carb and protein.  Curried chicken and butternut squash cubes.
I took a gamble that they would have vegetables and I was right.  Carrot sticks and celery, courtesy of the deli.
7. Taxi To-Go
My afternoon snack is a protein and a vegetable.  I had one last serving of chicken – this time is was an herbed flavor.  I saved celery to eat at the end of the trip, as it's the most  travel-friend veggie.  It can take a lot of abuse!
8. Airplane Food Doesn't Have to Suck
Well, it doesn't suck when you bring your own.  I had a packet of low-sodium tuna, peanut flour, a seasoning packet, red pepper flakes (stolen from pizza day at my office), and previously frozen edamame.  In the airport I purchased a salad.  They didn't have a plain one, so I had to throw out the deli meat.  I hate to waste, but what was I going to do with all that salty deli meat?
On the plane I assembled my meal.  From the flight attendant, I requested water to mix my peanut flour and seasoning.  I put the tuna and edamame on the salad, then drizzled my spicy peanut dressing on top.  Delicious and pretty!
The lady next to me was a sleep and didn't even stir at the smell of tuna.  😉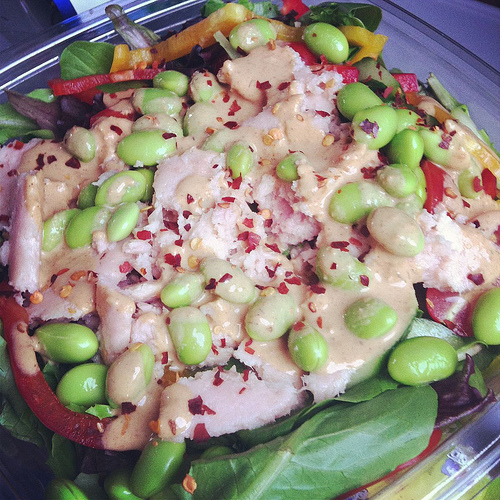 ---
See?  Not that hard, as long s you plan!
Here are the 10 things I keep in mind on every trip.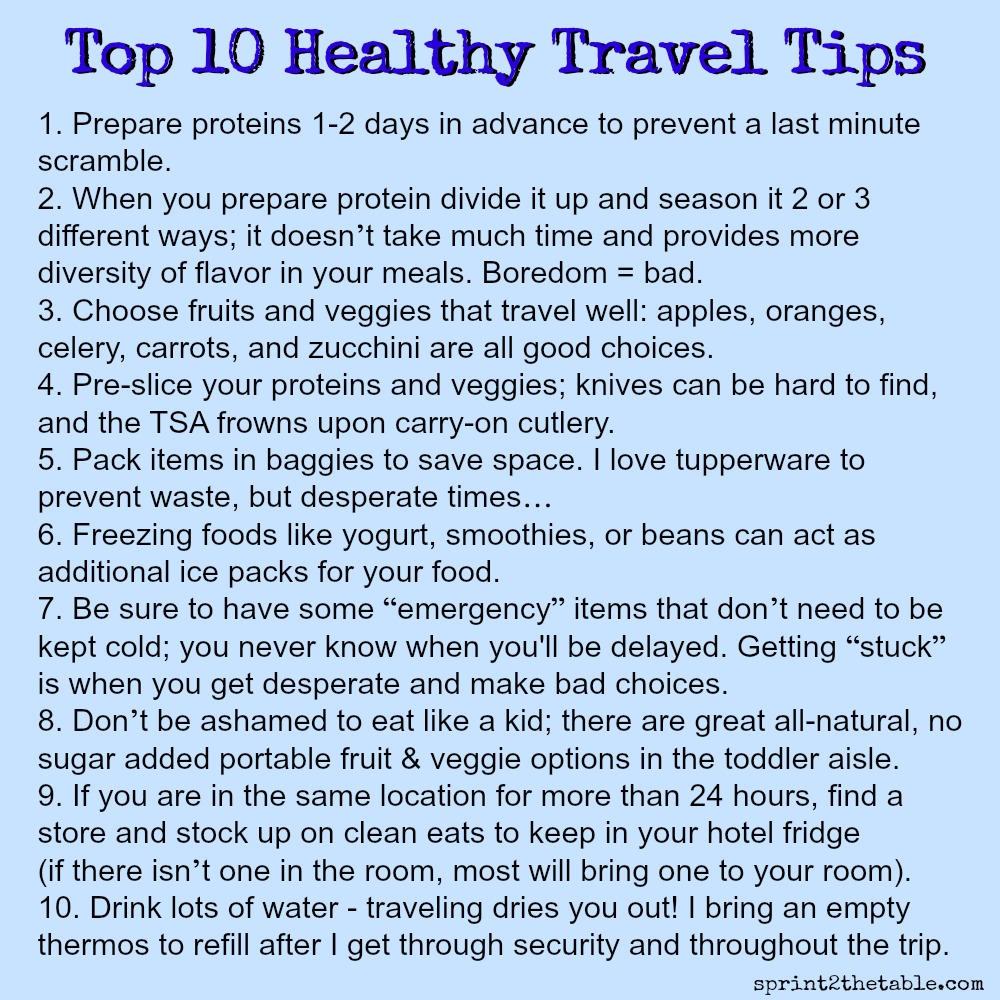 INTERESTED IN LEARNING MORE?
I offer personalized online training and nutrition programs!  Check out my philosophy here and fill out the from for more info.
***
It seems complicated at first; however, this process was really quite simple.  I have done it repeatedly, and use the same tips to pack for long work days and in-town conferences.
Do you have any travel tips to share?
What "kid" food do you buy for yourself?