This Healthy Chocolate Chip Waffle is reminiscent of a Waffle House favorite.  This waffle doesn't sacrifice on flavor, but it's much cleaner than its inspiration.  Make a bunch to freeze for a quick breakfast!

When I first posted this recipe on September 7th of 2014, I'd just hurt my ankle.  This single girls was bopping around Atlanta, trying to walk it out while marveling at the giant knit pinwheels along the Beltline.
How fast things change!  Hell froze over and I got married and moved to California in 2015.  In 2016, I learned that my ankle "sprain" was actually a torn ligament and I finally fixed it with PRP Therapy.  Now, in 2017 I am trying to heal from ACL surgery… before having surgery on the other ACL.  My poor body.  But at least I have Vegas!
One thing that hasn't changed is my love for Waffle House (sadly, there isn't one in California).  Also in tact is my #strangebutgood penchant for putting eggs on basically anything.
Waffle House has long been my "trashy" food guilty pleasure.  It's the greatest.  They will make anything you want, any way you want it.  You can actually get a healthy meal there – egg whites, chicken… whatever.  They'll make it clean and hold the oil/butter/salt if you so desire.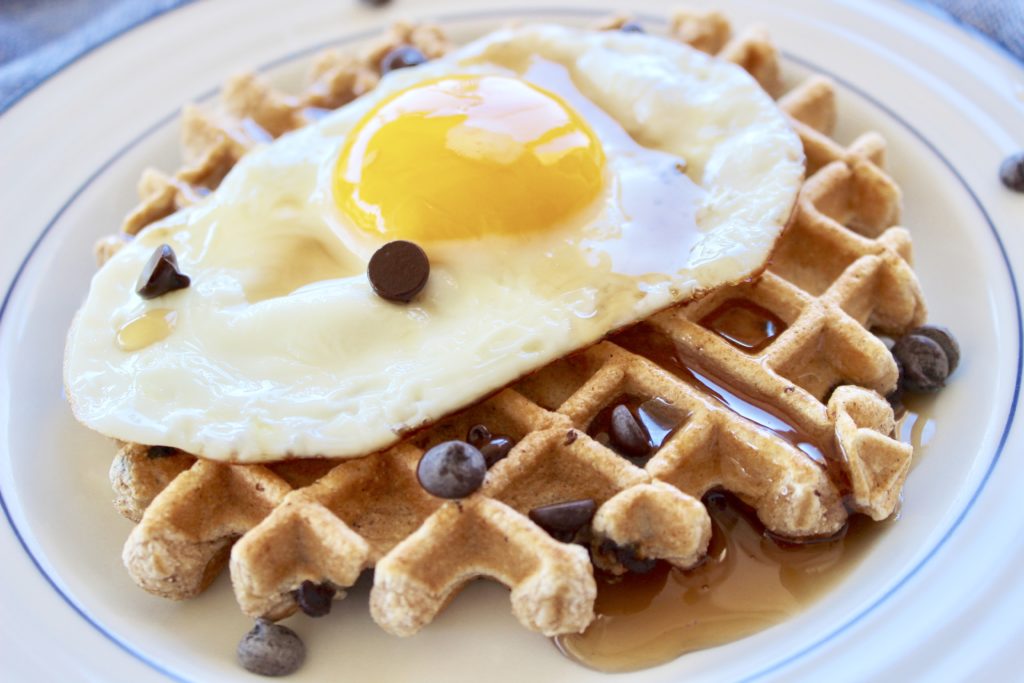 My typical order is not so clean.  After every show and if I've had a few to many to draaaank I order the same thing: a chocolate chip waffle with an egg over easy on top.  The #yolkporn becomes the syrup, filling the crevices of the waffle with deliciousness.
I re-made this recipe last weekend to scratch that WaHo itch.  In my version, I keep it clean(er).  I don't sacrifice on the flavor though!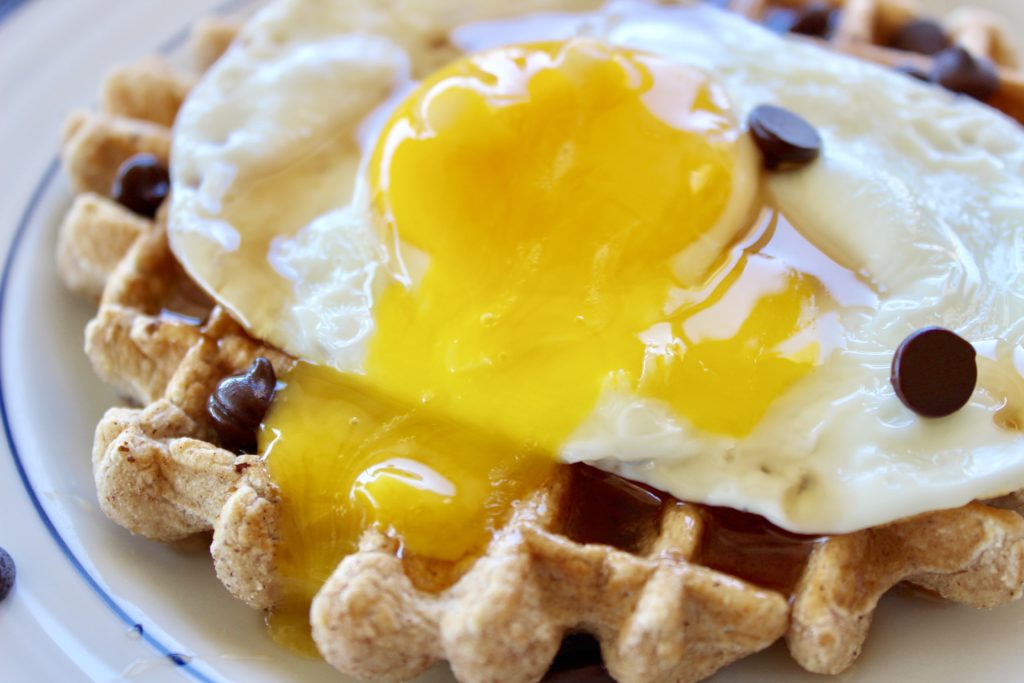 The waffle itself is like a fluffy chocolate chip cookie.  Adding the egg is a silky, slightly-salty compliment to it.  Perfect for this month's Recipe Redux theme: savory breakfasts.  (Click through to the link up at the bottom.)
If you don't do the egg thing, you can eat these with just syrup.*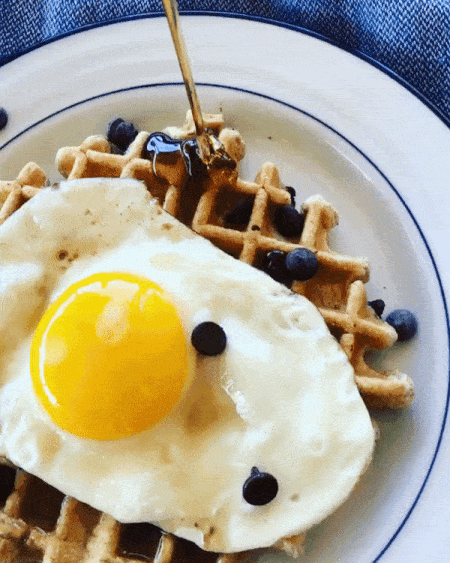 *But trust me.  That egg topping is the jam.
---
Healthy Chocolate Chip Waffle
Prep Time: 5 mins
Cook Time: 5 mins
Keywords: waffle breakfast brunch low-carb low-sodium low-sugar nut-free soy-free sugar-free vegetarian coconut flour chocolate chips egg
Instructions
Pre-heat waffle iron.
In a small bowl, mix the dry ingredients together. Add wet ingredients and stir to combine.
Allow batter to sit for 2-3 mins to thicken before pouring into waffle maker. While cooking, prep your egg to desired level of done-ness.
Plate waffle, top with egg and other toppings as desired.
Note: this can easily be made gluten free by replacing the WW flour with more coconut flour. You'll need to add more milk to account for the high absorbency of coconut flour.
***
I don't know how I lived so long without a waffle maker.  
How do you top your waffles?
What's your favorite "trashy" food pleasure?