I'm on the way to San Diego with Vegas.
Warm, sunny weather is so close I can almost taste it!
Meanwhile, I thought I'd entertain you tropical weather foods.  How about The Caribbean?  Even if you are snowed in on the East coast, you can create a faux taste of paradise at home!  Here are a few ideas.
Stay lean
It's time to put aside any objections to eating goat.  It sounds strange, but it's delicious.  Goat is a lean meat that's is good for your healthy and your heart.  Slow cooked in strong spices to tenderize the meat, goat curry is a delicious Jamaican treat!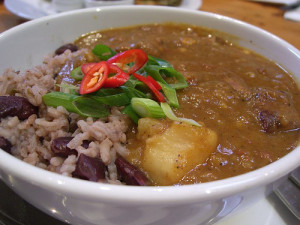 Bean there, done that
Beans are often used in Caribbean cooking as accompaniments to rice or stews.  Kidney beans are a good source of protein, which, according to experts, can help you stay full longer.
Get the barbecue going
Barbecuing is one of the most popular cooking methods in the Caribbean and it's a far healthier option than frying things in oil. To get the most out of your meat, marinate it first.  For a healthy and versatile marinade, combine the juice of a lime with a pinch of grated ginger, mix in a Scotch bonnet chili (did you know there are sweet varieties), and some olive or coconut oil.  Top it all off with a little Caribbean hot sauce.  It's just as good on lean meats or tuna as it is when used with tropical fruits.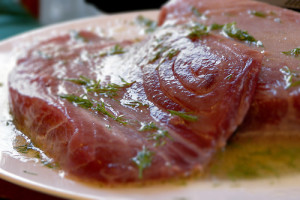 Surrender to the power of the pineapple
The pineapple is synonymous with the Caribbean.  Drizzle with honey and some ground cinnamon before placing it under the grill, and you have a healthy and delicious dessert.  Crème fraiche or rum are optional (but recommended) extras…
Beware the coconut milk
Coconut milk might help to give your Caribbean inspired dish that all important creamy flavor, but it's also pretty high in calories.  Remember that, although full-fat coconut milk is tasty, it is still high in fat.  Use it on moderation or try a low-fat version.  You can even make your own by grating a coconut and blending it with water.  Strain to remove the pulp and add to whatever dish you crave!
Sweet talk
Sweet potatoes are an excellent and versatile option for side dishes.  They work well in sweet or savory forms!  It's almost easy to forget how good for you they are – they're full of vitamins and a source of natural sugars, which can help balance your blood sugar.
For extra inspiration, treat yourself to a trip there and get a taste for the local fare first-hand!
Images by Yandle and Alpha, used under the Creative Commons license.
***
I'm craving come combo of sautéed pineapple and sweet potatoes in coconut milk and rum?  Sounds marvelous…
Don't you love a play on words? 😉
Have you ever been to the Caribbean?