December would be one of my favorite months if it wasn't so coooooold
(Yes, I just whined that).
Last night I attended a Holiday Ball with a good friend.  We had a blast getting all dressed up and dancing to some disco jams.  There were photogs all over, so I'll be posting some of pics when I find them online.
Then we went to The Ritz for a drink. This is a side-show not to be missed.
Parking: $5
Glass of Champagne $12
Fabulous shoes that gave me blisters: $124
Watching 20-something blonde girls hanging all over potential Sugar Daddies: Priceless
Overall, a very successful night.  True to fashion, we ended up at a restaurant at 3am.  This is how I know my habits have changed though – we went to R. Thomas (not Waffle House) and I ordered a raw plate (not some eggy-pancakey-syrupy monstrosity).  It was quite satisfying.
Needless to say, this morning I needed some coffee to get going.  I like to try new things, so the mini bags of coffee at World Market are perfect for me.  This morning I had Pecan Pie – my favorite holiday coffee so far.  Best enjoyed oatmeal and a healthy scoop of Trader Joe's Crunchy Valencia Peanut Butter.  It has the perfect amount of sweet, salty crunchiness (if you're into that sort of thing).
 _________________________________________________________________________________________
Since I'm in the festive holiday baking mood, I thought it would be appropriate to share some tips for making your goodies a little less fatty more healthy.
'Tis the season to fight off the "fat" pants! 🙂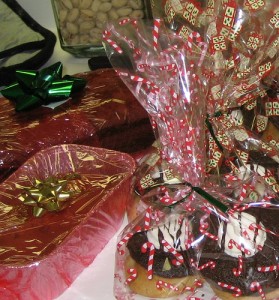 Healthy Baking 101
Sub whole-wheat flour for half of the white flour called for
Cut out some of the sugar in super-sweet dishes (reducing by just 1 T will save you 48 calories!)
Replace an egg with 2 egg whites or 1/4 cup of an egg substitute
Reduce butter by replacing 1/2 with something else to compliment the flavor of your goodies (try: applesauce, pumpkin puree, non-fat yogurt, mashed bananas, low-fat buttermilk)
Go topless (hang on to your shirts if you're near a window please!) with your cakes – icing can add 130 calories, so try just dusting cakes with powdered sugar and/or cocoa or keep it simple by frosting only the top)
Use the low-fat version of cream cheese, sour cream, milk, yogurt, etc.
Sneak in the sweet without the sugar using Stevia powder or drops (you can also get flavored drops for an extra punch)
Get on the powder with cocoa-based goodies instead of chocolate chips !  Quick math lesson: 6 T of cocoa +1 T canola oil + 1 T fat-free sour-cream = 2 squares of unsweetened baking chocolate (saving you 85 calories and 14 g of fat)
Cooking spray work just as well as butter for your non-stick needs
Replace whipping cream with evaporated skim milk
Keep in mind when using replacements:
Applesauce is an acidic ingredient, so you may want to add a little (start with (1/8 tsp) baking soda to smooth the flavors
When using applesauce to replace fat, try whole-wheat pastry flour instead of all-purpose.  It is more tender and, without the fat, less protein = better
Watch the flavor – healthier recipes are often bland because fat is a flavor carrier.  Add 1-2 tsp of canola oil to help it out, or consider incorporating lemon/orange/lime-zest
To keep it light and fluffy:  Mix dry and liquid ingredients in separate bowls, adding liquids to dry, and don't mix too much
Don't over-bake.  This may seem obvious, but desserts are more susceptible to becoming dry and crumbly with less fat

.
***
Happy Baking!
Do you have a favorite healthy baking secret?
What is your favorite holiday treat?