These healthy Applesauce Muffins are perfect for busy mornings.  Their cream cheese frosting makes you feel like you're eating cake for breakfast!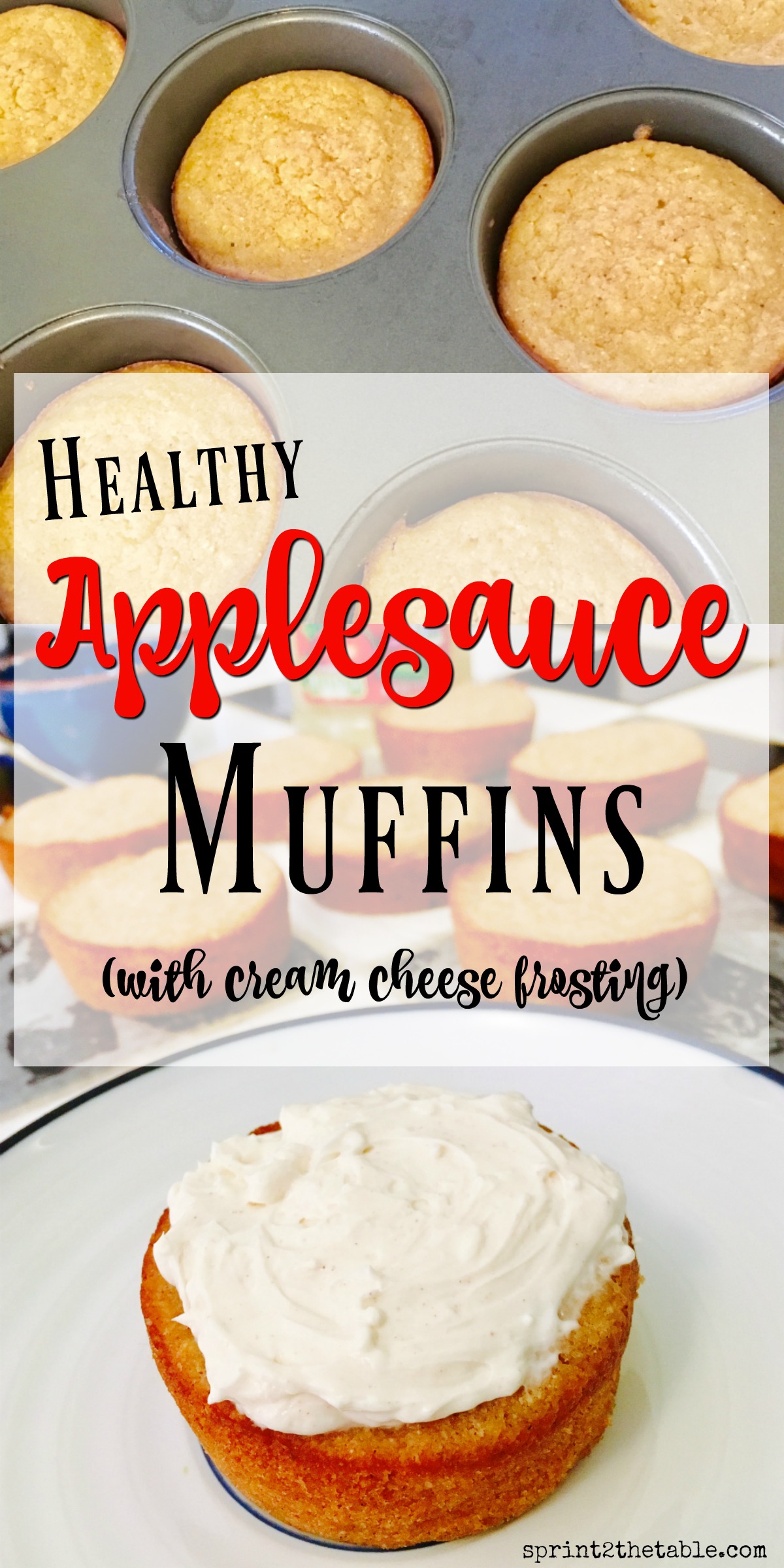 Healthy Applesauce Muffins with Cream Cheese Frosting
I know I've hit the jackpot when Vegas approves of a "healthy" dish.  She ate her muffin, no questions asked, and then said "I'm glad you made real muffins.  Healthy food tastes like cardboard."  Riiiiiight…
It's not hard to hide when it smells like apple pie coming out of the oven.  Little does she know that these muffins are sugar-free and contain whole wheat flour.  #sorryimnotsorry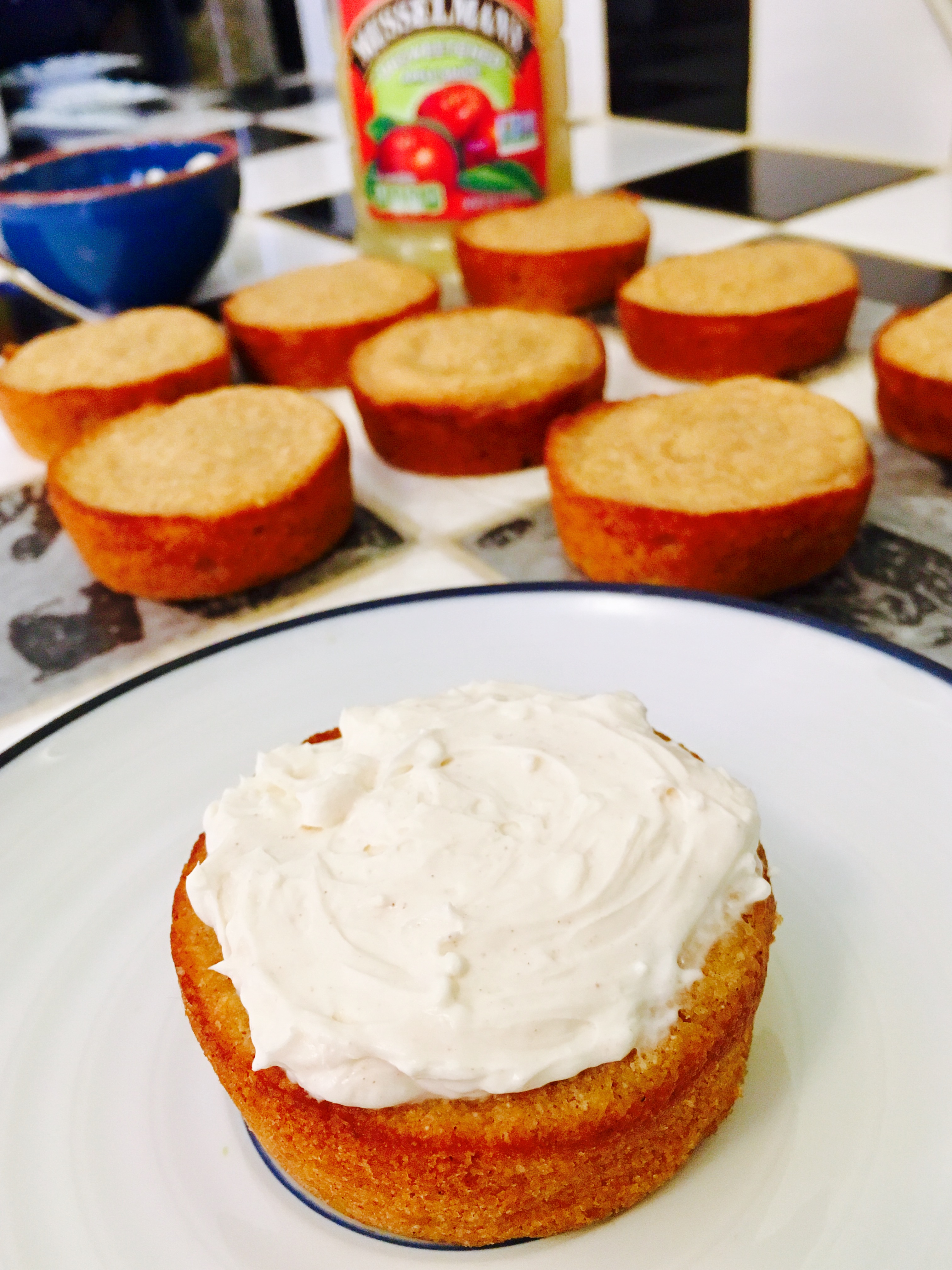 To sweeten these lovelies, I used Musselman's unsweetened applesauce.  I've been focusing more on ensuring the foods we eat are as natural as possible, so it was the perfect fit.  Their products are non-GMO* and contain no high fructose corn syrup.  The applesauces that do have sugar added are sweetened only with with cane sugar for a better taste.
Musselman's apple sauce is available in family-size jars, single-serve cups, and convenient squeeze pouches.  We've been enjoying the full array of snacks here.  That cinnamon applesauce makes for an awesome pre-workout!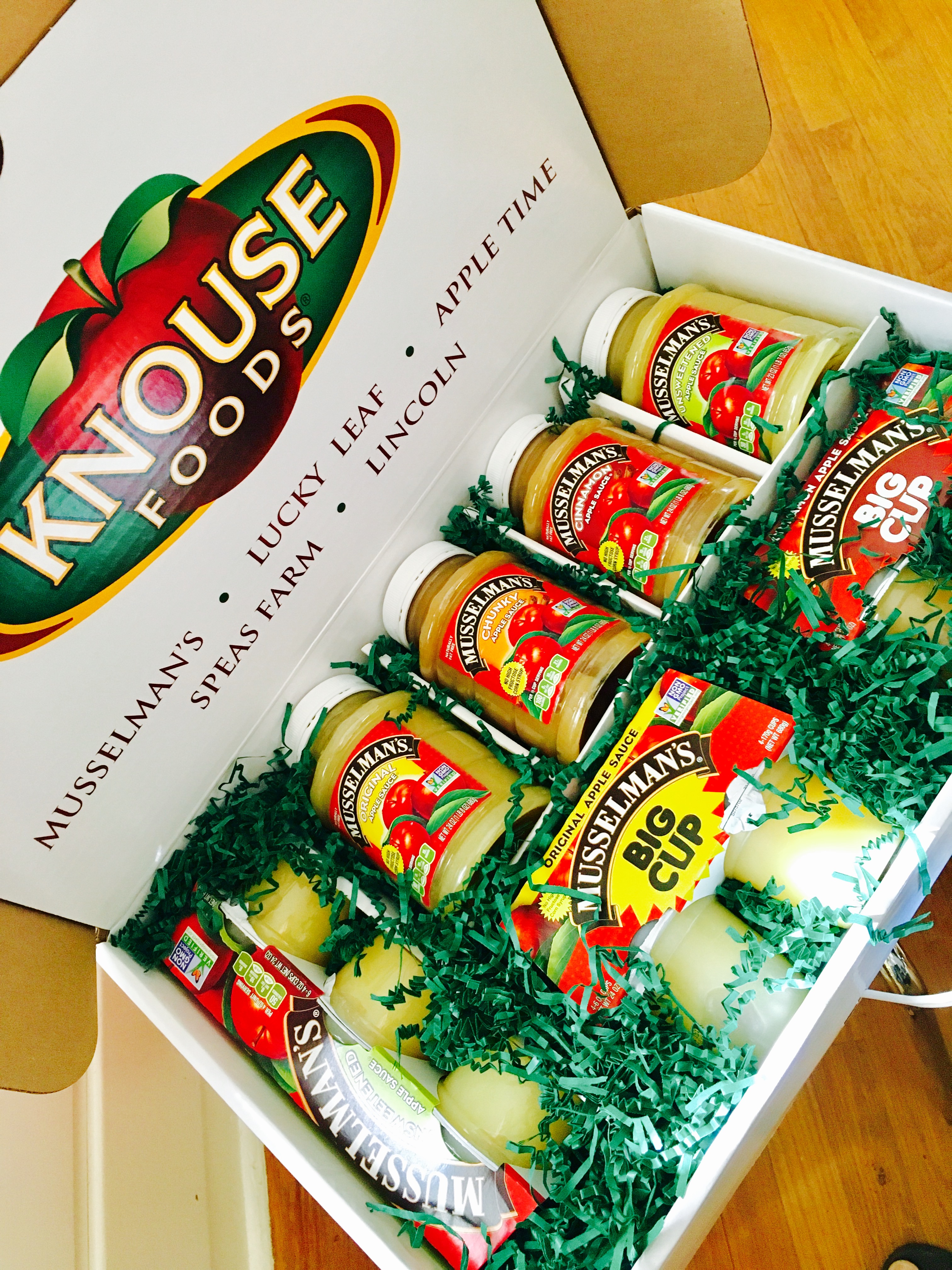 Back to my muffins though.  Not only are these applesauce muffins healthier, but they are also fantastically moist.  Dry muffins make me angry, so this is a requirement for any recipe I make.
This icing on this cake muffin is a cream cheese-based creation I whipped up as an afterthought.  Who doesn't want frosting for breakfast?  It's optional, but you're going to want it.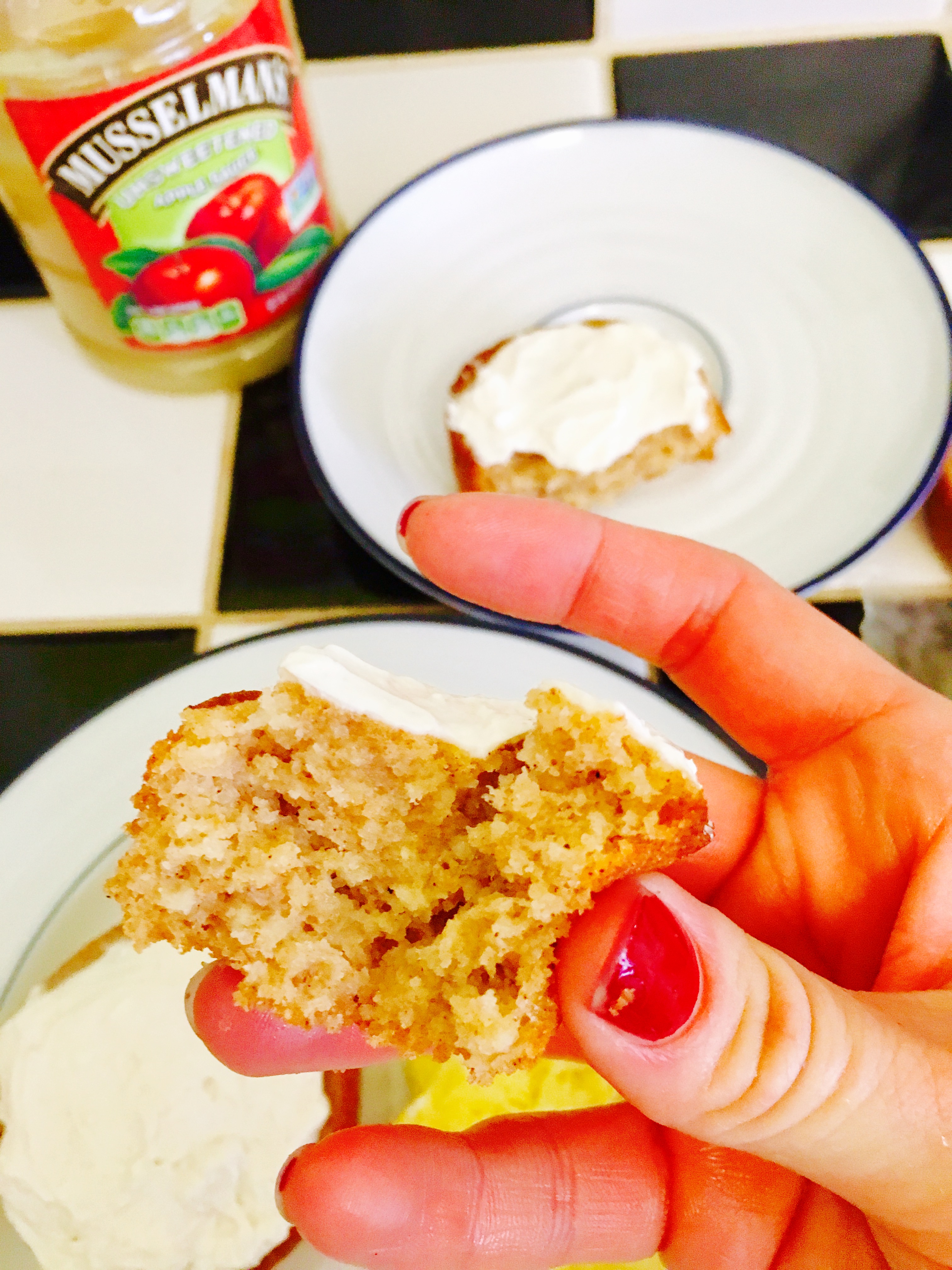 The other fabulous thing about these muffins is that they freeze well, making them perfect for a last-minute breakfast or afternoon snack!
Check out Musselman's full line of non-GMO, naturally sweetened products here.  You can also follow them on Facebook for more recipe inspiration.  Even better, they've also offered this coupon to help you get started!
*Disclaimers: This post was sponsored by Musselman's.  While Musselman's uses GMO-free cane sugar in all of their apple sauce, the Honey-Cinnamon flavor contains honey, which cannot be verified GMO-free.



---
Healthy Applesauce Muffins
9MUFFINS
adjust servings
These healthy Applesauce Muffins are perfect for busy mornings. Their cream cheese frosting makes you feel like you're eating cake for breakfast!
Ingredients
1

C all-purpose flour

1

C whole wheat flour

1/2

cup Xylitol (or your preferred sweetener)

2

tsp baking powder

1

tsp ground cinnamon

1/2

tsp ground nutmeg

Pinch of ground cloves

Pinch of salt

1

C unsweetened applesauce

1

egg

1/2

C butter, melted

1

tsp vanilla
For the Frosting
4

oz low-fat cream cheese, softened

2

oz 0% Greek yogurt

1/4

tsp cinnamon

3-4

drops vanilla liquid stevia
Instructions
Preheat oven to 375. In a large mixing bowl, whisk together dry ingredients. In a separate bowl, add wet ingredients and whisk until combined.
Add wet ingredients to the dry and stir until just combined. Evenly scoop mixture into a greased or lined muffin pan, filling about 2/3 of the way full.
Bake for 20 minutes, or until a toothpick comes out clean.
Meanwhile, mix together frosting ingredients in a small bowl until smooth.
Allow muffins to cool before frosting.
***
I'm already plotting my next sneaky baking move…
What kind of muffins have you been baking lately?
Have you ever baked with applesauce?