Cooking is hard on one foot.
Rather, motivating to cook is hard.
I'm feeling a bit better now – limping much faster – but it was a struggle earlier in the week.   Sunday morning it took me 3 hours to convince myself to get up to make breakfast.  If you know me at all, you know that if I delay a meal, the struggle is real.  When I finally dragged my ass off the couch, I knew I had to make it worth the effort.  That's just what I did with the strange sweet 'n spicy combo.
Hatch chiles are only in season for a few weeks.  They're grown in one region, the Hatch Valley, along the Rio Grande in New Mexico.  The terroir gives them an deliciously strange smoky, earthy flavor.  I'm in love.
Craving some sweetness for breakfast, I loaded up my last Julian Bakery coconut wrap with cherries too.  I sautéed the hatch chiles and cherries with a bit of turkey (totally optional), and I added a schmear of Roots sriracha-mango hummus.  (I had to mix in more sriracha… some like it hot!)
It's not breakfast without #yolkporn.  If you've never bitten into a wrap or sandwich that's stuffed with a runny egg… well, you just haven't lived.  The joy in insurmountable.
I'm not exaggerating.
That's a wrap.
_____________________________________________________________________________________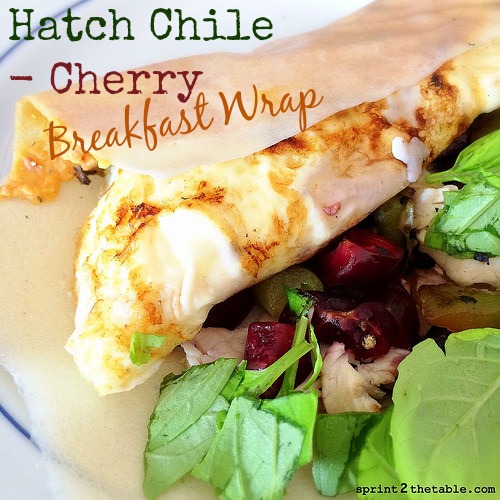 Hatch Chile-Cherry Breakfast Wrap
1/2 C cherries, pitted and sliced
1 Hatch chile, sliced
1 oz turkey (optional)
2 T hummus
1 wrap
1 whole egg
In a small pan, sauté cherries, chile, and turkey (if using).  Meanwhile, shcmear a wrap (or toast) with hummus.  When cherries and chiles are softened, transfer to the wrap.
In the same pan, cook an egg to your desired level of doneness.  Place egg on top of wrap, roll up, and enjoy!  
Note: I added basil for garnish.
_____________________________________________________________________________________
How have you enjoyed making co-workers, friends, or family stare with strange but good creations this week? The link up rules can be found here or by clicking on "Strange But Good" in the menu bar above. In short, I want to see what concoctions have earned you weird looks from co-workers, family and friends! Post your Strange But Good creations, grab the logo below for your blog, and link up here.
Remember to use #strangebutgood in any Tweets and Instagrams of your creations. 🙂



***
I know you'll ask… yes, I really like the wraps.  But yes, the are extremely expensive.  I buy them and hoard the pack for a couple months.
Have you tried a hatch chile?
How do you like your eggs?