Wishing all of you a…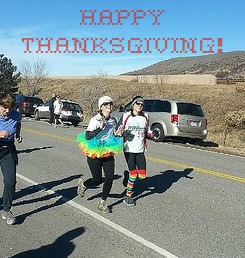 My Friendsgiving crew (Heather and Kirk) already completed a 5K Turkey Trot (NOT as easy at 10,000 ft.) and we're on to breakfast before my very first Vegan Turkey Day Feast!
***
Today I am especially thankful for friends that stick by and support through thick and thin, crazy training plans, meals of epic proportions, and everything in between.
Quick – name one thing you're thankful for!