Halloween is one of my favorite holidays.
It's the only holiday not masquerading as a religious or national holiday.
There's something in the air this time of year.  It's exciting – they weather is nice, people are energetic (it's a massive relief from the Southern summer heat and humidity)… and who doesn't like to pretend to be someone else?
The "yard art" along the Beltline is even dressed up for Halloween!
The family dog, Honey, is also festive.  My little sister brought her by my office for a visit yesterday.  My socks matched her candy corn handkerchief.
Can you believe she's 13?!  Cutest Corgi-Golden "puppy" ever.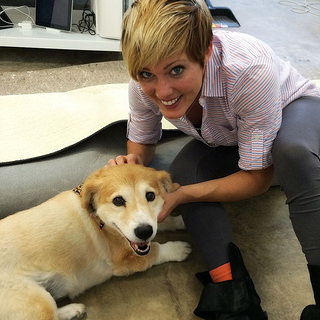 ---
This WIAW was a little lame until dinner. I haven't been on my food game lately.  Next week!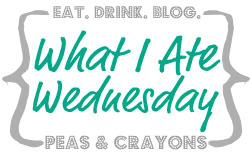 Read on for my eats, and then check out Jenn's blog for everyone else's delicious creations!
---
Breakfast:
After my morning cocktail, I mixed up my morning sludge to eat with a PB&J-topped Baked Banana Protein Muffin (these are such a life-saver to keep in the freezer).
Mid-Morning Snack:
After an appropriately-late morning workout, I had may favorite Chocolate-Beet Protein Smoothie topped with muesli.
Lunch:
Baked haddock from Sizzlefish ($10 off this month with code OCTBONUS) topped with hot salsa and with the only bit of veggies I didn't burn when I forgot them in the oven.  I like 'em toasty, but this was a little extreme.
Mid-Afternoon Snack(s):
Desperation move.  We got busy.  Airplane leftovers, ftw…
Dinner:
This dinner was another Garnish & Gather recipe!  I am loving having these local ingredients all packaged up for a quick meal.  Even the tortillas were made in Atlanta!
Tonight was flounder tacos with kale & cabbage slaw in a dressing of mayo, Greek yogurt, garlic, and honey.  Side of chipotle quinoa.  Open faced… because I have an over-stuffing problem.
Dessert:
For dessert, I had an old favorite: chocolate cake.  150 cals, plus the peanut flour* sauce and Cool Whip.  Can't beat it.
*I order my peanut flour from iHerb.  Use discount code USO924 for $5-10 off your order!  
Here are a few other ways to use crack peanut flour.
***
I'm so excited for Friday… I'm going to see the Rocky Horror Picture show in an appropriately-themed costume.
What are you dressing up as for Halloween?
What is your favorite taco filling?