Halloween is the perfect day for roasting pumpkin.
Before I get into that tastiness, I need to talk a little football.  In addition to being Halloween weekend, it was a HUGE football weekend.  Georgia Tech's Homecoming game was against the undefeated Clemson Tigers.  Tech won pretty 31-17, making me one happy girl Saturday night. 🙂
 _________________________________________________________________________________
Every fall people go crazy over the return of canned pumpkin to grocery store shelves.  While the canned stuff is good (and convenient), it doesn't hold a candle to homemade pumpkin puree.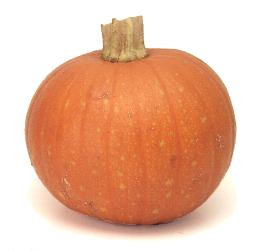 Don't use your jack-o-laterns for this.  
Recycling is good, but those are different pumpkins.  What you want to use is the smaller Sugar Pie Pumpkin, which has a sweeter, softer flesh.  They can be found at most grocery stores.
Yes, it is slightly more time-consuming than opening a can.  The end result is well worth it.  There is just something about the flavor and the texture that is much, much better.  It will take your pumpkin pies and breads to a new level of delicious.
You'll notice a huge difference when using it for non-baking purposes too.  I love mixing it in my Greek yogurt, smoothies, and pasta dishes.
Yesterday I even mixed my pumpkin puree with coconut milk and cayenne and used it as a marinade for my  tempeh before pan-frying it.  Lunch doesn't get more fall than that!
The puree can be portioned and frozen for later use (if you don't eat it all at once).  Pumpkin muffins year-round!
The puree is decadent.  Fresh pumpkin contains more moisture than canned, making the texture absolutely fabulous.  You won't be able to resist sprinkling some cinnamon and nutmeg on it for a mid-morning snack.
Don't forget to save the seeds for roasting!
________________________________________________________________________________
It wasn't a bad fitness week.  Thank you all for your well-wishes regarding my injury.  I did make the call not to run my portion of the relay.  It was a tough decision, but I just literally couldn't run more even a mile Saturday morning.   Now I'm concentrating on healing up and being able to run the Half Marathon on Thanksgiving.  I can't believe its less than a month away!
Workout Recap (10/24-10/30)
Monday – 4 mile run, 6 min plank sequence, 100 push-ups
Tuesday – Biceps/Back, P90X Ab Ripper X, 100 push-ups
Wednesday – 100 push-ups

Thursday – 6 mile run, 100 push-ups
Friday – Triceps/Chest, Ab Ripper X
Saturday – Shoulders/Butt, 45 mins elliptical, 100 push-ups
Sunday – 15 mins abs, 45 mins stationary bike, 100 push-ups
________________________________________________________________________________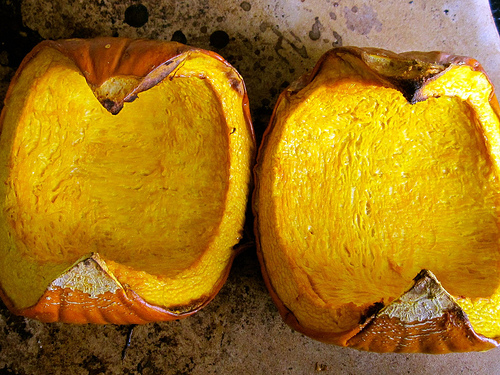 Roasted Pumpkin
1 sugar pie pumpkin
olive oil
salt
Preheat oven to 400 degrees.
Cut the pumpkin in half.  Scoop out the "guts" (save the seeds to roast later), and then slice each half once to create a total of 4 pieces.  Rub the wedges with olive oil and sprinkle with salt.  Place on a foil-lined baking sheet to bake for about an hour (or until tender).
Scoop the meat out of the skins and puree in food processor.
***
Best costume of the weekend: Charlie Sheen with Goddesses.
What was the best costume you saw this weekend (or at work today)?
What food items commonly purchased pre-made do you like to make yourself?