Hiking is habit-forming.
Ever since the awesome hike in Boulder at the Blend Retreat, I cannot get enough!
This weekend I took off for North GA to a place called Tallulah Gorge with Heather, Kirk, Lindsay, and Nancy.
The gorge is a 2 mile long, 1000 ft deep canyon about 90 miles north of Atlanta.   They even have a suspension bridge and  a sliding rock!
After the crazy hike to the bottom (think lots of sliding down rocks on my butt), we were wishing we'd thought to bring swimsuits so we could use the rock waterslide!
Next time it's on.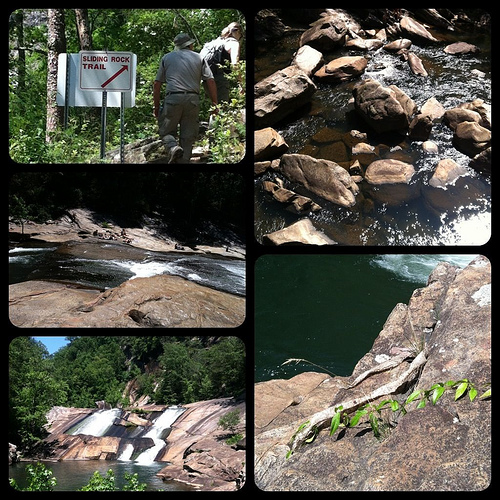 See the bottom right pic in the collage above?  That's a snake skin.  Snakes are the only downside to hiking…
One 4 mile round trip and about a million stairs later, we were STARVING.  Like good bloggers, we already had a lunch spot picked out.  By we I mean Heather.  Anytime she picks a place you know it's going to be good.  Grapes & Beans (not to be confused with frank and beans) in Clayton, GA was no exception.
Small town cafes can be surprisingly good!  They had a gorgeous patio where we ate while listening to jazz music.  As an appetizer we shared a delicious curry hummus (hummus + curry = win).  For my entree I had a portobello pita sandwich with mixed greens, tomatoes, carrots, and herb-garlic tofu dressing.
Yes, the dressing was as good as it sounds.
---
Wednesday I leave for Argentina.  Exercise there will consist of mostly sight-seeing/walking/jogging.  I love my weight though, so these next few days I'm going to squeeze in some good strength training workouts.
This past week I had a decent week of workouts on top of the hike, so I treated myself to a rest day Saturday.  I'm beginning to appreciate their value, and so is my body.
Workout Recap (5/28- 6/3):
Monday – 4 mile run/walk, Back, 100 push-ups
Tuesday – Personal trainer (full body), 5 mile run/walk with Carol
Wednesday – Bis/Back with plyo, 3 mile walk, 100 push-ups
Thursday – Shoulders with plyo, 3 mile run/walk 100 push-ups
Friday – 3 mile run, Ab Ripper X, 100 push-ups
Saturday – REST
Sunday –  4 mile hike, 100 push-ups
***
Having worked 60+ hours in the past week, I'm so ready for vaca that it almost hurts.
Are you afraid of snakes?
Do you take rest days regularly?  Have you found them beneficial?  I need encouragement.