I'm learning to accept help.
At least when it comes to my gut.
After learning the results of my Alcat food intolerance test, I was determined to do whatever it took to fix it.  With Megan's help, I immediately eliminated the foods I'd developed intolerances to.
Then I accepted help from a couple of friends that know a LOT about digestive health: Lindsay and Brittany.  They suggested a few supplements to further help my intolerant tummy.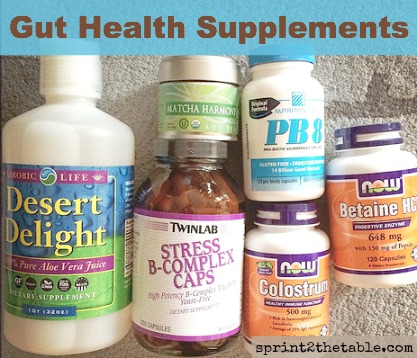 For a little more education, check out Lindsay's post here.  After doing some of my own research, I decided to take the following.
My Gut Health Supplements
Aloe Vera Juice – Aloe is a detoxifier and an anti-inflammatory; it soothes the digestive tract and decreases the amount of unfriendly bacteria in your gut which keeps intestinal flora in balance
Stress B-Complex – The B's help to regulate adrenals, helping the body deal with stress (which has a huge impact on digestion)
Matcha – Aside from the fact that I like the taste, matcha is a detoxifier and helps with relaxation
Betaine HCL – Good for the producing the acid needed for breaking down foods and optimizing use of nutrients
Probiotics – Regulates the healthy bacteria in the gut (and the lady parts)

Colostrum

 – Antibodies from cows (vegans, cover you ears).… it's touted as a "super food."  It protects the gut, helps the body to maintain proper metabolic levels, may have anti-aging benefits and increase muscle mass and muscle growth, and has been reported to have mental health and sleep-quality benefits.  Further reading said it even shortens recovery time from strenuous exercise.  If it works… whoa.
I ordered all of these from iHerb (where I also get my peanut four).  Use discount code USO924 for $5-10 off your order!
---
This WIAW is week 2 with my food intolerances eliminated from my diet.  I know I've slipped up a couple of times (I'm only human… a sad realization), but I'm militantly avoided everything in the most severe category.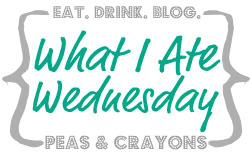 Read on for my eats, and then check out Jenn's blog for everyone else's delicious creations!
---
Breakfast:
My morning cocktail had the aloe vera juice added it.  There's no way I could take it straight – that stuff is foul!
I've been on a chia pudding kick lately.  This morning I enjoyed my Pear Chia Pudding.  It tasted better than it looks, I swear.
Lunch:
We went to lunch as a team today at work.  I successfully ordered an olive oil-free meal at an Italian restaurant!  (Olive oil is one of my severe intolerances.)  Cobb salad with chicken and bacon.  Yes, I ordered this 100% for the bacon.
Afternoon Snack:
Sriracha-Grapefruit Salmon over greens and peppadews.  I love peppadews.  No idea why I don't buy them more often!
Having missed my mid-morning snack, I needed a mini-snack after work before I hit the gym.  Just a bit of carbs and protein – I don't want to be stuffed, but getting hangry half way through a workout is miserable.
Purple sweet potato with Growing Naturals chocolate rice protein sauce (powder + almond milk) and pepitas.
Dinner:
I went a bit #strangebutgood with my brinner scramble.  It was eggs and more salmon with mushrooms.  Served over a bed of greens with my Easy Oat Flatbread and a drizzle of fig-balsamic.  Fo' shizzle.
Dessert:
Without exaggeration, this might be the best thing I've put in my mouth.  That's what she said.
I've been terrible about eliminating cow's milk (per my food intolerances).  I decided to try out goat's milk yogurt to replace my Greek yogurt addiction this week.  It is amazing – the creamy, rich quality makes it perfect for dessert!  I mixed it with Growing Naturals Chocolate Rice Protein, cocoa powder, cinnamon, and a bit of vanilla.  Topped with rice whipped cream, hemp seeds, and chocolate syrup.  My topper was 1/2  broiled Cookies n' Cream Quest bar (best flavor ever).  I'm actually amazed I paused long enough for a pic.
***
I'm convinced it's not a placebo effect… since eliminating my intolerance, I really do feel better!
Do you take any supplements for gut health?
Are you good about accepting help?  I'm still working on this in other areas!