Are you a Foodie?
Watch Shit Foodies Say for help deciding:
If I'm guilty of saying nearly everything in that video… am I a Foodie?
Just please tell me I'm not intolerable… 🙂
____________________________________________________________________________
Speaking of foodies… we had an Atlanta Blogger Potluck on Saturday night.
It was awesome to get to try the food from the people whose posts make my stomach growl.
In attendance: Emily (former blogger), Tina, Stacy, Carol, Traci, Laura (another former blogger), Alayna, and me.
Lee was the photog… and was also nice enough to offer up her house to us, which was fantastic because we could all sit around a coffee table and talk.  It's hard to have a group conversation in noisy restaurants at long tables!
The food was delicious, as you might imagine.
At our table:
Sweet Potato Tot Casserole from Stacy (Mama Pea recipe!)
Greek salad from Tina
Japanese Sweet Potato Casserole from Alanya (which is going to be in her cookbook!)
Broccoli Salad from Carol
Spinach Balls from Laura
Spinach and Artichoke Dip from Lee
Olive tapenade on toasts from Traci *I think*
Brie and apples on water crackers from Emily *I think*
Nutella Sandwich Cookies from Laura *I think*
Carrot cake from Alanya
My plate didn't have an inch of room to spare…
And you better believe I cleaned my dessert plate too!
We sat around talking and eating for 4 hours!  Topic ranged from running to general gossip to horror stories.  Seriously – do NOT ever see the Human Centipede.
As you might imagine, it was all amazing and I left Lee's house smiling and stuffed.
____________________________________________________________________________
Now that the gluttony portion of this post is complete… it's time for the workout recap.
The Dr. said to take 2 weeks off of running and focus on correcting the balance or strength between my hamstrings and quads, so I've been good.  Today's 70 degree Southern California-esque weather made me miss running a lot, but I did get out for a good walk.  And a treat.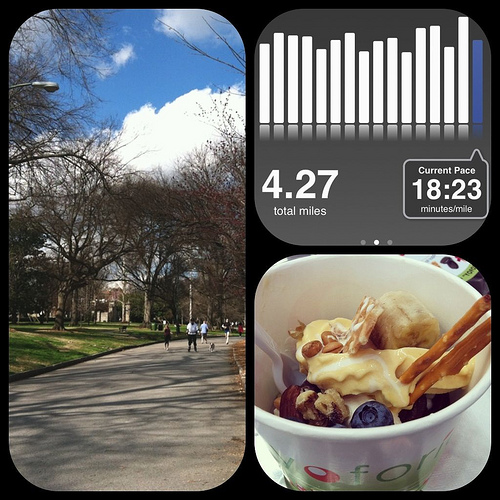 Workout Recap (1/30 – 2/5)
Monday -Back/Bis, 1 mile run, 100 push-ups
Tuesday – P90X Plyometrics, 100 push-ups
Wednesday – Rest

Thursday –  Elliptical (intervals), This Body Rock Wk 2 Day 3 (which left me SORE), 100 push-ups 

Friday – P90X Bis/Back, Ab Ripper X, This "pinned" workout, 100 push-ups

Saturday – Elliptical (intervals), This Body Rock Wk 2 Day 4, 100 push-ups
Sunday – 4 mile walk, This Body Rock Wk 2 Day 5, 100 push-ups
***
Three exciting things to cover:
I actually wrote a weekend post in honor of the #ChocolateLove Bloghop.  Check out my Chocolate Peanut Butter Pretzel Cookies here and link up your favorite chocolate recipe.
Stay tuned for an AWESOME giveaway tomorrow!!!
What did you think of the Super Bowl?  (By Super Bowl I mean Madonna's rockin' performance.)
If you could have a dream-blogger potluck, who are a couple of bloggers you would invite?