Wayyyy back in February my jaw was freshly broken and I was sad.
I couldn't run, lift, skate… CHEW.  Every time I moved my mouth, I could feel bones moving.  It was creepy.
Looking back at my posts, I'm kind of proud of myself.  On February 8th, I posted my goal race schedule.  I wanted to do the Tough Mudder (4 weeks post-break!) and 3 5Ks by April 16th.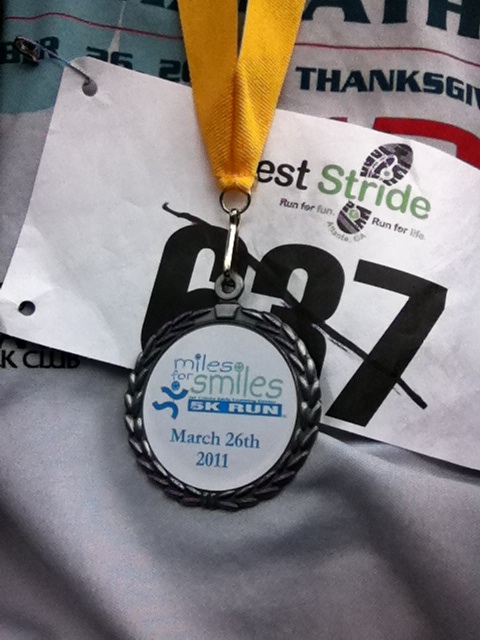 I tore up that 14.1 mile Tough Mudder March 12, then placed 2nd in my age group and set a PR 2 weeks later in the Miles for Smiles 5K.
Then I ran the Sweetwater 420 5K on April 16th… after walking 4 miles to the start line.
The next week I placed 2nd in my age group again and set another PR in the Beat the Street for Little Feet 5K!  24:13 was the official time. 🙂
I can't believe that less than 4 months after the break, I have run the hardest race of my life (Tough Mudder) and shaved 3-4 mins off of my 5K time.  How cool is that?!
Say what you will, but simply writing down goals has power.  Even if you forget you did it until 4 months later.
I just realized I don't have another 5K planned… maybe Memorial Day weekend?  Anyone know of a good one?  My May schedule has filled up FAST.
---
After making that Mexican Oatmeal yesterday in honor of Cinco de Mayo, I decided every meal should involve spice.
And tequila.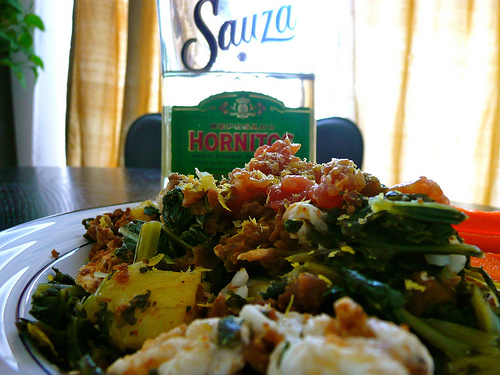 Kidding!!!
Lunch really was that scramble though.
A Me-Egg-ican Scramble:
Mexican Smartground (leftover from WIAW)
Egg whites
Shallots
Jalapenos
Kale
Pineapple
Salsa
Cumin, salt, and pepper
The pineapple was actually good in it!  Think pineapple salsa.
---
Post-run snack was a protein shake.
Served in a pint glass and in the lovely shade of green.  Like a margarita.
Topped with a crumbled Citrus-Spiked Granola Bar. (It freezes beautifully, btw.)
Guacamole Shake
1 scoop vanilla protein powder
1/4 frozen avocado
1/2 frozen banana
1/2 frozen kale
1/2 C unsweetened vanilla almond milk
1 tsp vanilla
1 tsp cinnamon
1/4 tsp chili powder
Squeeze of fresh lime
water + ice, to taste
Put  it in a blender, blend until smooth, and enjoy the thick, creamy deliciousness.
---
Then there was dinner.  Grilled cheese night at Souper Jenny!
Jenny usually only opens for lunch and serves up soups, salads, and a couple of cold sandwiches.  Her menu changes daily, so everything is fresh and creative.
Thursday nights she stays open late and features 2 grilled cheese selections.  Tonight was a Cinco de Mayo special: Ham, Avocado and Mango with Monterey Jack on a Jalapeño Cheddar bun.
Grilled panini-style, this was a crispy, gooey Cinco de Mayo win.
So was the fro-yo I chased it with. 🙂
***
Happy Friday!!!
Do you write down your goals?
If so, do you notice a difference in achievement when you physically write them?