Challenges are necessary for growth.
Even though sometimes it hurts. 
Katy's 28 Day Blogger Challenge isn't too painful.  The painful part is find time to make blog improvements.  Since reading her post, I've begun making some improvements.

Progress thus far:
Going through old posts to make edits and fix any broken links/pics  
Editing my Google Reader folders for better organization
Increased focus on growing my

Facebook page

Visiting/commenting on new blogs
And the big one: I bit the bullet and created a media kit!  Katy was kind enough to review it for me and then posted it on her Best Blogger Media Kits page!
Does anyone else find these tasks daunting?!
---
Now on to the most important business: food!  A lot of my WIAW meals this week were eaten in the office.  With a little planning and prep on Sunday, I can grab meals to go spending much time in the morning (which is good because I am ALWAYS late).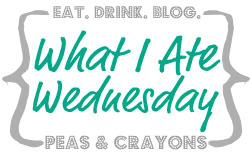 Check out my 7 prepared meals below, and then click here to head over to Jenn @ Peas and Crayons to get to see how others dined this week!
---
Meal 1:
Of course, I enjoyed my morning cocktail (apple cider vinegar, water, Glutamine, and Fitmixer Aminos).
Then I took a 30 min incline walk on the treadmill, I devoured a favorite treat – overnight oats in a jar!  But this wasn't just any jar… it was a tahini tin!  Strange But Good.
Tahini-Banana Overnight Oats
1/3 C oatmeal
1/2 banana, masked
1 tsp chia seeds
1 scoop vanilla protein powder
2/3 C unsweetened almond milk
1/2 tsp cinnamon
End of a tahini jar (~2 tsp)
Stevia, to taste
Pinch of xanthan gum (to thicken)
Meal 2:
Salmon and fruit has become a typical meal for me.  Today I ate it with grapes and raw pepitas (pumpkin seeds).  My salmon was pepped on Sunday night, baked in the oven with curry and lime juice
Meal 3:
Lunch was one that made people in the breakroom stare.  I guess swordfish isn't a popular lunch from home?
On Sunday I'd baked my swordfish with mediterranean seasonings and garlic.  I quickly chopped up some broccoli and red peppers and mixed it with nutritional yeast and apple cider vinegar.  Topped that off with edamame and red pepper flakes just before serving.  I keep red pepper flakes in my desk.
The sweet potato was "dessert."  I coated it in cinnamon.  Cinnamon is also kept in my desk drawer.
Meal 4:
Nearly every week I buy a "naked" rotisserie chicken from Whole Foods.  I de-bone it as soon as I get home, which makes it a really easy meal option throughout the week.  I mixed a portion with my Brown Beer Hummus, purple watercress, and celery.
Cheers to sneaky beers at work!
Meal 5:
Something about a cold night makes me want meatballs.  Id' baked a bunch for my Oscar party, so I took a couple of the leftover balls and made an open-faced sandwich with an Ezekial english muffin.
I served my meatball sandwich with a side of parsnip fries and a purple watercress and cucumber salad.  The salad dressing was awesome – I mixed nutritional yeast with balsamic vinegar, rosemary, and a splash of apple cider vinegar.

Meal 6:
You know what's awesome? Eggs and bacon with red pepper, mushrooms, and a little cheddar.  I mixed in smoked paprika, freshly gound pepper, and herbs de provence.
Confession: This was going to be an omelette… but I'm not so good at making those.  It tasted just as delicious scrambled. 😉
Meal 7:
I'm going through a Greek yogurt and cereal addiction.  This bowl was like a creamy, deconstructed PB&J.  What's not to love?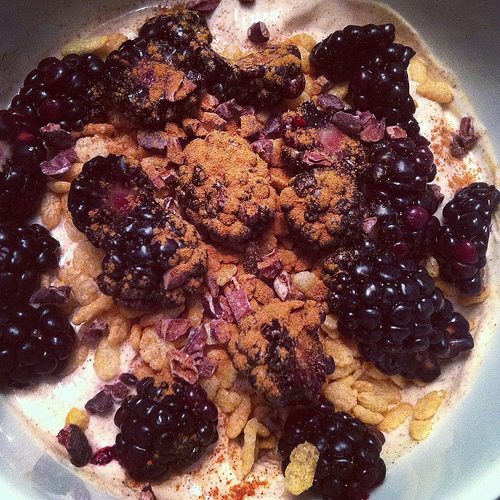 Deconstructed PB&J Yogurt Bowl
3/4 C Greek yogurt

2 T peanut flour
1/2 tsp cinnamon
1/2 tsp vanilla extract
Stevia, to taste
Brown rice crispies
Blackberries
Cacao nibs
***
The protein count for the day: 159.4g.  I hope it goes to my ass…
What challenges have you powered through lately?
Is there anything that would enhance your experience on my blog of social media stuff?  I love feedback!