What happens at Blend doesn't stay at Blend.
Well, maybe SOME things do… shhhh…
What I love the most about Blend is the staying-power of the relationships we form and/or solidify in just 3 short days.  I've read many of the attendees' blogs before, but meeting these women in person makes the connection that much stronger.  Life long Blend-ships!  Maybe Corny Cotter is rubbing off on me?!
Same goes for the brands we're introduced to.  For example.  I love Silk Pure Almond, but meeting the reps and learning more about the company and type of people they employ make me want to support them that much more.  It's just one more reason I was so excited to get to represent Growing Naturals again this year.  I'm so passionate about this company, their products, and the people that work there… it makes me want to share it with everyone!
A couple of these ladies I was able to share Growing Naturals with last year and they still use it today!  Lindsay even made a vegan batch of her famous balls Healthy Bites with it!  I ate them all a few.
We all learned ho to share in Kindergarten, so our living room table in the hotel looked like a healthy living blogger swap meet.  In addition to protein balls, we had Nutrix Hawaii from Heather, homemade granola from Megan, and my GN protein.  Our room was hang out-central!
Growing Naturals makes both a rice and pea protein powder.  Both are super-clean, gluten-free, soy-free, an allergen-friendly.  They allowed me to share both with the Blends.  I'm really curious to see which ones they like the best – or if there's a clear winner!  Sarena, Sarah, and I have had an on-going debate since last year's Blend.  I like them all, but the chocolate rice is my jam.  I eat it in my (almost daily) Mocha Beet Protein Shake.  I can stop any time… really…
Maybe Alex and Brittany will weigh in?  Brittany has been a fan of the rice protein since last year's Blend – I'm excited to see how she thinks the pea compares.
I was especially happy to have my Growing Naturals stash after the incredible workouts we did over the course of the weekend.  As a group, we bonded over runs, boot camp-style workouts, and hikes.  I made sure to support my muscle growth with the 24g of protein in a serving of Growing Naturals!  Getting that fuel to my body within 30 minutes of a workout has been a big factor in my muscle development.
Heather and I went head-to-head in a planking challenge.  I lasted somewhere around 6 minutes, but Heather kicked my booty making it almost 7 minutes!  She will hereby be known as Super Broccoli.
Heather #2 and I went for a couple of bonus-round workouts.  After the first group run I hit the gym with her to do a shoulder and ab workout.  I slightly modified her workout to fit my goals; it was a lot of fun to change it up!  The next day after the epic-planking, we hit the gym once again for a speed-lifting session before the group hike.
Bikini Heather is 6 weeks out from her second competition.  I was impressed and inspired by Heather's will-power and dedication to her goals throughout the trip!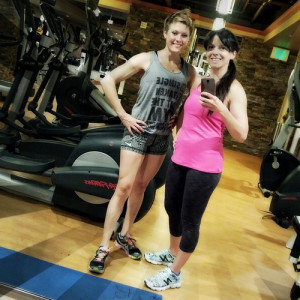 As I write this post, I'm on a plane back to Atlanta.  It's hard to believe that the weekend is already over!  It feels like summer camp – we hugged, promised to stay in touch, and swore to return next year.
What I have learned to be true is that we WILL stay in touch.  Many of us will meet up before next year's retreat.  All of us will continue to stalk each other on Instagram and via blogs.  We will hold close this marvelous weekend where strangers became friends.
If you couldn't make it this year, please, please consider joining the crew for next year's retreat May 15-17th in Boulder, CO!
Don't forget – if you'd like to try Growing Naturals for yourself,  sign up to be a "Growing Groupie" and enter discount code sprint2thetable at checkout for a free bottle of Simply Soapberry (their natural laundry detergent) and a free 1 lb container of protein powder. Offer expires 09/06/2014.
***
This weekend we decided we could't ever think online dating is weird since we online friend-dated each other before Blend.  LOL!
What product or recipe would you share with your Blends?
If you came to Blend, link up your recap posts here!  If you didn't come to Blend… will you come in 2015???