I know most of you guys are freezing (sorry).
Finally moving to SoCal is REALLY paying off.
It's been pretty warm here – 60s during the day.  It feels hotter in the sun.  Especially after the gym.  This means a lot of salads for us.  I've started marinating chicken in the morning while I make breakfast so it's ready to grill by lunchtime.  10 minutes later, we have a fresh Grilled Mediterranean Chicken Salad for lunch!
Vegas' favorite cuisine is Italian, so I made this marinade with her in mind.  Actually, she requested pizza… but whatever.  Oregano, garlic, and olive oil makes everything taste like Southern Europe, IMHO.
I always add a little lemon juice to marinades to brighten it up, but you could use a vinegar too.  I went light on the red pepper flakes.  Vegas doesn't dig spicy food.  I, on the other hand, am not happy unless my mouth isn on fire.  I compromised by adding more flakes to mine once it was plated.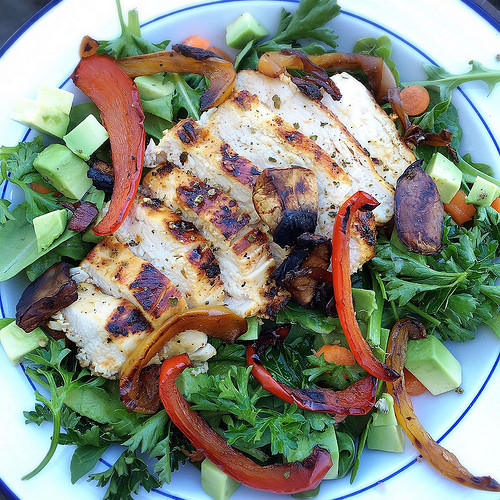 Get creative with your salad toppings!  Using grilled veggies is a great way to "warm up" a salad.  I grilled my peppers and onions the night before with our dinner and just reheated them quickly as a grilled the chicken for lunch.
---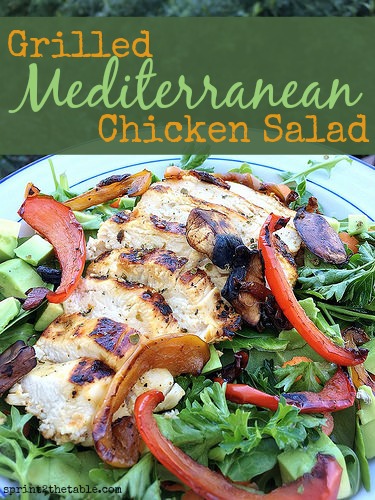 Grilled  Mediterranean Chicken Salad
For Chicken:
1 T olive oil
Juice of large freshly squeezed lemon
1 T dried oregano
2 cloves garlic, crushed
½ tsp red chili flakes (adjust to spice preference)
½ tsp ground pepper
4 chicken breasts (~1.5 lbs)
For Salad:
½ red bell pepper, sliced
½ yellow bell pepper, sliced
½ red onion, thinly sliced
Lettuce
1 avocados, sliced
Parsley and/or basil, to garnish
Combine marinade ingredients in large bowl or baggie.  Pound chicken* and add to bowl.  Squish around the chicken to fully coat.  Cover and marinate in the fridge for at least 30 mins.
Heat grill pan or skillet over medium-high heat.  Spray with cooking spray (I use coconut oil) and grill chicken fillets on each side until golden and just cooked through.  Once chicken is cooked, set aside and allow to rest.
Wipe pan clean with paper towel.  Lightly coat the pan with cooking spray; grill pepper strips and onion until cooked to your preference.
Slice chicken and prepare salad.  Drizzle with olive oil and lemon juice and serve.
Makes 4 servings.
*Note: Pounding you chicken before cooking is optional.  I prefer it pounded lightly to make it extra tender.
***
I love to get fancy, but some days a simple salad is marvelous.
Did you get a ton of snow this weekend?
What is your favorite salad topping?