Eating clean takes effort.
Many of us use spring as an opportunity to clean up our diets.  The crisp, seasonal produce and the warmer air lends itself to lightening up our dishes.  Adieu, winter squashes.
However, the feeling in the air alone doesn't make it easier to eat cleaner.  Eating better does take some forethought.
As part of the Food Buzz Tastemakers program, I was selected to take the Green Giant Veg Pledge.  This is a two-week pledge to eat one more cup of vegetables per day.  I am especially excited to have the extra motivation to step away from the Peeps and towards the rabbit food.
Who else is up for the challenge?
To help us get started, here are some ways I like to add additional veggies to my diet:
Add a handful of spinach to smoothies/shakes – it will turn your beverage green, but you'll never taste a difference.  Check out this green spinach smoothie: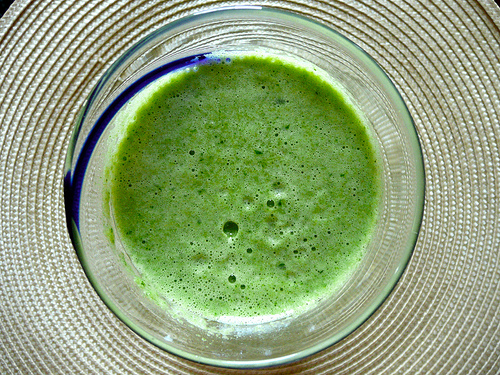 Before dinner each night, begin with a side salad – this can get your greens in and help you to fill up on the good stuff before filling up on heavier fare
Use greens in place of carbs, like I did with these collard tacos
Keep pre-cut veggies in your fridge for a quick grab-and-go snack
Shop the perimeters of the grocery store – if you don't meander down the cookie aisle, those treats won't end up in your pantry at home and you'll be "forced" to choose a healthier (veggie) snack option
Turn salads into meals by "eating the rainbow" – add colorful veggies like beets, carrots, broccoli, cauliflower, cabbage, sugar peas, raw yellow squash/zucchini, etc. (Check out these lunch salad ideas!) 
Add a veggie or two to your usual meals: saute spinach and mushrooms to go with scrambled eggs, toss some kale into soups, serve grains in a roasted red pepper or tomato, use parsnips as rice or beans for burgers. 
***
I do love my greens. Nevermind the gas.  🙂
Will you take the Green Giant 2 Week Veg Pledge with me?
How do you incorporate more veggies into your diet?