By Friday of last week I had to force myself out the door for a workout.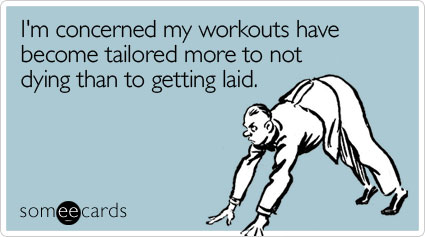 I say forced because I am determined to do cardio everyday and I just wasn't feeling it.  Not being able to run is dragging me down… 30 mins on the elliptical (or any machine) is not my idea of fun.  My ADD and I need scenery!  I tried to push it this week with running… every time the pain becomes excruciating at 0.8 miles.
Anyway, Friday I stayed on the elliptical by promising myself that if I was really miserable I could stop after 10 min… then 20 mins.  This works really well for me – by the time I get to those marks, I tell myself "10 more mins isn't going to KILL you."
30 looooong minutes later, I did 45 mins of Back/Biceps.  I coaxed myself through some heavier weights with thoughts of breakfast. #fatkid
Specifically the Greek Protein Mess waiting in my fridge.  I wish I'd heated it so I could call it a hot mess.
Have you guys seen the Wallaby Greek Yogurt?  I found it a Whole Paycheck Foods last week and fell in love.  This is the creamiest, most flavorful Greek I've tried (that's what she said)!  17g of protein and just 4 g of sugar, its my dream yogurt.
With the last of the container I was hoarding, I made a post-workout protein-filled mess.  Mess because it was a total hodge podge… and I had the shakes (sure sign of a good gym session) so bad that I spilled the protein powder and the cinnamon and then sloshed the chocolate milk out of my bowl.
This is one mess I plan to make  again!  Recipe following the recap.
__________________________________________________________________________________
So… yeah.  My knee.  I'm frustrated.  It better not ruin my plans to run the Nashville Rock 'N Roll Half in April!  I've been really good about getting cardio in with the elliptical and the stationary bike.  The Mile-a-Day Challenge has been just the motivation I need.
I've also been loving Body Rock.  The hotel I stayed in last week had a terrible gym, but Body Rock saved the day.  The 30 Day Challenge is no joke!  Especially the Sean's part of the Day 3 workout.  Holy quad burn, Batman.
Workout Recap (1/16 – 1/22)
Monday – 100 push-ups
Tuesday – Body Rock Day 2, 1 mile run, Shoulders, 100 push-ups
Wednesday – This Body Rock, 1 mile run, Ab Ripper X

Thursday – Body Rock Day 3, Stationary bike (intervals)

Friday – Bis/Back, Elliptical (intervals)

Saturday – Body Rock Day 4, 1 mile run, 20 spiderman push-ups
Sunday – 1/2 mile run (knee gave up), Tris/Chest, Ab work*, 100 push-ups
*Sunday's ab work was basic but good – if you ever need a quickie just try doing 100 reps of your favorite ab exercises.  I did 100 sit-ups on the exercise ball, 100 bicycle abs, and 100 baby crunches.  Then I did Hayley's 6 minute plank rotation.
___________________________________________________________________________________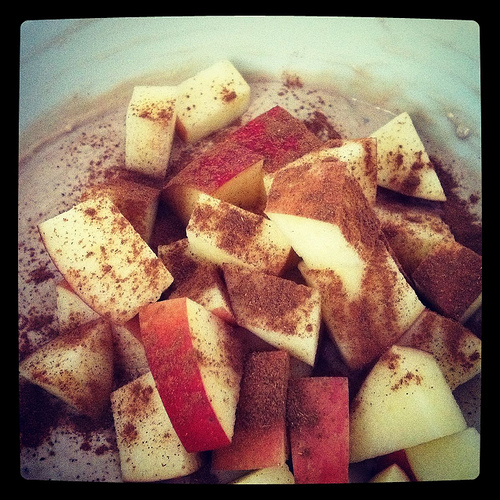 Greek Protein Mess
1/2 C plain Greek Yogurt
1/2 C unsweetened almond milk
1 T chia seeds
1 scoop vanilla protein powder
2 tsp peanut flour
1 tsp maca 
1/2 tsp cinnamon
1/4 tsp allspice
5-6 drops NuNaturals Liquid Coca Stevia
Apple
Mix everything (except the apple) in a bowl and place in the fridge for at least 1 hour.  Remove and stir, adding more milk if necessary.
Top with diced apple, or other fruit of choice.
Refuel yourself!
***
This weekend I completed a fun art project (and I'm NOT artsy like my aunt).  Can't wait to share with you tomorrow!!!
Do you like doing cardio on machines?  How do you get through it?
Some of you said last week you were doing/wanted to do  Body Rock.  How do you like it so far?