I'm addicted to the powder.
Not that powder.  Where are your minds?!  Shame!
Protein powder, bro.  I have high standards:
NOT grainy or chalky
Not full of sugar or loaded with a billion carbs
Must actually taste like the flavor on the label
Ingredient lists need to be recognizable and short
Must contain at least 20g of protein
I have tried them all.  Today, I am SO excited that my #1 favorite protein powder of all time, Growing Naturals, has agreed to join in the Blogiversary week celebration.  They meet my high standards and then some… they are even soy-free and vegan!
The chocolate rice powder really does impart a chocolate taste.  It's perfect in my Mocha Beet Frapp.  The vanilla was just the right amount of flavor to make my Plantain Ginger Bread taste like a warm treat.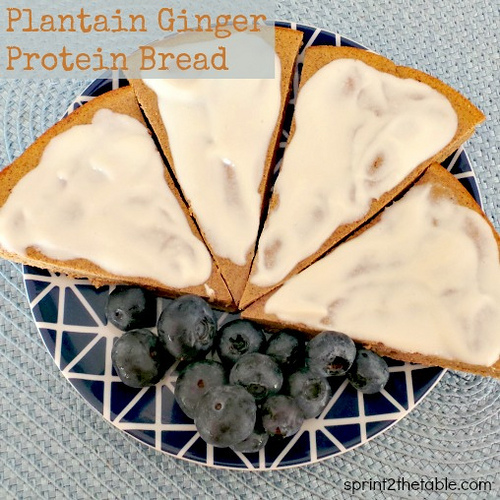 I'm getting wordy.  It's Kat's turn to blog today.  Just click here for more on why they rock.  Or, for proof, know that  beg seek them out to sponsor me at Blend and do giveaways… I want everyone to try it! 😉
Sooooo… here's the schwag one of you will WIN (giveaway entry at the bottom – US only, along with winners for Monday and Tuesday's giveaways!):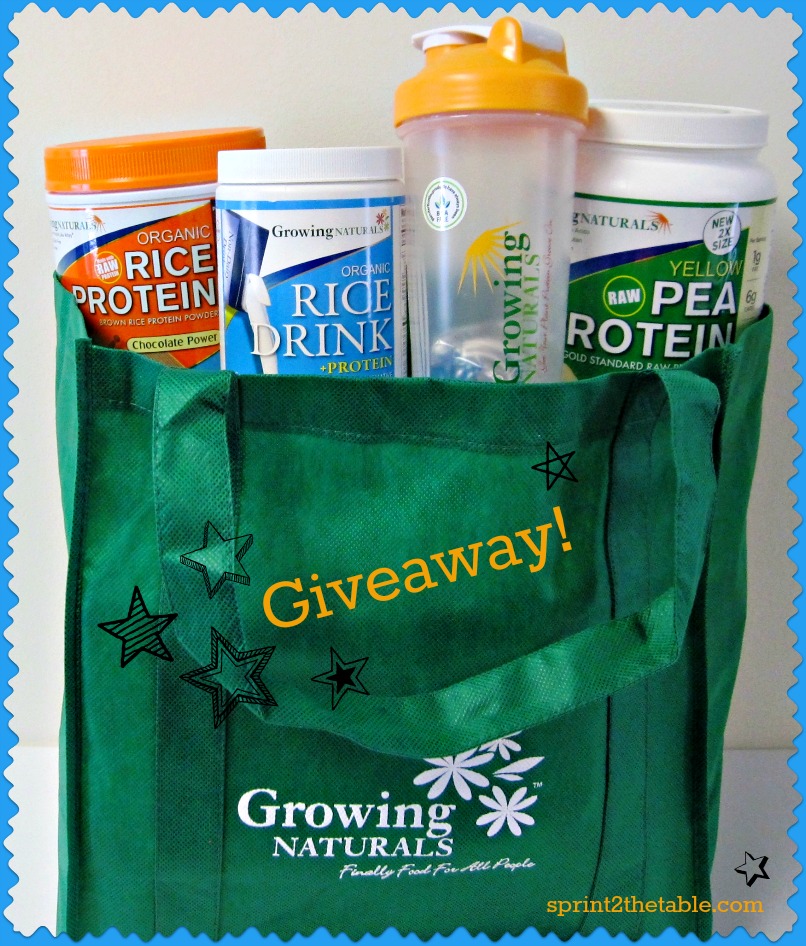 Speaking of protein… my girl Kat is going to need plenty to fuel the race she's running this weekend.  Check her out and wish her luck below!!!
_______________________________________________________________________________________
You're off to great places!
(by: Kat)
I'm leaving for my 100 mile race in Pennsylvania today.  Yes, 100 miles, 32 hour time limit.  I'm trying not to try to figure out how fast I have to run each mile to finish in under 30 hours, under 28 hours, etc.  I really just want to finish.  (Editor's note: You are officially my hero.)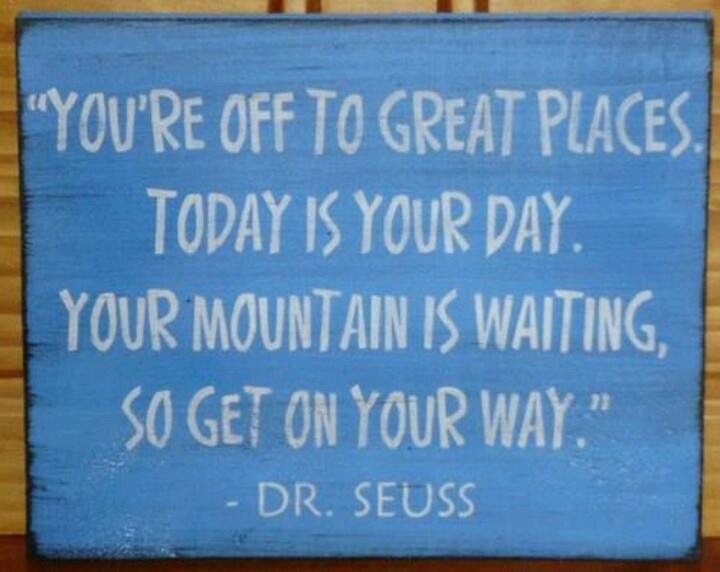 I'm scared, and I even emailed the race director to see if I could defer my entry 'til next year.  He said no, so I'm going.  Eeeeeeek!
This has brought up serious insecurity.  Why do my friends believe I can do this more than I believe in myself?  My new mantra on my runs has inspired some confidence in me.  I've been telling myself, "I am strong, I am injury-free, and I can do this!" 
It really does help me re-frame and know my body is capable and my mind is yearning for the … what?  (Editor's note: This is so true.  I do it in lifting.  It's amazing what positive self-talk can do to your physical abilities… and you know I'm not the touch-y feel-y type.)  Maybe a break-through, maybe a break-down.  Sometimes we need a little of both.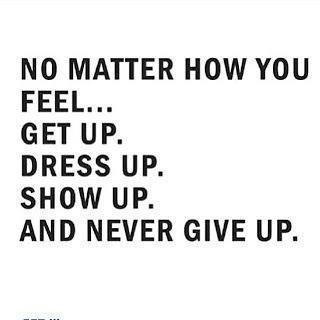 I plan on taking good care of myself, and Wednesday night was all about packing carefully, and preparing my food/necessities.  With 100 miles on foot, you have to think: breakfast, lunch, dinner, snacks, and more calories.  (Editor's note: Meal time is my favorite!)
I also have to think about injury prevention, which means lights, batteries, keeping myself warm.  I have to honor the body that allows me to even attempt this kind of challenge.  I am so grateful to have a healthy body that allows me to push myself physically to achieve something mentally.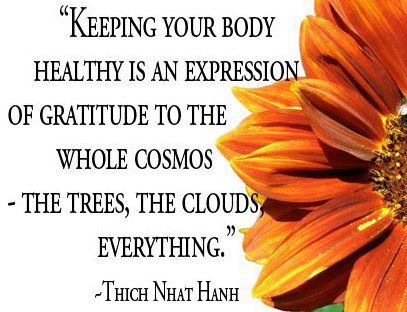 I also need to mention that waiting for my bar results has been a terrible waiting period, and I keep getting asked about the date for results which makes me a little batty.  It's October 28th.  Results October 28th.  (Editor's note: We are going to celebrate hard core!  I know you OWNED it!)
Right now, I'm wound up tight, and so are my finances.  I'm so grateful for everything I have right now, including my Cold Life  Organics deliveries, which save me money and allow me to experiment.
A few experiments lately include this parsnip-cauliflower puree and stuffed red bell peppers.  They are both so easy I didn't initially think of them as a blog post.  But they are unique, delicious recipes that helped me to think outside the box.
 _______________________________________________________________________________________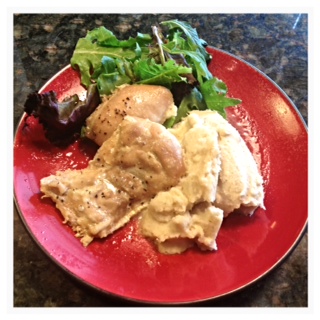 Parsnip-Cauliflower Puree
3 large parsnips, cut roughly into ¼ inch pieces
½ head cauliflower, cut roughly into ¼ inch pieces
½ Vidalia onion, diced
4 large cloves of garlic, chopped
Salt, to taste
1-2 T coconut oil
3 T butter
¼ C coconut milk
Saute onion, garlic, cauliflower, and parsnips in the coconut oil until it is generally soft-ish.  You should easily be able to pierce the parsnips with a fork.
Add saute to a food processor and puree.  Add coconut milk, butter, and salt to taste.
The parsnips give the cauliflower puree a floral taste that isn't overwhelming.  It's a fun substitute for mashed potatoes that will leave your guests wondering.  It's gluten free, and can be made vegan by substituting the butter for your favorite butter substitute.  It's also lower carb and lower calorie, if you're going for that!  I served it with a little salad and chicken.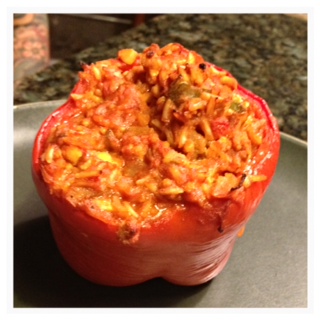 Stuffed Red Bell Peppers
1/4 lb ground anti-biotic free chicken
1/4  C rice, uncooked.
2 red bell peppers
1 C marinara sauce
1/4 yellow onion
1 T coconut oil
4 cloves of garlic
1/4 green bell pepper
1/8 C nutritional yeast
Preheat oven to 400. 
Cut the tops off of bell peppers, and clean out seeds.  Boil water and cook the bell peppers in the water for about 4-5 minutes.  
Meanwhile, cook rice according to package instructions.  Set aside. 
Saute green pepper, onion, and garlic in the coconut oil, add the chicken and continue to saute until just cooked, but not dried out.
Stir in marinara and nutritional yeast. 
Stuff peppers with the mixture and bake for 20-25 minutes.
I put cheese on top of one, and not on top of the other.  Both were delicious.  They're gluten free and can easily been made vegan by eliminating/substituting the chicken for TVP.  These were so easy and tasty, and they brought back childhood memories for my dinner partner.  We love nostalgic food.  We both also added additional nutritional yeast as a condiment while we ate.
_______________________________________________________________________________________
Check back at the NuNaturals and Muesli Fusion giveaways for the winners!
***
Good luck KAT!!!!  P.S. You guys come back tomorrow.  It's a giveaway I put together myself of my favorite most-used items. 🙂
What easy recipes/meals do you forget to share because they are just so easy?
What challenges are scary to you lately, and how do you keep yourself going?