Grateful as in Grateful Dead.
I had a post-race "Friendsgiving" at one of my favorite local restaurants – Rosebud.  How is that related to the Dead?  Rosebud is named for one of Jerry Garcia's guitars, the one he played in his last show in July of 1995.
Ron Eyester, the chef and owner, put together one incredible (and HUGE) Thanksgiving feast.
We began with an appetizer consisting of Pimento Cheese, Trail Mix, Smoked Trout Pate, Housemade Pickled Vegetables, and crackers dusted with something spicy (cayenne?).  The Pimento Cheese was our favorite, with the trail mix in a close second (I love those wasabi things).  The Trout Pate was the only miss of the meal.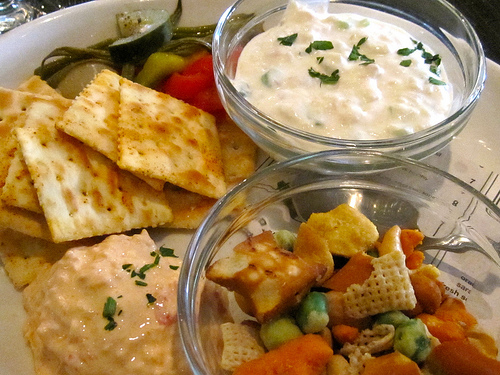 Next up was the main event.  The way the special menus worked you could choose Sage, Apple & Honey Roasted Turkey or Housemade Berkshire Ham with Mexican Coke Glaze.  Then you chose 3 sides from a list of 12.  There were 3 of us at lunch, which meant we could try all but 3 sides.  And so we did.
I chose the turkey with Brioche & Herb Stuffing (yes it was as good as it sounds), Cider & Maple Braised Brussels, and Red Wine & Balsamic Braised Mushrooms.  It was all wonderful.  The stuffing bordered on being bread pudding – a good thing in my book!  Turkey has never been my cup o' tea, but Ron's turkey was nearing perfection.  Not the least bit dried out and perfectly flavored.  I loved the sage!
Carla's also chose the turkey and brussels, but ordered the Buttermilk Whipped Potatoes and Baby Carrots with Fennel, Citrus, and Cardamom.  The carrots were one of my favorite sides; they were left fairly crisp and the hints of fennel and citrus made for a fun flavor.
Corinne chose the ham.  It was good, but I'm glad I didn't get it.  A little too sweet as a main for my taste, but if you like honey-baked ham you would love it.  Her sides included the Whipped Sweet Potatoes with Ginger & Sweet Chili, Green Beans with Fresh Garlic and Sea Salt, and Mexican Coke Braised Local Greens with Smoked Ham Bone.  I don't even know how to choose a favorite.  Maybe the beans?!  I really appreciated how they kitchen left the veggies with some bite rather than cooking them to the point of soggy (all too often the case).
Since all of this clearly wasn't enough food, Ron sent us a plate of the 3 sides we didn't order (he really is the nicest angry chef in ATL).  Our last 3 tastes:  Mac n' Cheese, Duck Fat & Thyme Fingerling Potatoes, and Truffled Cream Corn.  The mac and cheese was done with Tillamook Cheddar and couldn't have been more delicious.  We all agreed the corn was also pretty amazing – and none of us are big on creamed corn!
Everyone had a favorite potato – I don't know if he did it on purpose, but Ron offered the 3 major potato "types" so there was something for everyone.  I was all about the whipped sweet potatoes.
My favorite course is always last – dessert!  Chocolate Tart, Bread Pudding with Dried Cherries, Salted Browned Butter Cookies, and Apple Cake with Cardamom Cream.  I love chocolate… but those cookies are my favorite.  I'm convinced he puts crack in them.
A "Friendsgiving" lunch at Rosebud was the perfect race recovery meal.  But I had to get home to make the treat you saw in Friday's post to bring to a Thanksgiving potluck dinner (big revel tomorrow… suspense, I know).  Because one gluttonous holiday meal is never enough. 😉
______________________________________________________________________________________
Speaking of gluttony… it's Monday recap time.
Last week brought 2 big accomplishments – the Thanksgiving Half Marathon and I did my 100 push-ups EVERY DAY.  That's 700 push-ups last week!!!  3 accomplishments if you count the fact that I took TWO rest days.
Looking ahead, I'm ready cut back on the running for a while.  My focus will be more on weights and kickboxing – just in time for the arrival of more winter-like weather (I can't stand to run in the cold).
Workout Recap (11/21-11/27)
Monday – 30 mins stationary bike intervals, Biceps/Back, 100 push-ups
Tuesday – 2 mile run, 2 mile walk, 100 push-ups 
Wednesday – Tris/Chest, Ab Ripper X, 100 push-ups
Thursday – Half Marathon, 100 push-ups 

Friday – 100 push-ups
Saturday – 2 mile walk, 100 push-ups
Sunday – Kickboxing, 100 push-ups
***
 I promise some healthier foods are coming… after tomorrow dessert post!
Have you ever eaten your Thanksgiving meal at a restaurant?
Do your workouts change in the winter months?