Summer is for salads.
Therefore I'm usually craving them in the winter.
We I don't often remember, but winter has good produce other than squash (not that you'd know if from reading my blog…)!  I love the sweetness of in-season grapefruit on a salad, and the fresh fennel that's in every grocery store adds a perfect licorice-like crunch to salad bowls.
Armed with these finds, I set out to make myself a giant salad for lunch.  Summer memories, be damned.
Into a giant bowl went all of the fresh veggies I looted from the local farmer's market.  Citrus-y sweet sectioned grapefruit, a little heat from a serrano pepper, and my favorite – fennel – all played well together.  Accenting those flavors were fresh cilantro and yellow onion.  A crisp cucumber added a nice texture, all salted, peppered, and drizzled with lime juice and olive oil.
The perfect winter citrus salad bowl.
This salad will keep well for a day or two.  On day two I served it atop bulgur I pre-cooked and then mixed liberally with cilantro and lime juice.
Bowl #2 was topped with blueberries… the little extra punch of sweetness turned out of be a delicious idea, FYI.
---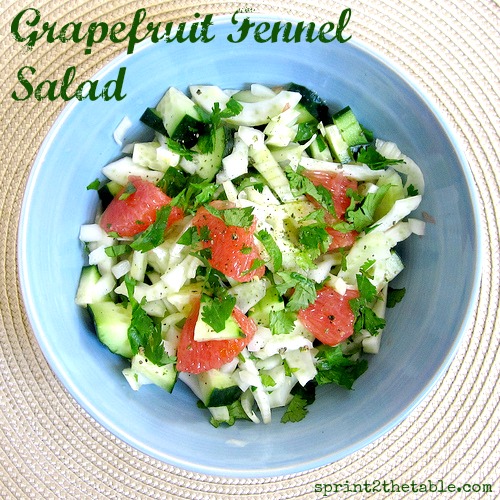 Grapefruit Fennel Salad
1 fennel bulb, sliced thin
1 grapefruit, sectioned
1 cucumber, diced
2 T cilantro, minced
1 serrano pepper, minced
1/4 yellow onion, diced
1 T olive oil
2-3 tsp fresh lime juice
S&P, to taste
Blueberries (optional)
Mix all ingredients in medium-sized bowl.  Add more oil, lime juice, salt, and pepper to taste.
Optional: serve atop grains or greens – arugula would be fantastic here.
Serves 1-2
***
You could eat this and have a Granola Cookie for dessert.  I'm just sayin'… 😉
Do your salads change in the winter months?
What is your favorite winter produce (other than squashes and sweet potatoes)?