Life is grand.
Yes, I know… I'm cheesy.
Really though.  In the past few days there's been so much good. I took Vegas for her first ever (?!) mani-pedi:
We had some crazy-good French Toast.  Not to brag… but I made it.  #sorryimnotsorry  Don't take my word for it!  Vegas declared it "fabulous."
Local sourdough bread, vanilla, a little sugar, a little booze… it was grand with the Grand Marnier.  It was a marvelously decadent breakfast.  Reminiscent of creme brûlée.  Recipe at the bottom of post.
THEN Lucie arrived from Switzerland!
She landed Friday morning.  I picked her up and brought her over to meet Vegas and we had a wonderful lunch.  I made Meghan's Artichoke, Cheese, & White Bean Dip.  You should make it too.  So friggin' delicious.
Of course, we had to practice our twerking go to the gym.  Lucie kicked my ass with a cardio-intense workout.  I was a sweaty hot mess by the end!
Not too sweaty to have a quick photo shoot though.  You may remember last year's twerk session in Switzerland.
More to come… we'll be hanging in San Diego for a few weeks!  And we mayyyyy have a couple of special visitors.
---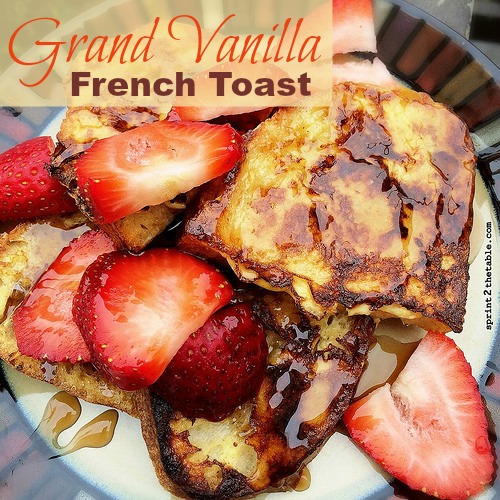 Grand Vanilla French Toast
2 eggs
4 T egg whites
2 tsp honey
2 tsp brown sugar
1/4 C half and half
1 tsp vanilla
2 T Grand Marnier
4 slices sourdough bread
In a shallow bowl, beat together first 7 ingredients until sugar is dissolved.
Soak bread for 30 seconds on each side, pressing down firmly to saturate. Cook on a greased hot pan until golden brown on both sides and cooked through, about 3-4 mins each side.
Serve with syrup and fresh berries.
Makes: 2 servings.
***
I'm looking forward to a marvelous few weeks with Lucie.  Any suggestions for American things we should eat/buy?
How old were you when you got your first mani/pedi?
What's your favorite way to make French Toast?  The real-deal, not the HLB version. 😉