The only thing that would have made this dinner better is if it had actually been in Costa Rica.
Last week I attended my 3rd Push Start Kitchen dinner.  In case you missed my previous write-ups, Push Start Kitchen is an Underground Supper run by Atlanta native Zach Meloy and his wife, Christina.  This supper club is their way to generate buzz in hopes of pushing a restaurant start here in Atlanta.
I'm pretty sure Zach is going to quit letting me come after a while, but I now have a nickname… that must be worth something.
Why I Keep Coming Back: 
Flavors: they are thoughtful and unique – the combinations are not seen anywhere else in Atlanta
Freshness: All of the ingredients are purchased locally the week of the dinner
Environment:  dinner is laid back – no need to get glammed up or make a production over it
New friends: I love the opportunity to share a meal with 10 people I don't know
As Zach so eloquently put it:
You shouldn't have to deal with assholes to have a really good meal.
Zach and his wife just returned from a trip to Chris' hometown of Alajuela, Costa Rica.  This particular feast was inspired by their travels.
As usual, we began with an amuse.  This time it was a cream cheese spread topped with pepper jelly and black sea salt.  Sweet and spicy is my favorite flavor combo, so I was thrilled with this dip.  The slight crunch from the salt flakes on top was a nice touch as well.
This was served along with a cocktail worthy of the chilly evening – hot cider with rum, ginger liquor, and a lemon wedge.
I'll be making this one at home!
The appetizer was good, but I was particularly fascinated by the dish it was served in.
Zack brought these mini tins back from his recent trip to Costa Rica.
Caution: don't open your lid until it's time.  Otherwise, you run the risk of a ninja chop to your exposed, defenseless neck.
The tins held a sort of deconstructed salad he called "Ensalada de Palmito."  The salad consisted of hearts of palm, charred onion, cucumber, shaved manchego, puffed rice with Indian spices, and a lemon mayonnaise.
Mayonnaise isn't my favorite, but overall the textures were fun together.  I particularly enjoyed the charred onions; they were slightly pureed and went really well with the manchego.
All day long I looked forward to the main dish.  Zach (@PushStartCook) spend the afternoon taunting his Twitter followers with messages like:
Beef cheek "olla de carne" has already been going for an hour and boy, does the house smell good. Can't wait to share.
The dish was titled "Ollo de Carne."  It was a slow-cooked beef cheek, heirloom carrots, chayote squash, green plantain, blue potato, and cilantro emulsion.
Once everyone had received a plate (ladies first – a very nice touch), Zach circled the table to pour Caldo de res (beef broth) over the veggies in each person's bowl.
Again, the flavor combination was spot-on.  That beef cheek was so tender you didn't even need a knife.  The cilantro emulsion swirled up in the broth; the herb-y flavor was just what was needed to bring the dish together.  Can you believe how BLUE that potato was?
As delicious as everything was, dessert stole the show.  Tres Leches.  In case you aren't familiar with this dish it a Latin dessert consisting of a sponge cake soaked in 3 milks – evaporated, condensed, and heavy cream (yeah… it's a health food).  It is often served with rum poured over the top.
Zach served a shot of rum on the side, giving us the option to pour it over or shoot sip it.  Also on the dish were black tapioca balls in a coffee syrup.
This was literally the best Tres Leches I have ever had.  I'm picky about dessert and I don't give credit where it isn't due.  This was even better than the one from Tierra cited in Creative Loafing's 100 Dishes to Eat in Atlanta Before You Die.  (Note: sadly, Tierra has since closed.)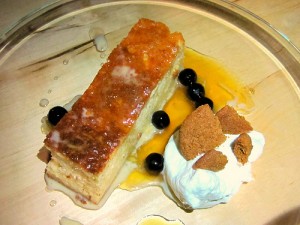 In talking to Zach about this dish, he casually mentioned it was the first time he's ever made Tres Leches.  I'm thinking he must have been a pastry chef in his last life.
We finished the meal with the traditional almond-coated candy and cordial moonshine.
In case you missed my other Push Start Write-Ups:
***
Betcha can't guess where I was again last night… yep, another dinner.
Is there a restaurant you go to so much they know you when you walk in?
If you could quit you and do anything – money no object – what would you do?  I'd own a restaurant!