I don't do yoga.
I don't have the patience/attention span.
There is one thing I do like about yoga: the clothes.  Like this top I received from Yogi:
I wore this shirt (click here for better pics of shirt on their site) while braving the mall over the weekend.  And then I wore it to the gym.  I love a versatile outfit!  Impossibly soft, breathable, and loose.  During the winter months there is NO way I'm going to be rocking teeny tops.  It's a too cold… and I tend to eat a couple of cookies.  They also sent yoga pants, but they are SO long – like an extra 6 inches of fabric – I need to get them hemmed before wearing them out.
Disclaimer: I was not compensated for this review (other than the free clothes).  Opinions are my own… I could never keep my opinion to myself. 😉

Some people may beat themselves up over these winter indulgences, but I like my friend Lindsay's perspective.  The holiday season only comes once a year.  Why not enjoy a few of your favorite things (like warm woolen mittens)?  Don't go nuts, but don't feel like you have to sit in the corner with a salad while everyone else is having pie.  Winter is bulking season, after all!
In one more week, things will be back to normal, nutrition plans will be followed more strictly, and – while I'll still wear my yoga tops – the thought of those tighter gym shirts won't made me squirm.
---
Now that we've gotten that established, here is how I photograph are the cookies!
Last week my concierge mentioned that he wanted molasses cookies.  I'd never made them before, but I thought it would be nice to make him a Christmas treat.
I don't know that I've ever had a molasses cookie, so I don't have anything to compare these too.  They remind me of a gingerbread cookie; however, these are chewier and have a deeper, more subtle sweetness thanks to the Blackstrap molasses.
I used a bit of almond flour, but you could use all regular flour.  Your cookies will just be a little cakier.  These are also a good candidate for whole wheat flour (I ran out), and you could replace the oil with applesauce if 1/2 C of butter is enough fat for you. 😉
---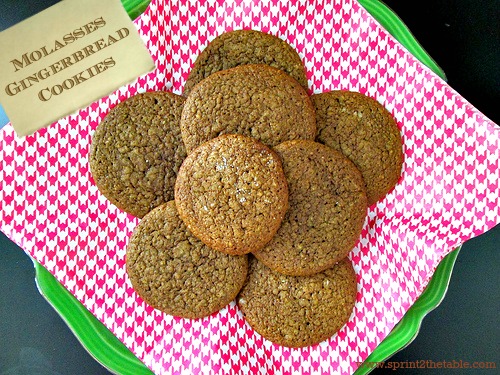 Ginger Molasses Cookies
1.5 C flour
1/2 C almond flour
1 tsp baking soda
1 tsp ground cinnamon
1 tsp ground ginger
1/4 tsp ground cloves
1/4 tsp cardamom
1/2 C salted butter, softened
1 C dark brown sugar
2 T canola oil
1/4 C Blackstrap molasses
1 egg
1/2 tsp vanilla extract
In a large bowl whisk together flours, baking soda, and spices.
With an electric mixer, beat the butter and sugar until light and fluffy.  Add oil, molasses, egg, and vanilla and beat to incorporate.  Beat in the flour mixture until just combined.  Cover and place in the refrigerator to chill until firm (at least 2 hours, preferably overnight).
Pre-heat the oven to 375 degrees and line baking sheet with parchment paper.
Roll chilled dough into ~1 inch balls.  Place on baking sheet, leaving ~2 inches of space between.  Using the bottom of a glass, flatten the cookies slightly.
Bake for 10-12  mins.
Makes 2 dozen cookies.
***
I'm taking tomorrow (and probably Wednesday) "off."  Wishing everyone Happy Holidays!
Do you allow yourself to indulge a little over the holiday season?
What is your favorite Christmas cookie?  Who will you be enjoying them with tomorrow?