Yesterday I ate vegan and last night I ate RAW.
I was loving that when I checked in at R. Thomas for dinner so many of you commented on Twitter!  My local hole-in-the-wall is well-known!
R. Thomas Deluxe Grill (1812 Peachtree Street NW, Atlanta, GA 30309, 404-872-2942) is this crazy-looking, eclectic restaurant in Atlanta that has something of a cult following.  If you are in Atlanta or just passing through and looking for a healthy, vegetarian-friendly place, check this out.  (I think it's mucho better than Cafe Sunflower.)
Is it the parrots?  The fact that you're basically eating under a tent?  The juices and smoothies?  The 24-7 breakfast?  The many vegetarian options?
My vote is all of the above! 
Tonight I ordered the Raw Veggie Dinner #2.
Can you believe how pretty this looks?!  So many colors!
On my plate (clockwise, beginning from "noon"): cashew cheese, raw falafel, hummus, carrot-coconut-almond salad, guacamole, cauliflower tabouli, sunflower pate, and fennel asparagus salad.  The middle was a cabbage kraut.
It was was all good – very fresh and rejuvenating.  My favorites were the kraut, cauliflower, and the pate.  The creativity earned each big points, as well as the distinct, clean flavors in each combo.
I always feel a little high after eating an all-raw meal… is that just me? 🙂
____________________________________________________________________________________
It seems that lately more and more bloggers have mentioned how inspired they are by others' recipes – I am no different!
Choosing Raw is one of my favorite sources for ideas/recipes.  Today, I was inspired by Gena's Ginger Lime Edamame Sweet Potato Burgers.
In case you didn't get your burger-fill over the 4th… try this one!  It's much different than your typical black bean burger.
In fact, it's possibly the best bean burger ever – and I rarely claim anything to be the "best."  Asian-style.  Vegan.  Gluten-free.
The ginger adds an unexpected zing – definitely don't leave it out!  I also loved the cilantro and lime playing together in it.  Finally, the sriracha gives it some spice (I was worried that the heaping teaspoon I added would overwhelm, but the flavor is surprisingly subtle).
____________________________________________________________________________________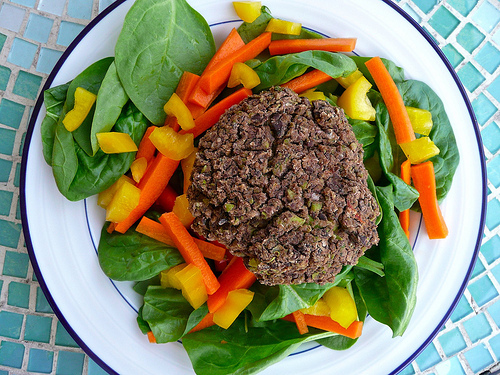 Ginger Lime Edamame Black Bean Burgers
1 C black beans
1/2 C shelled, frozen edamame beans (thawed)
1/4 C red onion 
1 small carrot, grated
1 tsp fresh ginger, chopped 
1/3 cup quinoa flakes 
Juice of 1/2 lime
1T liquid aminos (can use soy sauce or tamari instead) 
1/4 C cilantro 
1 tsp garlic sriracha
~1T water (as needed)
Preheat oven to 350.
Put all ingredients in a blender and blend until desired consistency is reached.  I like mine to have a few larger pieces of beans left for texture.
Form into 4 patties and bake ~30 mins.
***
I'm slowly working through the billions of bookmared recipes I have!
What have you been inspired to make by another blogger?