Gift giving is a big part of the holiday fun.
Almost as fun as gift-getting.
It is December 3rd whether the weather got the memo or not.  I went on a jog yesterday in shorts and a tank top and was sweating while passing houses decked out for Christmas.   Bizarre.  My iPhone said it was 66 degrees, but I think it cleared 70.
Since it is the month of giving, I wanted to share some of my favorite things (aside from whiskers on kittens – that goes without saying).  These are tried-and-true items – I already own most of them!
Whether you are brainstorming something for your favorite food-lover or for someone whose idea of fun is working out, I hope this will give you some ideas.
2012 Holiday Gift Guide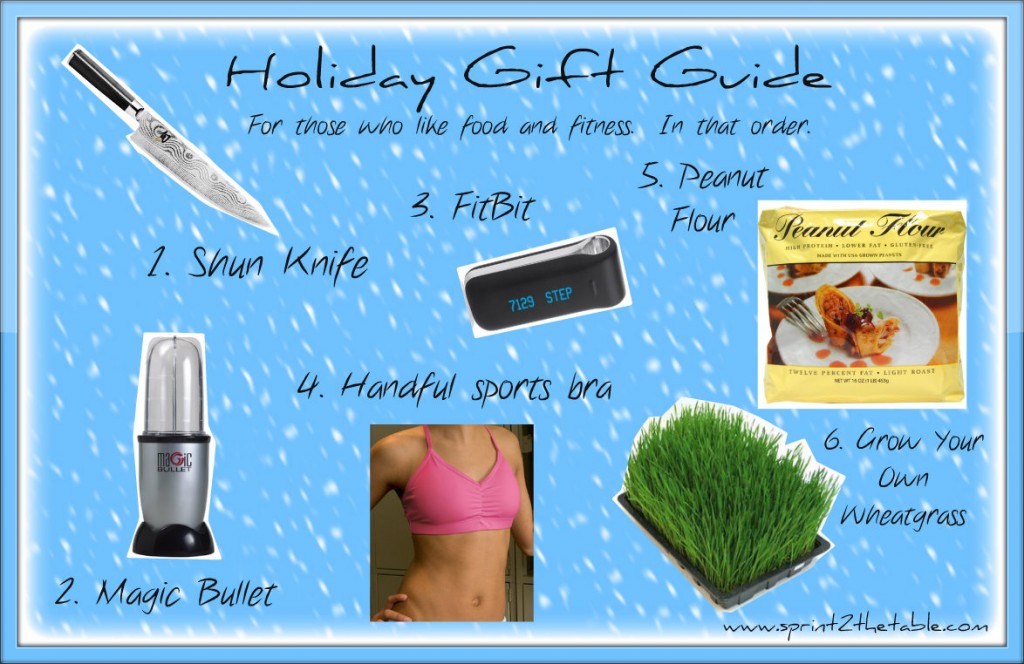 1. Shun Knife
This is my favorite knife.  It's a fantastic tool, but what makes it even better is that they make a left-handed version!  Santa brought me one last year and it's basically the only knife I use.  Speaking of… I need to get mine sharpened for Christmas!
2. Magic Bullet
I used this thing religiously before I got my Vitamix.  It can take some abuse, and you can blend smoothies right in the cup for a quick breakfast or post-workout refuel.  I still use mine for small tasks like whipping cottage cheese for Apple Cupcakes or single-serving dips.  But if you really loved the giftee… you'd buy them the $450 Vitamix.
3. FitBit
My FitBit inspires me to walk 10,000 steps and 20 flights of stairs a day, something I need since I am a cube monkey.  I don't use all the features, but it also can track sleep and calories (though it's not entirely accurate as it can't tell when you're lifting weights or at a standing desk).  Warning: If you are a little OCD, this may not be the best thing for you.
4. Handful
Greatest sports bra ever… if you're a member of the itty bitty titty committee.  It's not a super-support bra, but if your pecs are biggest part of your chest (like mine) it's perfect.  There's even a little layer of padding so you don't like like a flat-chested 12-year old when you're at the gym.  AND they are having a $12 closeout sale on the size large.
5. Peanut Flour
I talk about it all the time.  If I were to find peanut flour in my stocking, I'd be one happy girl.  Better yet, if I could just get a year's supply… Mom, are you reading this?  If you order through iHerb.com, use discount code USO924 for $5-10 off your order!
6. Grow Your Own Wheatgrass Kit
Wheatgrass is awesome stuff.  It's full of amino acids, chlorophyll, minerals, vitamins, and antioxidants.  It's also expensive.  I want to grow my own!  You don't even need a juicer to use it if you have a Vitamix!  It will blend up the grass like a champ.  The Wheatgrass Kit can be found on OpenSky at Robin McGraw's new Insider page (yes, it's Dr. Phil's wife).
---
Here's the giveaway part….
To celebrate Robin's new healthy living collection, OpenSky has offered to give one reader a $25 credit to use anywhere on the site!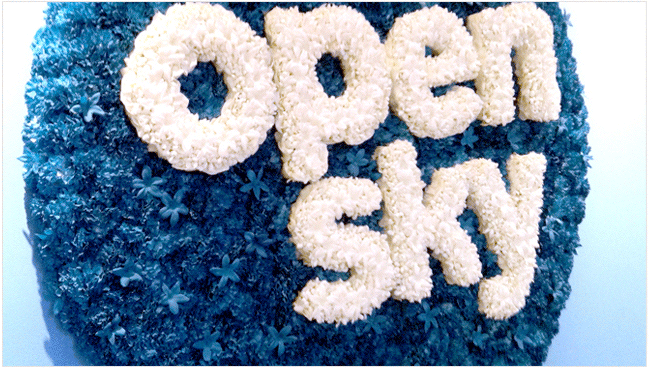 OpenSky is a "social shopping site that helps people discover, buy and share unique goods that match their individual taste. Users can connect to friends and industry insiders in Food, Style, Beauty, Healthy Living, Electronics and Home Décor for exclusive information, advice and insider product recommendations."
I've been a member for over a year now and have found lots of great products.  They will often have sales on my favorite vegan protein powder (Sun Warrior), and its where I found my Kombucha homebrew kit (I'm on batch 8!).   My favorite Insiders include: Robin McGraw, Bobby Flay, Dorie Greenspan, Tracy Anderson and Jackie Warner.
Receive up to 4 entries by:
Join OpenSky
Tweet: You could say something like: I entered to win a $25 @OpenSky gift certificate in the @sprint2thetable #giveaway http://wp.me/p16jDn-1OI

Be Social: Pinterest Follow Me and/or Pin Something of Mine, Instagram Follow Me, Follow Me and Open Sky on Twitter
Comment: What is on your wishlist this year?
Please leave a *separate comment* for each entry!
Contest ends at 11:59pm EST on Thursday, December 6th.  The winner will be announced on Friday, December 7th.
***
I quit posting a workout recap on Mondays… it seems like it was getting too repetitive/boring to read.  If anyone has thoughts on that… feel free to share.  For now I'm going to do away with it. 
Is it still warm where you live?
Have you ever tried any of the things on my gift guide?