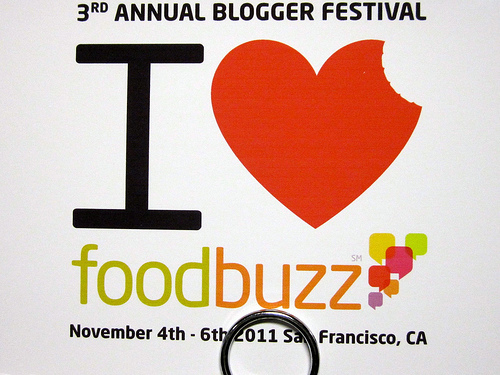 Meeting the people behind your favorite blogs?  A privilege.
Being in a room full of people who don't bat an eye as you photograph every food item in the room?  Surreal.
Sharing ideas with a roommate who comes up with the coolest food combos around?  Inspiring.
Sampling all of the food, wine, and beer you can handle?  Sin-tastic.
FoodBuzz 3rd Annual Blogger Festival?  Priceless
______________________________________________________________________________________
Friday night we attended a Welcome Reception sponsored by Sabra.
To start we had hummus hors d'oeuvres and wine.  Hummus Heaven.
When it hits stores, try the new Holiday flavor – the rosemary deliciousness will knock your socks off.  I'm thinking that served on little toasts with goat cheese and micro greens will be my holiday party go-to this season.
Sarah (my Smart Kitchen roommate) and I tried everything, obsessed over the fresh veggies, and made friends with fellow bloggers.
We were then brought in for the Awards Dinner.  Served buffet-style, many of the dishes were inspired by fellow FoodBuzz-ers.
Our table, which included new friends Karen (of The Tamale Girl) and Lauren (of Vegology), voted the night's winning dishes to be the Housemade Beet Ravioli  with arugula and goat cheese and the Lentil Salad with shaved  fennel  and  escarole with a sherry vinaigrette.
After that smorgasbord Sarah and I hit the (surprisingly) nice gym to start out day 2 on the right foot.  I also ran to the host hotel to get my schwag bag.  Check out these goodies:
By the time we made it to the pre-panel breakfast bar we were ready to chow down.
Delicious fresh fruit, vegan sunflower seed bread, local jam (the strawberry was my fav), spinach-mushroom frittata, pumpkin bread, and scones.  I sampled a little of everything.  And then seconds of everything.
As good as that was, the highlight was getting to try Cookie Dough Balls from Mamma Pea herself!  Sarah and I split a Chocolate Chip and a Pumpkin Molasses.
Run, do not walk, to try this recipe for the Pumpkin Molasses.  It will change your pumpkin-lovin' life.
Did I mention I also got the meet the famous Ms. Pea?!  Pics tomorrow! 
We attended 3 panel discussions: Taking Your Blog to the Next Level, DSLR-free Zone, and Effective Social NETworking.
My personal favorite was the one on taking good pictures without a DSLR camera, presented by Greg @ Sippity Sup, Chuck @ Foodgawker, and Angi @ Rice & Wheat.  You may have noticed photography isn't one of my many talents.
Top take-a-ways:
The Camera+ app is a necessity for iPhone photography
When going out to eat, choose the table with the most natural light if possible (how did I never think to request this?!), or at least choose the seat with the best lighting
If you must use a flash, use one layer of a thin paper napkin to diffuse the light
For home photography, a grow light from Home Depot in a reflector (those sliver bowl things) works well when you can't use natural light
It's getting wordy and I'm running late for work (doh), so more to come tomorrow.  We had an awesome time at the tasting pavilion, met T Flo, and tweeted our way through a fun banquet dinner!
______________________________________________________________________________________
Quickie week recap to hold myself accountable:
Workout Recap (10/31-11/7)
Monday – 0.6 mile run jog,  Ab Ripper X, 10 min X-fit circuit
Tuesday – 100 push-ups 
Wednesday – 1.5 mile run, Biceps/Back, 6 min plank sequence, 100 push-ups
Thursday – 1.5 mile run, 30 min core class, Body Pump, 40 ins Stairmaster

Friday – Triceps/Chest, 6 min plank sequence, 100 push-ups
Saturday – 10 min jog, 30 ins elliptical, 100 push-ups, crunch machine (50)
Sunday – Travel day 🙁
***
I am full of inspiration after the weekend – perfect timing for the holiday backing season.
Do you have any tips for low-tech photography?
How did all the race-runners do this weekend?