I can admit when I'm wrong.
Sometimes.  If I'm in the right mood.
Wednesday I ranted about declining service in restaurants.  I still stand by my theory, but I have to call out the fact that I had absolutely amazing service at dinner last night.
I met a friend at Metro Fresh, one of my favorite local spots.  They serve fresh, clean food.  The menu changes daily and the prices are reasonable.  It's my go-to.
After enjoying a fantastic piece of salmon and a leafy green salad, I was craving dark chocolate.   I asked if they had squares, but they didn't.  Much to my surprise, one of the employees brought over the most delicious (housemade!) cinnamon roll.  For.  Free.  
 When I got home, I wrote an email to the owner bragging on his staff and thanking him for another great experience.  Have you ever done this?  I try to be as quick to compliment as I am to complain. 
This morning when he emailed out the daily menu, he included my note saying it was especially nice to get after a long, busy day.  How cool is this?!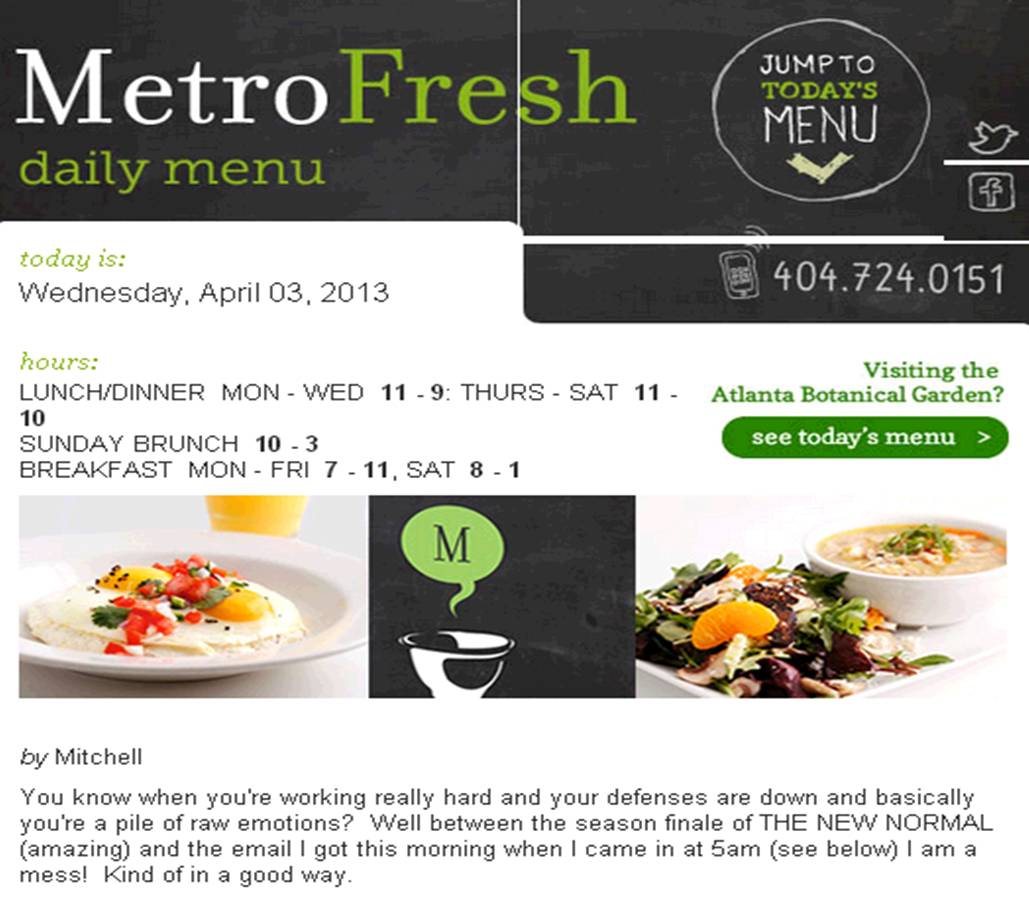 Awesome.  There is hope.  There are still restaurant owners and staff that care about the experience customers have in their establishments.
_______________________________________________________________________________________
It feels so good to be APRIL!  I've been waiting for this month all year!
It's my last month of law school, and I am so so so so excited to be almost done!  I could not have done this without my friends and family and their constant support.  (Editor's note: SO PROUD of you!!!)
I went to my cousin's amazing wedding, and got to spend time with my mom and brother and dad.  Being with my family reminded me of how important they are because they make me feel so grounded.  This is probably because your family are your roots, and even though they might sometimes drive you batty, they are where you come from.
It was also a blessing to go to my cousin's wedding and spend time with my extended family.  WOW.
It was so cool to see how in love they are and to know how much they've been through before they ever got married.  Their love is the kind of love I aspire to, and they truly have a fairy tale.  (Editor's note: I flippin' loved seeing all their wedding pics – cowboy fairy tale!)
When I came home, I also had a beautiful necklace in the mail – a tree that represents the earth and feeling grounded… this is symbolic for me because I think I realized that this is my theme of the year/month/right now/whatever.
My groundedness is coming from my family, my ability to connect with nature, to be with the earth.  I love what I get from the earth and feel incredibly lucky every day.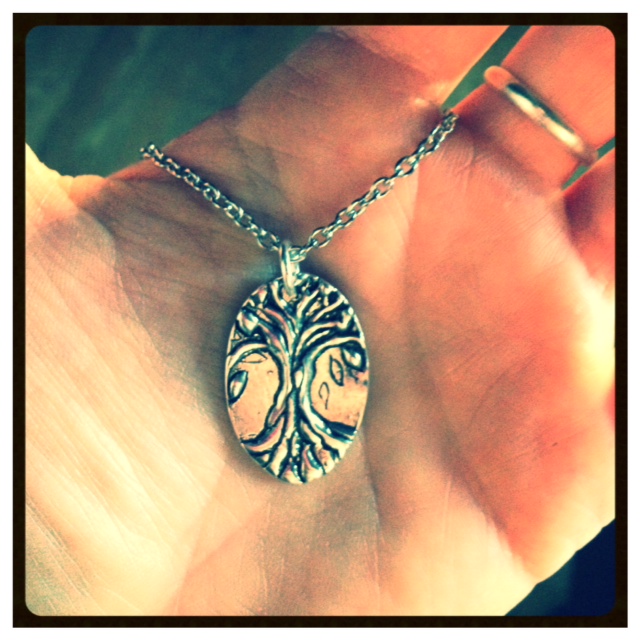 I also got to connect with Laura over a wonderful dinner at Bacchanalia!  I can't believe she treated me to such an awesome birthday dinner!  (Editors' note: Thank god the company was good! 😉 )  
At the dinner, she asked me to share what I have been doing with TVP, so I had to oblige.  TVP Bacon Bits!!!
_______________________________________________________________________________________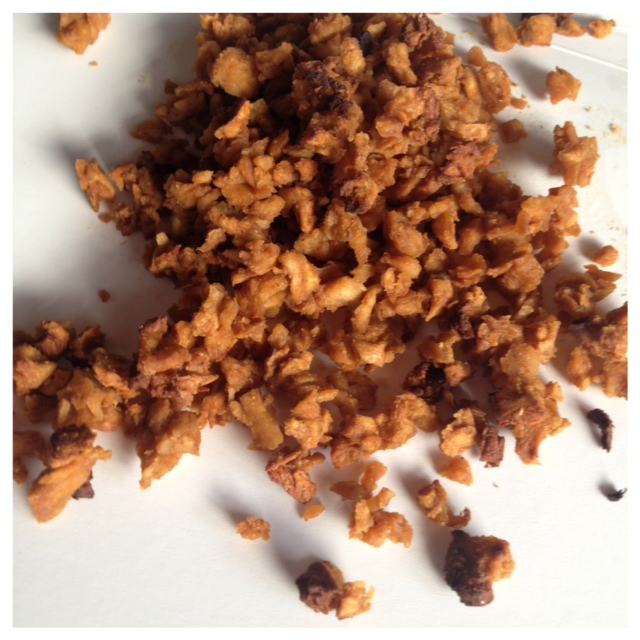 In my opinion, what gives these a better flavor (and meatier than most) is the combo of the BBQ sauce, cumin, and nutritional yeast. I have never seen a recipe that used this combination, and I don't know why!  It's amazing.
I put these bits on EVERYTHING!  Make your friends jealous.  Try it on a salad, on your guacamole (or on half of an avocado), on your baked potato, eat them plain, top your chili.  Endless possibilities!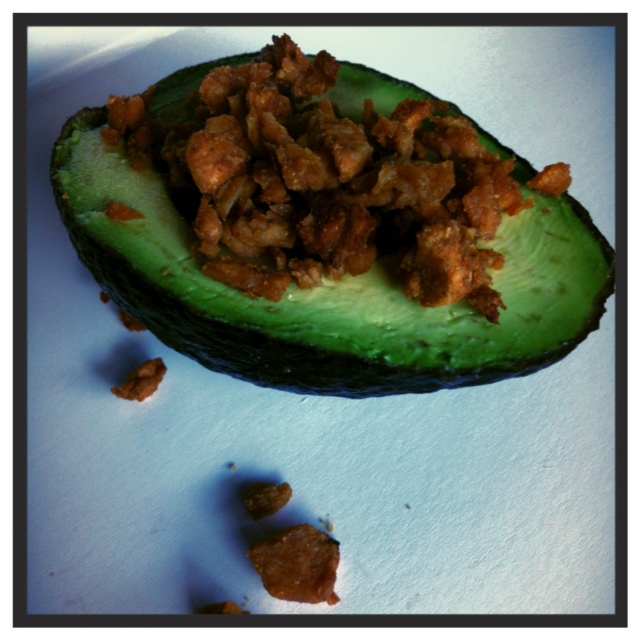 Also, another great reason to try this recipe, besides that it's super easier and way healthier than bacon, (Editor's note: mmm… bacon), is that you can taste as you go!  You can tell by the flavor of the un-crisped mixture what the final product will taste like, so you can adjust.  Need a pinch of salt?  Want a little more barbecue flavor?  No problem!
Now, what else can we do with these bits? I'm glad you asked. Bacon PANCAKES.  That's right.  Add a handful of these bad boys to your pancake mixture.  You will NOT regret it.
I really like Karina's recipe, but mine do not come out nearly as beautiful.  I used her recipe and added a bit of cinnamon and a tablespoon of nutritional yeast.  Once I made the mixture, I ladled some into the pan, and added the TVP Bacon Bits.
I suck at flipping pancakes.  They're never consistent in color but they're delicious.  (Editor's note: that's all that matters!)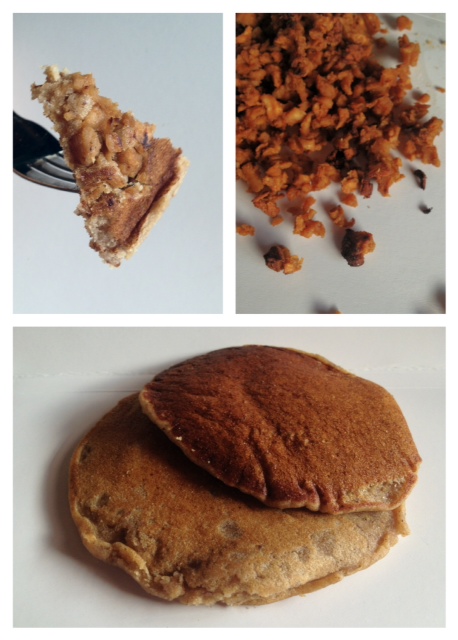 I like these so much, I eat them plain – no butter, no syrup, etc.
Also, I now get why it's impossible to take pretty pictures of brown food.  Editor's note: told you so!!!)  So, you will have to take my word for it.
_______________________________________________________________________________________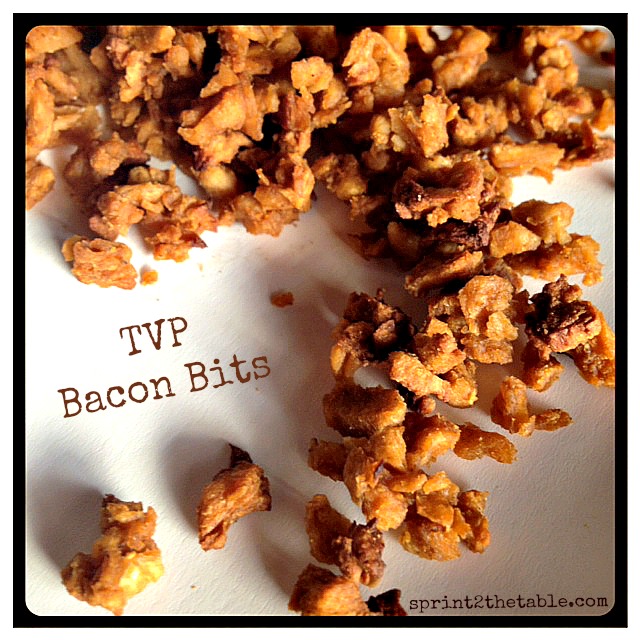 Vegan TVP Bacon Bits
3/4 C

TVP

3 T nutritional yeast
3/4 C boiling water
1-1.5 T smokey barbecue sauce (or

Laura's sodium and sugar free recipe

)
2.5 T tamari (of soy if you're not gluten-free)
1/2 T maple agave (maple syrup would also work, or you can eliminate for a sugar-free version – I just like maple bacon flavors)
2 T sunflower oil
1 T cumin
Pinch of cayenne
Preheat the oven to 265 degrees (yes, 265 – that is not a typo. I just couldn't decide between 250 and 275).
Mix all of the ingredients in a bowl together, whisk with a fork. Spread mixture across a baking sheet.  Place in oven.
I set my timer for 24 minutes. But they really needed like 31.3 minutes…. until I got really impatient.  When they still weren't crispy, because it takes forever and you have to keep moving them around, you start to get really annoyed.  The next step was to heat that bad-boy of and oven up to 425.  After that, they were done in 10 more minutes.  Crispy and delicious.  This was a trial and error… but came out AWESOME!
Editor's Note: I think the moral of the story might be to make them at a higher temp. 😉
***
I have to admit… I'm a little sad that Kat beat me to this idea.  Haha.  Really… I'm gong to be making these STAT.
Does your family keep you grounded, even when you feel insane?  No comment.
What's exciting about your April?