Remember that slime show on Nickelodeon?
It was called "You Can't Do That on Television."
Side note: did you know Nickelodeon is recognized by spell check?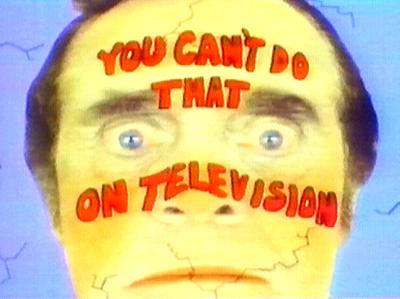 The contestants would have complete some challenge and if they failed, they got "slimed."  According to Nickipedia, the slime consisted of "green gelatin and cream of wheat, and/or oatmeal."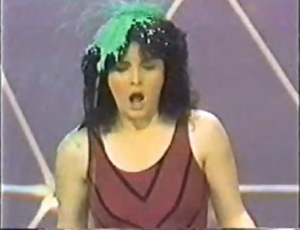 I wanted to be on that show so bad it hurt.  Probably more so because my parents wouldn't even let me watch it.  Max + Lynda = most strict parents in the world.  Not that I'm bitter. 😉
Moving on to MY green slime…
Usually after a weight workout I have a green protein smoothie.  However, I had to run out to my car and by the time I got back I was far too cold for a cold drink.  Protein sauce seemed like the perfect solution.
Admittedly, this may be the weirdest thing I've ever posted about eating.  It kind of looked like Nickelodeon's slime, but it was pretty tasty!  Especially with the blueberry "syrup."
As a sad, waffle maker-less soul, I have become a fan of Van's Waffles.  The blueberry flavor is good without packing a ton of sugar, and they offer whole grain, organic, and gluten-free varieties.  If you pop them in the oven on broil for 1-2 mins on each side, they come out nice and crispy.
The blended protein powder (I used Sun Warrior Vanilla) with spinach and a little almond milk only took a second, and I used my "lazy" technique to the get blueberry syrup in 30 seconds.  (1/2 C blueberries + 3-4 drops liquid stevia in a bowl and microwaved for 30-40 secs).
The topping is on the thick side – I like an "icing" topping.  If you prefer a syrup-y consistency, just thin it out with more milk.
Delicious and nutritious – not only will this entertain small children who like slime, but it will also keep you full until lunch!
________________________________________________________________________________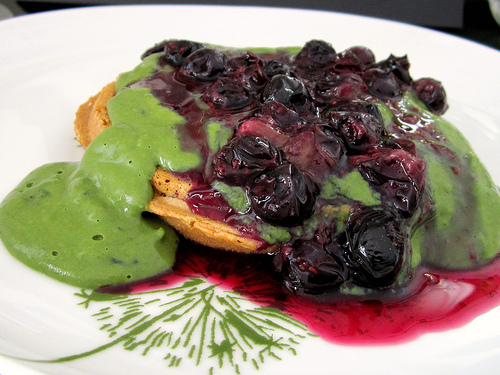 Green Blueberry Protein Icing
1 C spinach
1 scoop vanilla protein powder
1/4-1/3 C unsweetened almond milk
1 tsp maca (optional)
1 tsp almond extract
1/4 tsp butter extract (optional)
5-6 drops liquid stevia (more if you like sweeter)
1/2 C blueberries
Combine everything except blueberries in blender (I used my Magic Bullet).  Blend until smooth.
Meanwhile, place blueberries in small bowl and microwave for 30-40 seconds, until beginning to burst and become "juicy."
Pour the juice and some of the blueberries into the blender with green mix and blend again.
Spread sauce on top of waffle/pancake/muffin/etc, finishing with remaining warmed blueberry sauce.
Creep out everyone around you with your odd breakfast creation.
***
Another point for green: it photographs so much better than brown.
Was there a game show you wished you could be on?
What's the weirdest food/creation you eat?