Invariably when I tell someone I'm from Georgia they exclaim "A Georgia peach!"
This annoys the crap out of me.  Same goes for "Hot-lanta."
What does not annoy me are actual Georgia peaches.  This time of year you can't walk through a farmer's market without passing a giant table filled with the fragrant fruit.
I'm a fan of using them in sweet concoctions like Peach Cobbler Chia Pudding, or for a strange-but-summery appetizer like this Peach Caprese Salad.  Having been there, done that, I decided to try something a little more ambitious this week.  A brinner.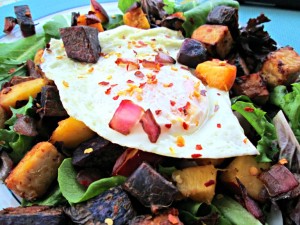 Standing in the fridge door, I had my own version of Chopped as the strange (but good) idea evolved.  Sweet, yet savory.  I wanted bacon but was unwilling to go to the store.  Tempeh is a good stand in for bacon!  Honey mustard sounded good with a hash, and I finally remembered the horseradish I need to use (it expired in 2013… clearly just a suggestion).
My Georgia peach needed to be used and it seemed to me that it would go well with honey mustard (it did).  The sweet from both the fruit and mustard balanced out the tang from the tempeh and horseradish.  It was entertaining without being distractingly confusing to my tongue.  #TWSS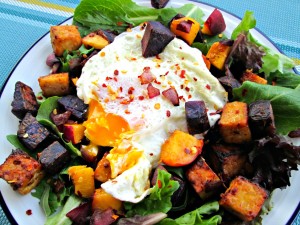 When you obtain local eggs, you know they need to be placed on all the things.  Besides, how can you have a brinner without #yolkporn?
Don't skip the egg.  It made for a lovely dressing that tied the whole thing together perfectly.  Like a symphony in mah mouth.
________________________________________________________________________________________________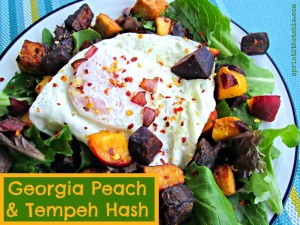 Georgia Peach & Tempeh Hash
2 tsp honey mustard
2 tsp horseradish sauce
6 oz tempeh, cubed
1/4 C red onion, diced
1 medium potato, cubed
1 peach, diced
2 eggs, fried
Preheat oven to 400.
In a small bowl, mix together mustard and horseradish.  Toss with tempeh cubes and spread evenly on a foil-lined baking sheet.  Baked 10-15 mins, stirring half way through.
Meanwhile, grease a large skillet (I used coconut oil) and heat over med-high heat.  Add the potato cubes and cook until they are tender and browned on the bottom, stirring occasionally (~15 mins).
Stir in onions and sauté onions until translucent (~5-6 mins).
Removed tempeh from oven and add to skillet along with peaches.  Cook until peaches are heated through (~2 mins).  Stir in any remaining horseradish sauce and with salt, pepper, and red pepper flakes.
Transfer the hash to plates, top with the fried eggs, and serve.
Makes 2 servings.
_____________________________________________________________________________________________
How have you enjoyed making co-workers, friends, or family stare with strange but good creations this week? The link up rules can be found here or by clicking on "Strange But Good" in the menu bar above. In short, I want to see what concoctions have earned you weird looks from co-workers, family and friends! Post your Strange But Good creations, grab the logo below for your blog, and link up here.
If you're not a blogger, you can still share your recipes on Instagram with the #strangebutgood hashtag.
Remember to use #strangebutgood in any Tweets and Instagrams of your creations. 🙂



***
This weekend is the Atlanta Food & Wine Festival.  It's my 4th year going – bring on the beer and donut pairings!
Do you like fruit in savory dishes?
What is your state/town known for?  Any annoying intros?