Underground dinners are my favorite.
The "secret" suppers have exploded in Atlanta and – from what I hear – across the country.  They are meals prepared by local (mostly) aspiring chefs for a small group of people lucky enough to catch wind of the event.  I've been to quite a few and always come away inspired and with several new friends.
Push Start Kitchen has been my favorite so far.  I've only been to two (click here for the details of that event), but hope to have the opportunity to attend more.  Atlanta local Zach Meloy and his Costa Rican wife Christina prepare a thoughtful menu full of unique flavor combinations.  (Think Southern meets Latin).
When I received the email about Zach's November dinner, I knew I had to go.  He was preparing a menu inspired by stadium traditions!  You guys know I love my football.
It happened to be held on my friend Jessica's birthday (check out the gluten-free meatball guest post she wrote for me here), and I was excited to share the experience with my friend.
The evening began with a delicious tequila and pear cocktail, accompanied by Zach's take on corn nuts.  These were tossed in an addicting sweet-spicy sauce.  I may have eaten more than my share.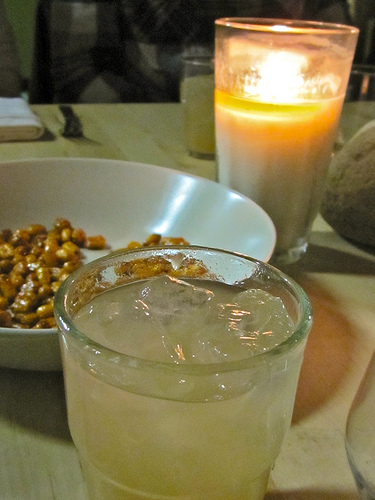 Next up was the soup course.  We were given bowls with granola (he uses Trader Joe's), pickled carrot, buttermilk panna cotta, and chipotle molasses.  That alone was a gorgeous showing!
Zach then circled the table, pouring celery root soup atop each plating.  It was a perfect combination of textures and flavors – crunchy granola, vinegar-laced carrots, subtle sweetness of the panna cotta, and the fantastic smoky heat from the chipotle molasses were all tied together with the earthy, rich celery soup.  He needs to start serving seconds!
I could have died happy after this, but we still had the main course to come!
Slow cooked chicken, with crispy onion, grain mustard panade, roasted red cabbage, and pretzel puree.  Yes it was as good as it sounds.
Zach's chicken was the most perfectly cooked meat I've ever put in my mouth.  That's no small feat. The grain mustard had just the right amount of tang with the ballpark-salty pretzel puree.
Some people turn up their noses at the idea of ordering chicken in restaurants because it's so "pedestrian."  I always argue that – like eggs – if a chef can prepare it perfectly, it's the sign of real talent.
You know when you don't want to finish a dish or drink because it's so good you don't want  it to end?  Our stadium meal was one I was sad to see end.  Alas, it was time for dessert.
Mexican hot chocolate cake with malt ice cream, dulce de leche with black salt, and kettle corn.
The cake was good, but he could have made the dessert entirely of the homemade ice cream, popcorn, and the smoky black salted caramel.  Lately I've posted a lot about my love of sweet-salty or savory combos and this hit the spot!  I swear I didn't make special requests.
Unfortunately I didn't get a picture of Jessica's dessert.  She is gluten-free, so Zach prepared a caramelized banana dish for her that looked fabulous.  She didn't offer to share.  He even put a candle in it!
The meal ended with a thick berry cordial and a sweet Latin candy rolled in crushed almonds, dipped and coated on the spot.  Two desserts = just my style.
The night didn't end there, but this post does!
***
Thanks to all for a second Top 9 this week!  Check out my Sparkling Cake Balls on FoodBuzz by clicking here.
What is your favorite stadium food?
What chef would prepare the meal at your dream supper club?