This Funfetti Layer Cake is easy to make, super moist, and full of sprinkles.  It's delicious flavor is completely from scratch, and I promise it isn't hard!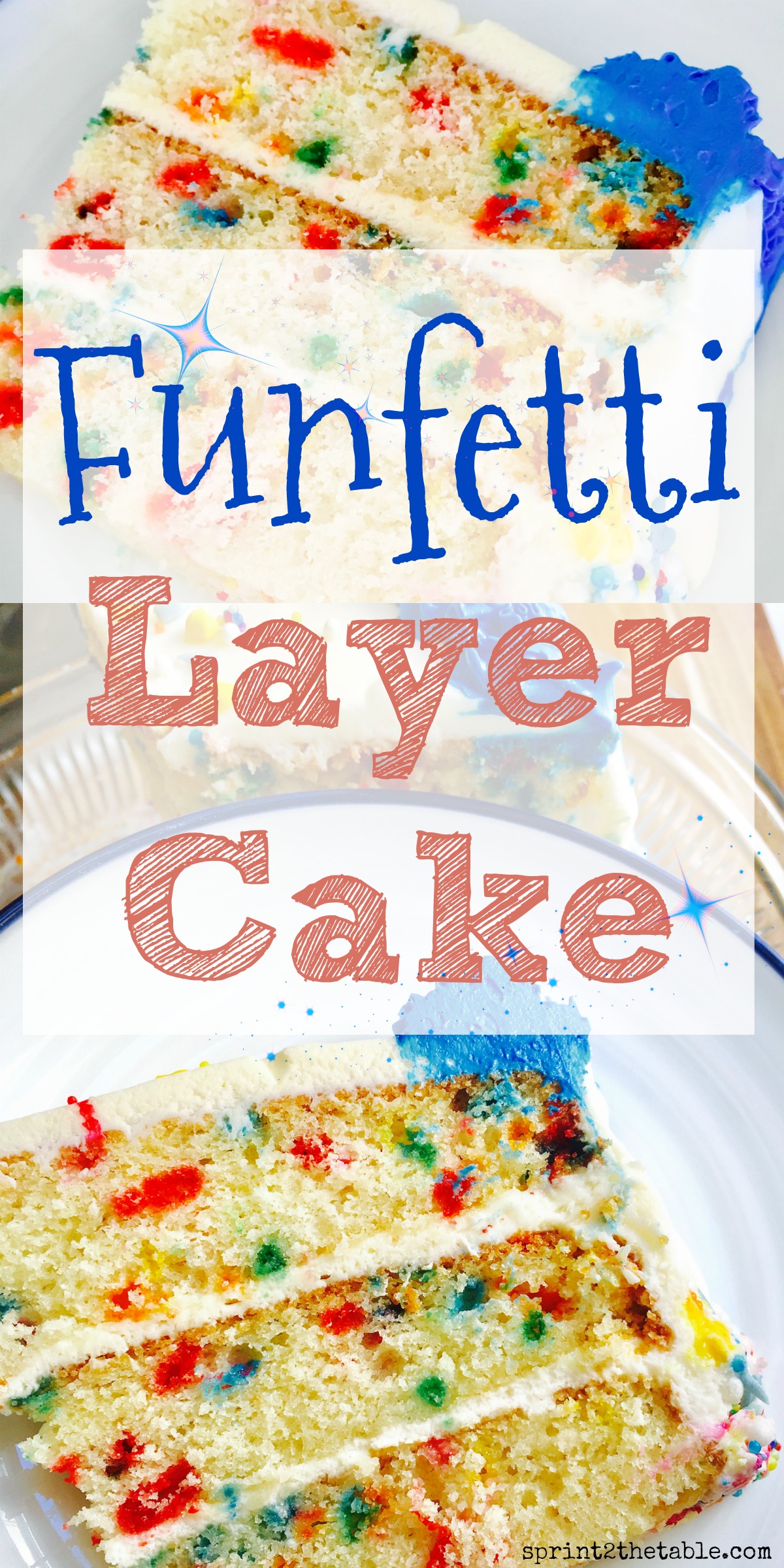 If you are a child of the 90s, you may remember the frenzy that was Funfetti Cake.  Who didn't grow up on the box mix?  Birthdays, graduations, sleep overs… PMS-driven sugar cravings.  Any excuse!
As an adult I love making it from scratch.  I know some people will disagree, but for me, baking is relaxing.  Especially if it involves sprinkles.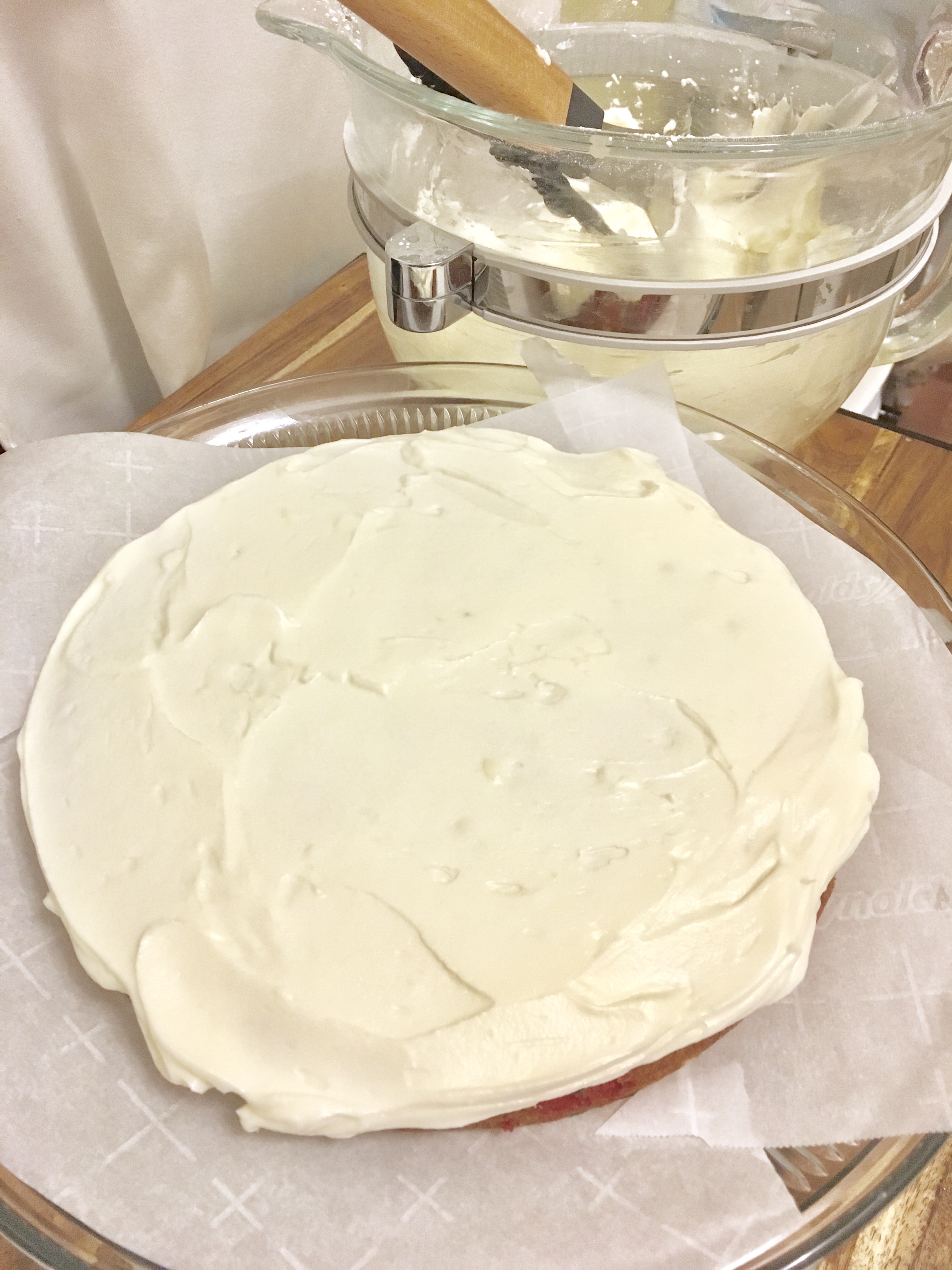 The only stressful thing is icing the cake, but take note of my new-found secret in the picture above: parchment paper.
If you tuck a bit under the sides of the cake before icing it, all you have left to do for clean up is to pull out the pieces of paper.  How genius is that?!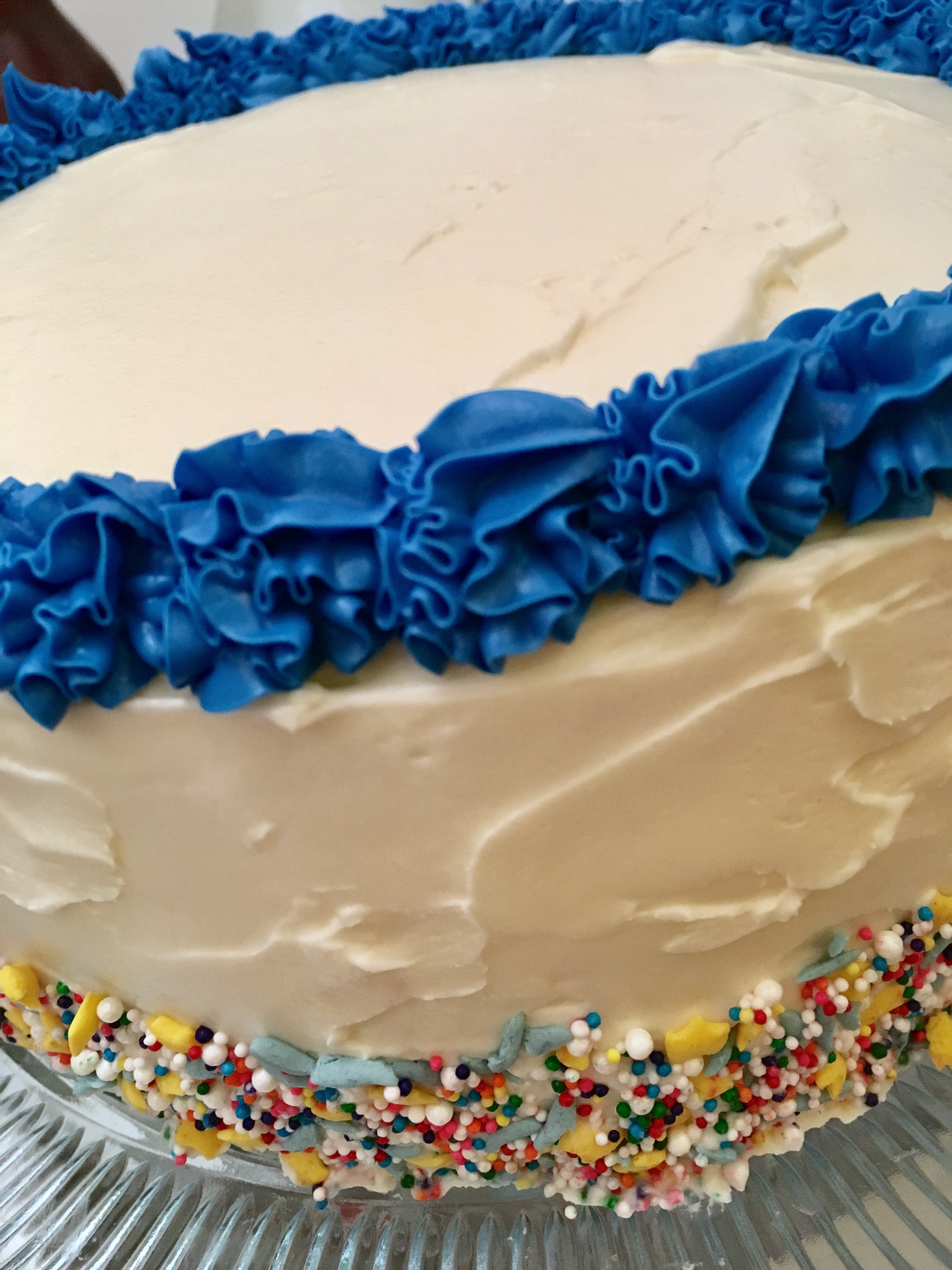 Back to the cake.  First of all, this cake is wonderfully moist.  I don't even care that I have to say moist… there's no other word.  Between the butter, canola oil, and milk, this cake embodies moist.
The key to this cake is the bit of almond extract.  There's a good amount of vanilla extract, but that bit of almond flavor is a game-changer.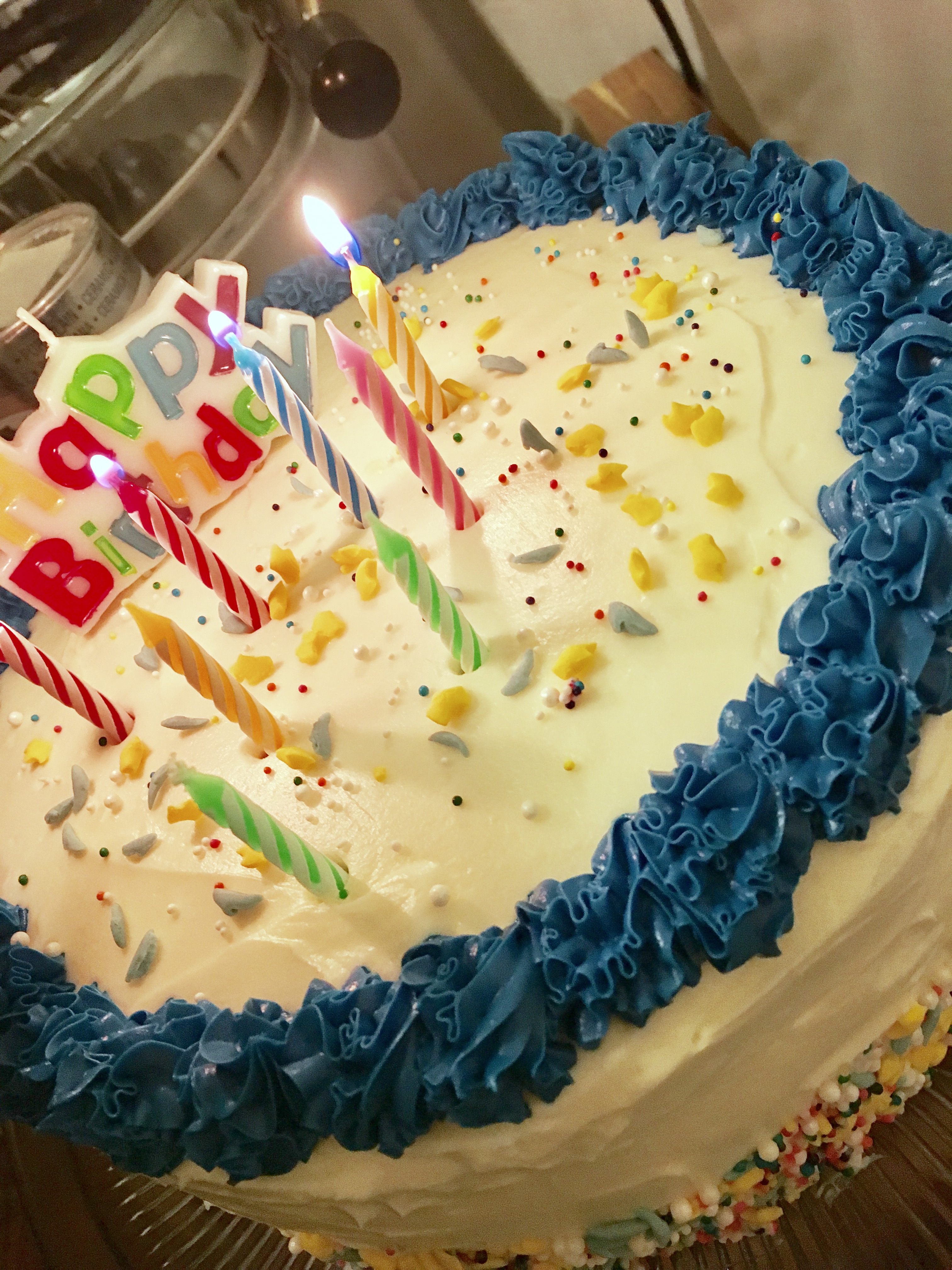 This funfetti cake was for my friend's 39th birthday.  A real #adulting win.
Another adulting win is the fact that I took this picture.  This was 7 hours into the birthday party, and I was brilliantly smashed.  Don't tell my mom.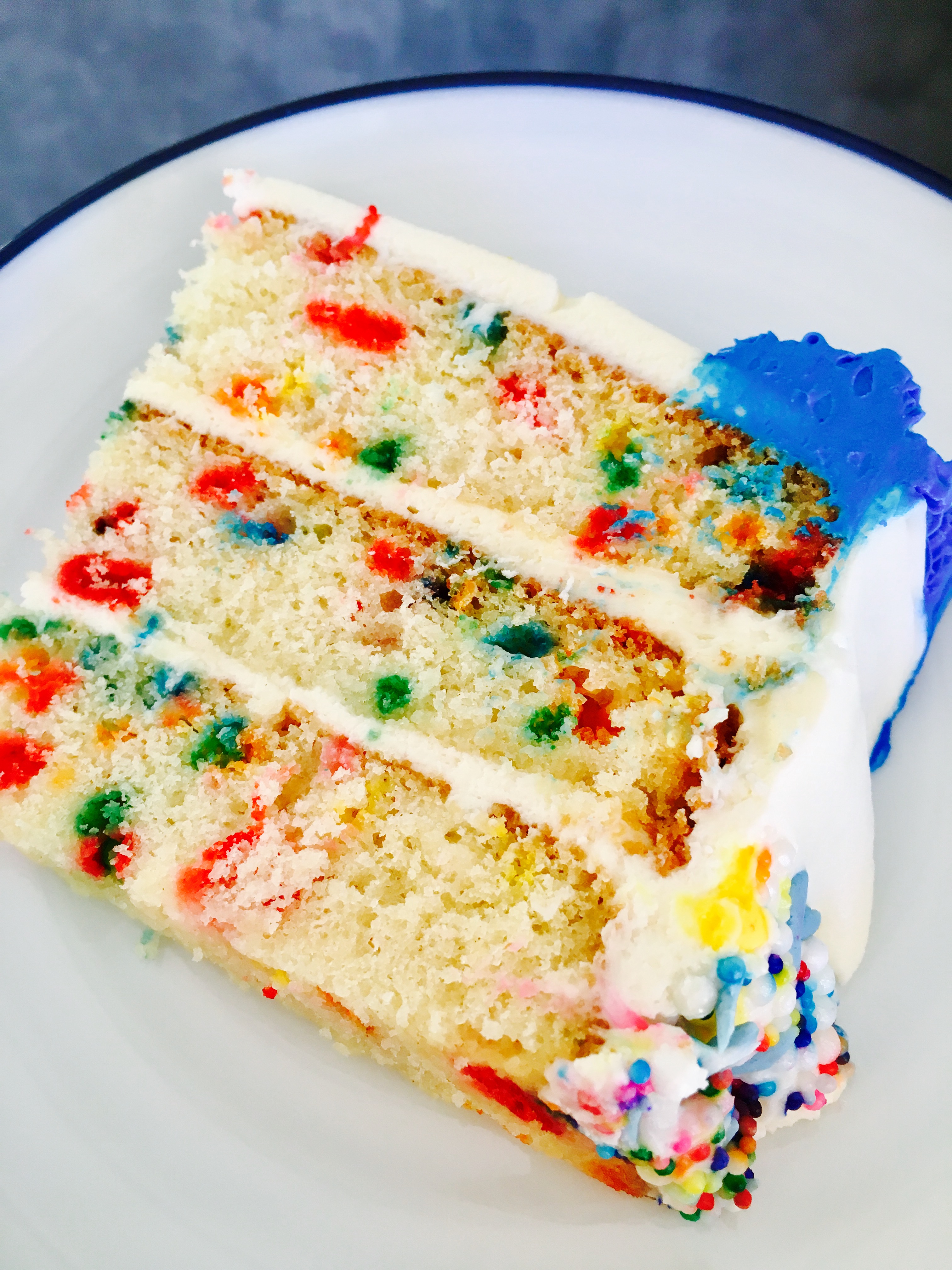 Did I mention there's half a cup of sprinkles in this beast?!  Just make sure you use the rainbow sprinkles, as they don't bleed as much as some sprinkles do.
If ever there was a cake that I could eat all by myself, this is it.*
*Slight exaggeration.  I could eat a chocolate cake all by myself too.
---
10-12SERVINGS
adjust servings
This Funfetti Layer Cake is easy to make, super moist, and full of sprinkles. This delicious flavor is completely from scratch, and I promise it isn't hard!
Ingredients
For the Cake
2 2/3

C cake flour

1

tsp baking powder

1

stp baking soda

Pinch of salt

1

C salted butter, softened

1 1/4

cups granulated sugar

4

large egg whites

1/4

C canola oil

1 1/2

T vanilla extract

1/2

tsp almond extract

3/4

C buttermilk

1/2

C rainbow sprinkles
For the Cream Cheese Frosting
1

pound cream cheese, softened

1

C salted butter, softened

4

C confectioners' sugar

1

tsp vanilla extract
For the Cake
For the Cream Cheese Frosting
To Assemble
Instructions
Pre-heat oven to 350 degrees. Grease and line with parchment three 8-inch round cake pans and set aside.
Sift together the flour, baking powder, and salt. Set aside.
Using an electric stand mixer, cream together the butter and sugar until pale and fluffy (3 to 5 minutes). Reduce speed add in the egg whites, one at a time. Stop the mixer and scape down the bowl. Add in the oil and extract. Mix on medium until combined.
With the mixer on low, alternate adding flour mixture and buttermilk in 3 rounds, beginning and ending with flour. Fully incorporating after each addition. Do not over-mix.
Distribute batter evenly between prepared pans. Smooth the top with a spatula. Bake for 15-18 mins, or until a toothpick inserted into the center comes out clean.
Cool a a wire rack for 10 mins before removing the cakes from their pans. Flip upside down and carefully peal off the parchment. Flip right-side-up and continue to cool.
Reduce speed to low and add sugar, 1 cup at a time.
Add vanilla and pinch of salt.
Increase speed to high and beat for 2-3 minutes until pale and smooth.
Using a serrated knife, trim a very thin layer from the top of each cake, just enough to even out the surface; set scraps aside.
Administer a schemer of icing on the bottom of the cake stand before laying the first cake round (this helps to avoid any sliding)
Evenly spread icing over the top of the cake, allowing icing to hang over sides.
Carefully place the second layer on top, cut-side down. Evenly spread icing over the top of this next layer.
Place the third layer on top. Then frost the top and sides of the cake with remaining icing, using an offset spatula or thin knife.
Decorate the sides and top with more sprinkles. I used the idiot-proof pre-made icing for the edging... because I'm an icing idiot.
Cut into pieces and serve!
*Note: The cake layers can be made in advance. Bake, cool, and cover tightly with plastic wrap the day before. Store at room temperature. The frosting can also be made the day before. Store in an airtight container in the refrigerator. Let come to room temperature and beat again.
***
I can't wait for the next birthday baking project!
Have you ever made your own funfetti cake?
What was your favorite cake as a kid?  Has it changed?