There's a nasty rumor that weekends are for resting.
Rest… such a mysterious word…
My version of resting is seeing how many non-work activities I can cram into a couple of days.  It turns out that number is pretty high!
The weekend started out strong with the Atlanta TECHmunch Conference.  These are held across the US, but this was the first one in ATL.  I wasn't sure what to expect, but when I heard it was to be held at one of my favorite local breweries I had no choice but to sign up!
Monday Night Brewing hosted ~100 bloggers, and was to kind as to get us tipsy after the day's learning ended.  Before the boozing, we had pumpkin donut holes, snacks from Beyond Meat, and lunch catered by my favorite MetroFresh.
The holes were ok… I'm more of a Krispy Kreme gal.  The Beyond Meat was really impressive – those beef crumbles are scarily similar to the real deal.  And MetroFresh was amazing as always.  Somehow I still managed that red velvet Sprinkles cupcake.
In addition to stuffing my face, I pitched a cookbook idea (and almost puked from stage fright) and learned some great tips.  For instance, did you know that you should add "recipe" the the title of your recipe posts for better SEO?  It seems s(e)o obvious now…
My favorite beer was a saison called Gun Show (obv).  It is a spicy Belgian-style golden ale, infused with pears and brewed using champagne yeast. The champagne influence was most obvious in the carbonation – it was slightly effervescent.  Pears mean more residual sugar… which results in 8.0% ABV.  No question why it's my favorite…
You'd think I would have still been full, but I came home ready for dinner.  It had been hours since lunch.  I don't know why I don't make more frittatas. They are so quick and easy!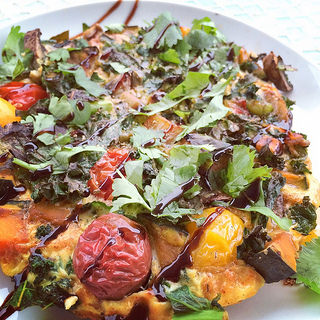 Easy Veggie Frittata
1/2 C roasted peppers and onions (from the TJ's freezer section)
1 jalapeño, diced
1/2 C mushrooms, chopped
1/2 C kabocha squash, pre-roasted and diced
1/2 C chopped kale
1/2 C egg whites
1 tsp Mexican spice blend
1/2 C chopped kale
In an oven-safe pan, sauté peppers, jalapeño, kale, mushroom, and kabocha.  When nearly done, sir in kale.
Meanwhile, whisked egg whites with spices. Pour over the top of your veggies in the pan. Cook a 2-3 mins more, until egg begins to set.
Place pan in the oven under the broiler for 3-4 mins. Transfer to a plate and top as desired.  I used cilantro and a fig-balsamic glaze.
Saturday morning I went to the gym as usual, but instead of my usual farmer's market trip I raced home to shower off for a wedding.
I got ready in under 45 mins… which gave me plenty of time to sit in traffic and take post-workout selfies.
The wedding was by a beautiful lake outside of the city.  My friends Silla and Candace tied the knot by the water as the sun was setting.  The brides and the setting were stunning!
This was one of the most heartfelt ceremonies I've ever been to.  You could feel the emotion, the gratitude, and the love in every element of the wedding.  Silla said "20 years ago I never thought I'd be able to do this."  I may have teared up… nah, it was just a drop of sweat. 😉
I must also say I appreciate a wedding with good food.  They had a little of everything: siders, shrimp pasta salad, caprese bites, grilled chicken, fried chicken… and cake.  There were yellow, red velvet, and strawberry layers, which I inhaled that too fast for a picture.
I swear I didn't just come for the food… I came for the wedding favors!  Kidding… but how funny is this?!
PSL: Pumpkin Spice Latex.
Sunday you'd think I'd sleep in, but I got up and did my cardio before batting practice.  Half of the softball team was at the wedding… hungover batting at it's finest.  Then I grocery shopped, got a massage, meal-prepped, brewed kombucha, realized I forgot sugar and went back the the grocery store, made dinner, and typed this post.
And I stared at my Garnish & Gather recipe some more.  It's so cool to see something I created being sold.  For money.  By a real company.  I'm a dork.
***
Sometimes I think the weekdays are my rest time.  It's all marvelous.
How much do you cram into weekends?
What's the most memorable wedding you've ever been to?