My intentions are good.
Most of the time anyway.
I start off strong with an epic trip to the farmer's market, intending to do a fantastic food prep that evening.  Then I opt to go out for Mexican and margaritas, telling myself it can wait one day.  The next day I did do a great food prep… but still ate a smoothie for dinner after a particularly hot workout.
There is also the problem of breakfast.  First thing every morning and last thing every evening, I spend a solid 5 minutes meditating.  By meditating, I mean staring into fridge.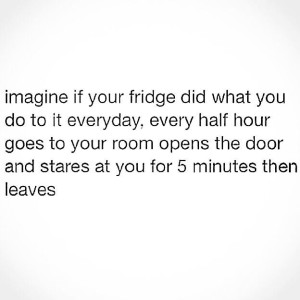 And I wonder why I can't leave the house on time…
________________________________________________________________________________________
This WIAW is was a valiant attempt and following my prep plan.  Except for breakfast.  And dinner.  And dessert.  But I killed it at work, which – let's be real – is the whole reason I bother prepping.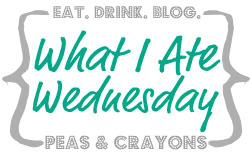 Read on for my normal (for me) eats, and then check out Jenn's blog for everyone else's delicious creations!
________________________________________________________________________________________
Breakfast:
My morning cocktail carries on.
Then – after fridge meditation and a brainstorming session in the shower – I compiled a egg-zza.  I'm actually not sure what to call it, but I beat some egg white with cayenne, cumin, garlic, and turmeric before cooking the crap out of it on a small pan.  It was pretty done when I flipped it to finish the other side.  Like a little round pizza!
The "sauce" was mashed avocado.  My topping were mango, Heirloom tomato, and an apple-chicken sausage patty.  Fruit and tomato is a theme, it seems (just wait til Friday's #strangebutgood).  Check out how cute my baby mango was!
Mid-Morning Snack:
Turbot with zucchini, snow peas, and purple sweet potato.  The fish smells especially fishy this week.  Not sure why… I actually did legit apologize to co-workers.
Lunch:
Chicken strips with grilled cauliflower and orange bell peppers.  Side of coconut oil and cinnamon-coated yuca fries. I love when I take the time to grill veggies.  I only have a grill pan, so it's not a lot of space and it takes forever… but it's SO good.  I need to remember to start it as soon as I walk into the kitchen and forget about it so they get a good char while I'm making my proteins.
Afternoon Snack:
This deliciousness is going to be reveled Friday for #strangebutgood.  Hint: it's inspired by Saturday's Mexican food and seasonal Georgia produce.
I also ate a KIND bar… because I had a little storm to wait out before going home to workout.  Half an inch of rain in 15 mins, according to the weatherman.
The downside of walking to work:
Dinner:
Post-workout dinners are hard for me.  It's hot, I'm tired… hot food doesn't even sound good but since it's dinner I feel like I *should* have more than a smoothie.  More fridge meditation ensued.
I settled on my Chocolate Beet Smoothie (minus the coffee) with Cookies & Cream Quest Bar pieces.  Because I can.  And because that just means a bigger midnight snack. 😉
Dessert:
My usual base of goat milk yogurt was mixed with coconut flour, Growing Naturals Chocolate Rice Protein, cocoa powder, and cinnamon.  Typical.  The toppings got a little more interesting.  Roasted kabocha with peanut flour sauce… and bacon.  Maybe a little sweet & salty throwback to last Friday's recipe?
I order my peanut flour from iHerb (use discount code USO924 for $5-10 off your order!).
***
I have a new obsession (thanks in part to your suggestions): Orange Is the New Black.  OMG.
Do you partake in fridge meditation?
Are you good about food prep for the week?