Friday in general is a win, but there were so many this week…
There are the NuNaturals giveaway winners to announce… at the end of this post. 🙂  (Yes, I realize you can simply scroll down.)
1. Grain-Free, Sugar-Free Cookie for 1
This brilliance was found here on Avi's blog.  I made it Thursday night and thought I'd gone to heaven.  Of course, I added sugar with the dark chocolate M&Ms. 🙂
My modifications:
Reduced coconut oil to 1 tsp
Added 2 T unsweetened almond milk
Replaced the banana with 5 drops of vanilla liquid Stevia
Dark chocolate M&Ms 
2. Raw Thai Pineapple Parsnip "Rice"
This was a huge win!  This unusual (yet easy) recipe can be found here on Janet's blog.  My only modifications were to add cilantro and a bit of sriracha.
3. Peanut Butter and Pumpkin Cottage Cheese
You know when you feel snacky, but you're not sure if you want something sweet or salty?  I found the perfect solution yesterday.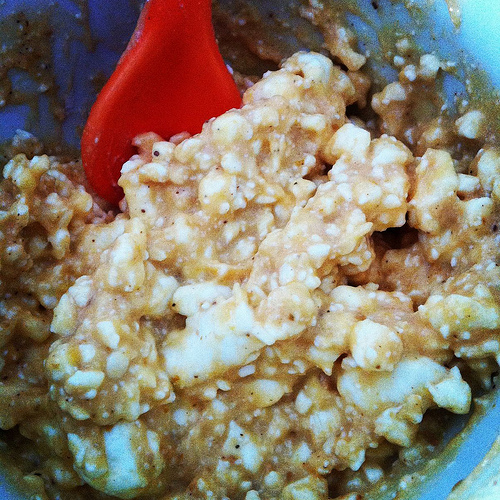 Peanut Butter and Pumpkin Cottage Cheese
1 C cottage cheese
1 T peanut butter flour
2 T pumpkin puree
1/2 tsp cinnamon
I am told this sounds like a weird combo.  It's not – this is a delicious combo.  Not unlike the combo below…
4. Stuft Mama's Protein Pumpkin Cookie Dough
How did it take me soooo long to make this?!  It's amazing.  Doh.
Do not – I repeat – DO NOT skip the PB on top.  It's sends the whole thing over the edge.
5. NUNATURALS WINNERS!!!
The following 4 ladies won NuNaturals Orange and Lemon Liquid Stevias.  Please send me an email with your info so we can get those out to you ASAP!
Heather @ Better with Veggies
Carah
Lena @ Lena on the Beach
Anuradha @ Baker Street
***
This is the weekend… I'm getting a tattoo tomorrow!!!
Do you have tattoos? What/where?
What's the best blogger recipe you've tried lately?