My love affair with breakfast continues.
I couldn't choose between something peanut butter-y and French toast.  Like a true healthy-living blogger I want nut butter at every meal, but I'd been thinking about french toast ever since receiving a loaf of P28 Bread.
French toast was my favorite childhood breakfast.  Mom used to make it on challah bread with lots of cinnamon and a drizzle of honey.  She would then warm syrup with butter to pour over the decadent toast.
Obviously that's not on my training diet, and I had not attempted to make a healthy version due to my protein requirements.  There's no way French toast would pack 20g of protein… until I received high protein bread.
You may have seen me mention P28 bread in previous posts.  I absolutely love it.  One slice packs 14g of protein!  Count me in.
P28 bread is chewier than regular bread.  Some people (Lee's husband) like that.  I don't mind it, but prefer the bread toasted.  The toasting turns it perfectly soft with a nice crunchy exterior.  Note: Due to the whey, it toasts faster than regular bread, so keep an eye on it.
Now about the french toast…
Peanut butter-coated and topped with caramelized bananas, I had to name it after The King.
You know how good warm, runny nut butter is?  Imagine that, but soaked into bread.  A little vanilla and cinnamon makes it almost like eating dessert for breakfast.  Dessefast?  Deckfast?
For my topping, I sliced the bananas and let them briefly caramelize in the pan.  Arranged atop of the peanut-y toast and drizzled with cinnamon-lace syrup, those bananas added just the right amount of richness and creamy texture.
No peanut flour?  No problem!  Just use regular peanut butter.  (It will be easier to mix if you warm it just a bit.)
But really, you should order this peanut flour via iHerb.  Use coupon code USO924 for $5 off your first order.  It's awesome, and it's made in Georgia. 😉
Recipe at the end.
And now for the fun part.  P28 has offered an opportunity for 3 readers to try their bread!
P28 is made with 100% Whole Wheat, Whey Protein Isolate, Oats, Flaxseed, Sunflower Seed and Millet.  It's 100% Natural, and is a great source of Omega 3s and 8 essential Amino Acids needed for growth, energy, and vibrant health.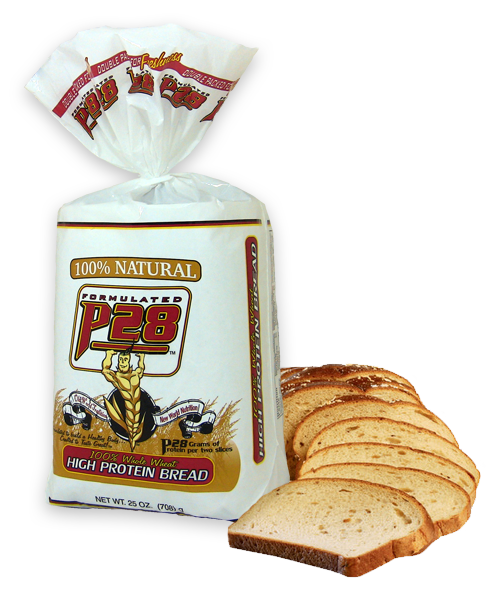 Want a loaf of your very own?  Receive up to 4 entries by:
Follow me on Twitter or Subscribe to the Sprint 2 the Table RSS feed or email
Tweet: You could say something like: I've entered to win a loaf of high protein bread from @P28bread with @sprint2thetable http://wp.me/p16jDn-1uR #giveaway

Be Social: Twitter Follow P28, Pinterest Follow Me and/or Pin Something of Mine, Instagram Follow Me
Comment: What would you make first with your bread?
Please leave a *separate comment* for each entry!
Giveaway ends at 11:59pm EST Thursday night,  August 9th.  The winner will be announced here on Friday, August 10th!
Open to US Residents only.  If you'd like to try these bars but didn't win, check out their website to find a local retailer, or to order your a sample pack.
---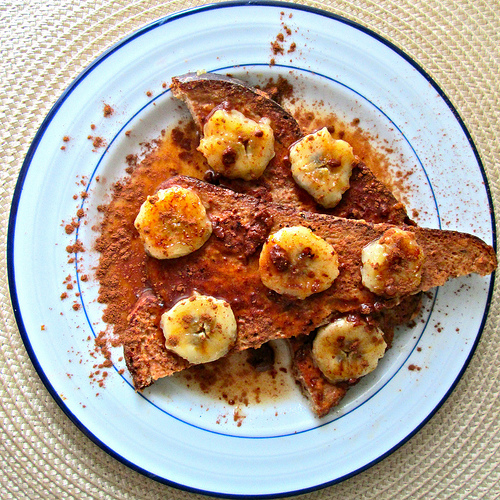 French Elvis Toast
2 T peanut flour
1/2 tsp cinnamon
1/4 C egg whites
2-3 T milk (I used unsweetened almond)
1/2 tsp vanilla
4 drops liquid stevia
1slice P28 Bread (or bread of choice)
1/2 banana, sliced
For Syrup:
2 T sugar-free maple syrup
1/2 tsp cinnamon
1/4 tsp butter extract
For the Toast:
Combine all ingredients in wide bowl.  Dip bread in mixture until saturated.
Cook in pan over med-high heat until golden brown on each side.
When almost done, place banana slices in pan and allow to caramelize slightly (they will turn a bit brown on top).
For the Syrup:
Pour syrup in small bowl.  Mix in cinnamon and butter extract.  Microwave for ~20 secs, until warm.
Plate your toast and top with caramelized bananas and syrup.
Makes 1 serving.
Note: If using regular bread, you may need 2 slices.  P28 slices are large and more dense than a standard slice.
Vegan Option: First, use a vegan bread source.  Second, replace the eggs with more almond milk and add a tablespoon of flax.  Let it sit for 10 mins to thicken before dipping your bread.  Proceed to cook.
Approximate Nutritionals (without syrup or bananas): 223 calories, 5.9g fat, 342.5mg sodium, 16.2 carbohydrates, 4.1g fiber, 4g sugar, 28.8g protein
***
I'm have a double serving for breakfast today.  Last night was leg day with my trainger and I sort of want to die after  those hack squats.
What was your favorite breakfast as a child?
Have you even done hack squats?