Eating and drinking wine are my 2 favorite activities.
Well, the 2 that are most appropriate to blog about.
I took a whirlwind trip to France during my travels last week.  The purpose was (obviously) wine.  Burgundy is one of France's most notable wine districts.  It's home to red and white Burgundy wines – better known to many as Pinot Noir and Chardonnay.  Specifically, I was in Côte d'Or.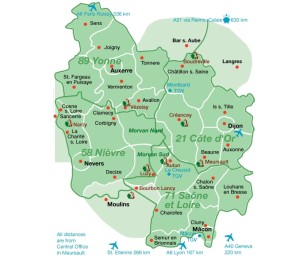 First thing in the morning I met a tour guide, Stephen.  Stephen is from the UK, but married to a French woman and had lived in France for many years.  He knew all the ins and outs of the region!  If you're ever in Burgundy, I highly recommend hooking up with Authentica tours.
We began the morning with a drive to our first destination, filled with a ton of background knowledge about the region and wine classifications… and a croissant.  You think you've had good ones in America, but there's nothing like a true French croissant!
Burgundy is not only the original home of the Pinot Noir and Chardonnay grapes, but also the "terroir" (tare-wah) that produces the very best.  Terroir simply means the way the grape, soil, climate, vineyard placement, and the human touch comes together.
The area has a classification system that divides the wines into 4 levels of quality:
Grand Cru – Makes up 1% of the approved wine growing area; it is the highest quality and most expensive; they are big wines with complex flavors made for cellaring; there are just 33 Grand Cru vineyards in Burgundy – some are literally inches away from a Premier Cru vineyard (you may know famous n

ames like Romanée Conti, La Tâche, and Montrachet)

Premier Cru – 10% of the area; from special vineyard areas within a village called "climats"; their flavor is more intense, but are still affordable and perfect food wines (their labels say "Premier Cru" or "1er Cru")
Village Wines – 37% of the area; they are named after the town nearest to where the grapes are sourced; light, but still complex (look for names like "Pouilly Fuisse", "Santenay", "Givry" or "Mercurey")
Regional Wines – 52% of the area; can be made from grapes grown anywhere in Burgundy and tend to be fresh, light wines that are easy drinkers ("Bourgogne Rouge" or "Bourgogne Blanc).
No matter what the classification is, Burgundy looks like a story book.
We arrived at our first location, Pierre André au Château de Corton, for a tour of the cellar and a tasting of 3 white and 3 red Burgundy wines.
I was so excited to try the Grand Cru!  It was a bit young, but still delicious.  It was fun to see how the flavor changed and relaxed after just 15 minutes in the glass.
Then we were off to Beaune where were had two hours for lunch and to wander the town.  Again, the city looked like a fairytale.  I walked around with my mouth hanging open.  Finally I chose a location for lunch: Le Fleury.
I couldn't leave France without trying authentic Boeuf Bourguignon.  It was incredible – easily one of the top 3 meals of the trip.  Boeuf Bourguignon is one of my mom's favorite "Julia" meals, so I thought it appropriate to eat it on Mother's Day and tag her in the Instagram pic.  What a nice daughter I am, no? 😉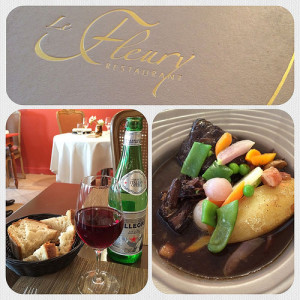 We continued on the tour, stopping to gawk at the Grand Cru vineyards.  It was amazing how small some of them were!  I now understand how they can charge so much – with so few vines, it's supply in demand.  Not to mention the incredible, complex flavors.
I took liberties with the wall protecting the Domaine del la Romanee-Conti vines. Their Grand Crus sell for thousands, and are in such demand it's a task to even find a bottle to buy!
We continued along, stopping to take in the sights and learn the history of various landmarks.  I've always liked hearing the "rest of the story," so I geeked out a little.  I can't imagine how our guide knew SO much – every castle, every Grand Cru spot, and family histories.
I have the memory of a goldfish – the little plastic castle is a surprise every time. LOL!
There was one more tasting from a very sweet couple who own Gérard Quivy.  When Gérard himself walked in you'd have thought I just saw George Clooney.
We walked through their cellar and then proceed to taste 3 reds, including their Premier Cru.  It was delicious – I bought my mom a bottle for Mother's Day (in case a picture of me eating her favorite meal didn't count as a gift).
That's where the French fairy tale ended.  Back to the train I went to head back to Basel and Lucie.  I couldn't wait to tell her all about it – I wish she could have come too!
During my wait for the train, I ate a salad with smoked salmon.  Not amazing, but still impressive for train station food!
Maybe the fairly tale wasn't quite over.  I ordered the salad with a purpose – to save room for my first real French crepe.  Properly stuffed with Nutella.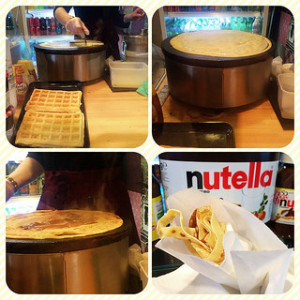 ---
This is my WIAW on a Sunday in France.  Trust me, it's far more fun that what I'm eating today (on an actual Wednesday).  Remember to check out Jenn's blog for everyone else's delicious creations!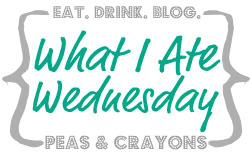 ***
I'm officially back to reality today – it's my first day at my new job!
Have you ever been on a wine tour or tasting?
What is your favorite French food?