How much can you fit into one day?
Apparently I decided to try and find out yesterday.
I ran a new route and even with the (somewhat unexpected) hills and kept a good pace.  My legs felt really stong after a Thursday rest day.
Stats:
Distance – 6 miles
Time – 48:06 mins
Pace – 8:01
My legs did feel a bit heavy at mile 5, but that didn't prevent me from sprinting to make a cross walk and then running up and down my street to get the last quarter mile (had to make an even 6!).
Recovery smoothie time.  Thursday's smoothie list reminded me of a old favorite – mocha banana.  It was just as delicious as I remembered.
I worked from home in the morning, but took a moment to make a crust (to be filled in a few mins this morning).
Any guesses as to what it's getting filled with?
I also took a moment to learn a very import lesson about why you should wear a shirt while baking.
Due to an eye appointment, I took a lunch break from Excel.
I'm loving my new doc, Dr. Reena Gupta, at Ansley Eye Care!  She fixed me up with an updated prescription and new glasses to replace my old (5+ years?!) pair.  She get extra rockstar points for being at work just 1 month after having a baby!
Which is better?  1?  2?  Or 3?
They arrive next week!
---
Starbucks has become my home-away-from-home during this crazy work period.
I tried one of their new lunch boxes – the Chipotle Chicken Wraps.
Verdict: Not bad.  It was <400 calories and had 26g of protein.  The sauce was delish and I loved that it came with a piece of dark chocolate.  The tortilla could have been more fresh, but for a boxed lunch it was fine.
After chowing down, I found a new ring in the fiery pits of Excel hell  more working from Starbucks ensued.
No matter – because then I got to celebrate the weekend with an Italian wine tasting!  Perrine does a great job with these at her shop – complete with an awesome cheese spread.
She even brings in the wine makers.  There is nothing cooler than talking to the Italian wine maker while sipping on his wine…
…except when you get that Italian grower to autograph your newly-acquired bottle of his signature wine.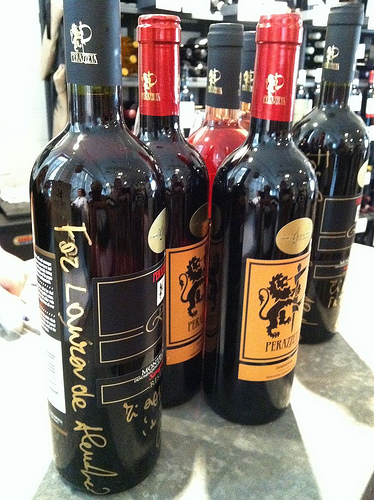 Corinne and I will be visiting Alessandro Bocci and enjoying the wines at Perazzeta in Italia. 🙂
The icing on this day's cake was sharing one of those bottles over (another) delicious dinner at Bocado.
That beet salad with farro, avocado, hazelnuts, and oranges is seriously addicting.  If you're in ATL, don't miss it!
And that, my friends, is how you fill up a Friday.
***
You guys were cracking me up about the peanuts and coke yesterday.  I kind of want to try it…
What are you doing this weekend?  
Is anyone running a race?  I'm missing it after a couple weeks off!