Remember having pen pals in elementary school?
They were the best!  I looked forward to getting a handwritten (*gasp*) note in the mail from my penal in Oklahoma.  The adult version of the tradition dreamed up by Lindsay is even better – it involves food!
My Foodie PenPal this month, Jennifer @ Peanut Butter & Peppers, sent me a big box of awesome: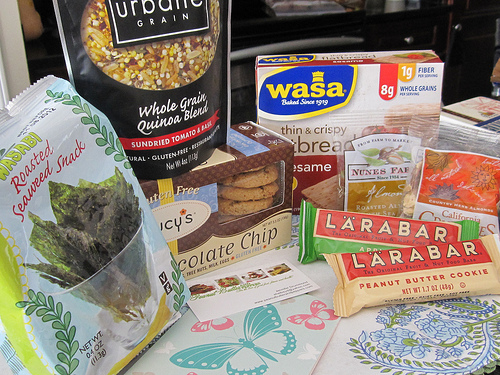 From my pal Jennifer:
TJs Seaweed Snacks
Lucy's Gluten-Free Chocolate Chip Cookies (so flippin' good)
SDT & Basil Quinoa
Sesame Wasa Crackers (my new fav work snack)
Roasted Almonds
Lara Bars
A cute mat to take pics on (such a cool blogger-gift idea!)
A hand-written note 🙂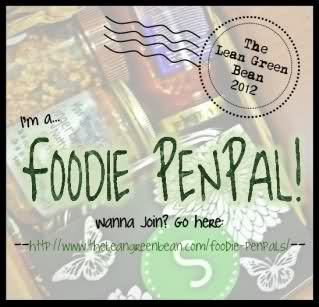 To sign up for a Foodie PenPals in April, send an email to the brilliant Lindsay at theleangreenbean@gmail.com with the following info:
-Your full name
-Your email address
-Your blog name/address (if you've got one)
-Your twitter handle (if applicable)
-Whether you are a US resident or Canadian
Join in by April 4th as pairings will be emailed on April 5th!
_______________________________________________________________________________________
I'm at a work retreat for the latter part of this week, so I'm a bit light on the post today.  Translation: perfect time for a survey post!
You may have seen this "ABCs" survey circling the blog world… I'm about 2+ weeks behind the times, but thought I'd finally be a joiner. 🙂
A is for age: 28.  When did I get so close to 30?!
B is for breakfast today: Nothing yet, but it will be conference food (which is 100x better than average, I must say).
C is for currently craving: Kombucha!  Since I've been travelling, it's been 3 days without!!!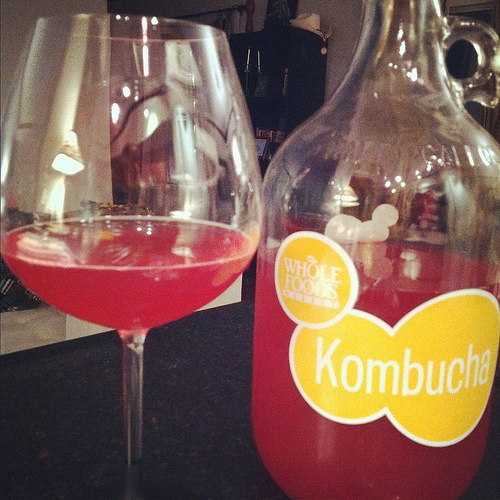 D is for dinner tonight: I'm going to a mother-daughter dinner with my mom, my BFF, and her mom.  Atlanta, beware!
E is for favorite type of exercise: Weight lifting!  Although not being able to run has really made me appreciate/crave running.
F is for an irrational fear: Roaches.  I can't handle them.
G is for gross food: I was talked into trying oysters once.  It almost came back up.  Never again.
H is for hometown: Atlanta, GA.  Where that playas play.
I is for something important: Being the best you possible.  Why bother doing anything half way?
J is for current favorite jam: Tough choice!!!  Anything by Mumford & Sons.
K is for kids: I know what causes that… nothankyou.
L is for current location: In my cute cottage at my work retreat.
M is for the most recent way you spent money: I bit the bullet and bought the VitaMix.  Best purchasing decision EVER.
N is for something you need:  A good sweat.  If I don't get moving for at least for 15 mins every day, I start pacing like a caged animal.
O is for occupation:  Consulting in the area of Sales Effectiveness.
P is for pet peeve: When servers start clearing plates before everyone is done.  In the words of Stephanie Tanner, "How rude!"
Q is for a quote:  "You can do anything you want to, if you want to badly enough." – My Dad
R is for random fact about you: I would love to do a tri, but I can't swim.  Actually, I downright hate swimming.
S is for favorite healthy snack: I legit LOVE healthy snacks – protein shakes or chia pudding are my go-tos.  Loved this Roasted Beet and Orange.
Unhealthy Snack: Hmmm… my snacks really aren't bad.  Desserts are my weakness. Warm chocolate chip cookies, anyone?
T is for favorite treat: Really, really good wine (Amarone, anyone?) and chocolate cake.  Preferably together.
U is for something that makes you unique: I'm special just like everyone else!  Maybe having played roller derby? That's a pretty cool adventure.
V is for favorite vegetable: Spinach!  Every smoothie I make is a peculiar shade of green. 🙂
W is for today's workout: A quick HIIT thing in my room this morning.
X is for X-rays you've had: Jaw (see letter U), teeth, knee (fractured)… I think that's it (surprisingly).
Y is for yesterday's highlight: Meeting my new colleagues AND doing a "Cooking Experience" activity with the founder of Serenbe.
Z is for your time zone: East Coast, represent!
***
I always say this… but I really mean it this week… TGIF!!!
What are you up to this weekend?  Any races?
Time for your quiz!  Pick a few letters and tell me a little more about YOU.  Please. 🙂