Atlanta is a food mecca.
It really has become like a mini San Francisco!
This is the food portion of Sarah's weekend visit… my favorite part!  There's nothing more fun than watching a friend enjoy a meal.  Don't get me wrong – I love to eat it too, but sharing something you love so much with a good friend makes the experience that much better.
So does the fact that Sarah created an image for the extravaganza: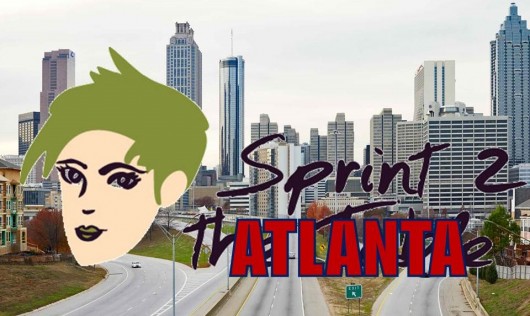 Friday began with a dinner with Sarah and Heather at Cardamom Hill, my favorite Indian spot.  The food is inspired by Chef Asha Gomez's native cuisine from Kerala, but bring in a Southern influence.
We ordered a few starters: Bhajia (sweet potato and onion fritters served with tamarind sauce), Egg Appam (rice & coconut crepe with a poached egg and chili grilled shrimp), and green beans in a spicy garlic-onion masala.
Then we moved on to dinner.  First was an Indian take on the classic Shrimp and Grits: spicy Kerala-curried shrimp over grits with leeks, ginger and roasted peppers.  The second dish was a red snapper fillet seasoned with a masala paste over a roasted in a banana leaf.  It is topped with a coconut milk curry and served with basmati rice and cardamom-scented sweet potatoes.
It's all as good as it sounds.  One thing I love about Asha is that she doesn't tame her spices to cater to an "American" palette.  Each dish had the perfect level of heat – enough to feel it, but not so much that it over took the flavor of the dish.
 _______________________________________________________________________________________
 Saturday morning we were slightly suffering from food hangovers, so I served Sarah my special morning "cocktail."  I swear it has magical powers.  This, plus some eggs and fruit, fueled one helluva glute day!
After glute camp, protein shakes, the epic grocery trip, coffee, and a trip to Kroger (another grocery store), we – once again – did the stereotypical "blogger" thing for a snack: hummus, veggies, and summer rolls.
Sarah Instagrammed while I took a picture of her taking a picture of our foods.  Also note the kabocha on the side. 😉
For dinner, I took her to Decatur.  It is one of my favorite parts of Atlanta, and is home to one of the best restaurants in the city, Cakes & Ale.
I've,eaten here before, but I swear it gets better every time.  This was no exception.  In fact, our meal here was one of the best meals I've had in recent memory in Atlanta.  Thus, it will be known as…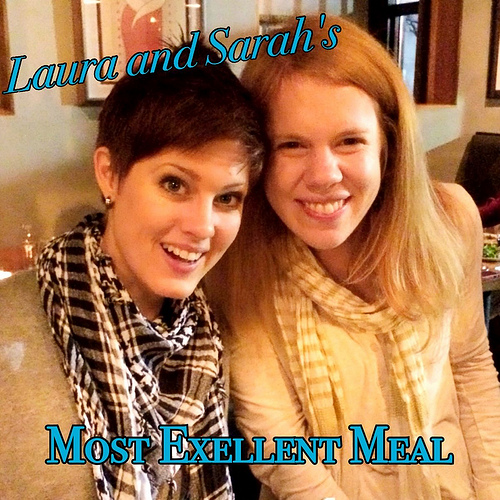 We elected to sit at the bar, which I typically find to be the best seat in the house.  A good bartender knows everything about the restaurant – from menu to cocktails – and will often let you sample things.
Evan at Cakes & Ale is a good bartender.  He started us off well with a gin drink for Sarah and his take on a Manhattan for me.
This most excellent bartender surprised us with a small gift – Arancini with citrus and fennel pollen!  This is one of my favorite dished there.  Imagine a cheese stick, but as a rice ball with fun spices.  We also ordered the butternut squash "hummus" with naan, pomegranate, cilantro, and za'atar to start.  I thought my butternut hummus was good… but the impossibly smooth, whipped quality of this pseudo-hummus stole me heart.
Our mains were a roasted cauliflower and shell beans with turnips, carrots, arugula, feta, and poached egg and a Striped Bass with creamed savoy cabbage, roasted fennel salsa, smoked beets, black trumpet mushrooms.  The smoked beets deserve a paragraph of them own.  I'll save you the pontificating and just say that they were go good that upon first bite Sarah and I both paused in stunned silence.
Just when we thought things couldn't get better, the bartender sold us on dessert.  It was a hazelnut Bavarian cake with praline bavarian mousse, vanilla sauce, and topped with a nougatine.
That sounds wonderful, but his personal description is what sealed the deal for me.  He called it "slutty cake."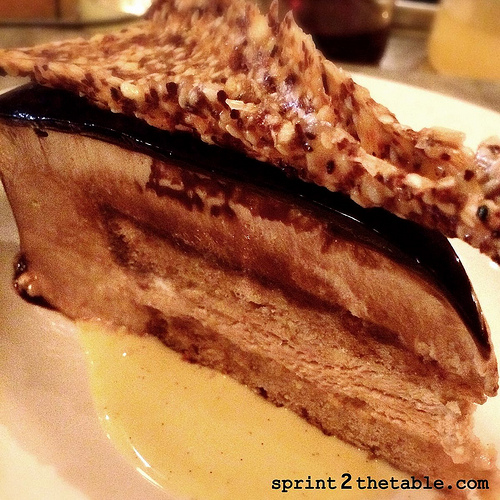 It was the best kind of slutty.  Rich, decadent, cream-filled… silky smooth…

I need a cold shower jut remembering it, so this will conclude What I Ate with Sarah.  Check out all the link ups here.  And check out Sarah's recaps here and here.
***
Don't forget click here to enter the giveaway for the Holiday Sampler box from Sizzlefish.  Win 1 for you and 1 to gift!
Have you ever had a food hangover?  The struggle is real!
What is the best meal you've had at a restaurant?