Remember when black bean brownies were all the rage?
Maybe that's a teeny exaggeration… my friends still thought they were weird.
Flourless Pinto Bean Brownies are where it's at.  These cocoa-laced treats are flourless, fudge-y, and delicious!  They are also low sugar and can be made vegan with flax eggs.
I know, I know… pinto beans in brownies sounds weird.  But I SWEAR you can't taste them.  Both Vegas and my baby sister ate them and didn't detect a trace of bean… and they know I usually trying to sneak something healthy into their food.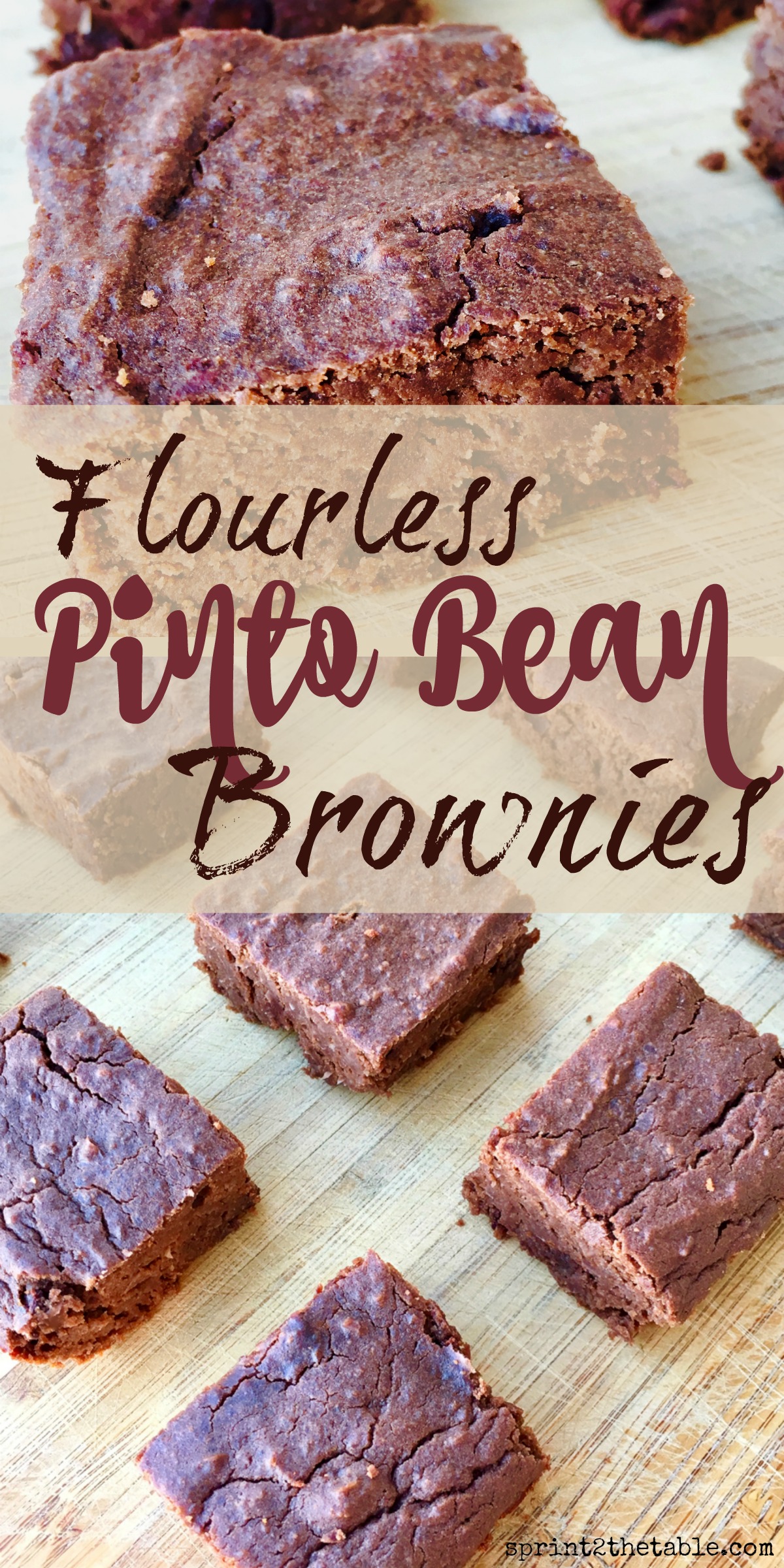 Flourless chocolate treats are some of my favorites.  Not because I'm scared of flour, but because I love that creamy, decadent texture.  The beans in these brownies only makes that texture better.
I used my favorite Farmer Direct Co-op brand beans because they make me feel even better – they're organic, fair-trade, and non-GMO.  All things that I've been paying closer attention to these days.  Cleaner foods just seem to make me feel better.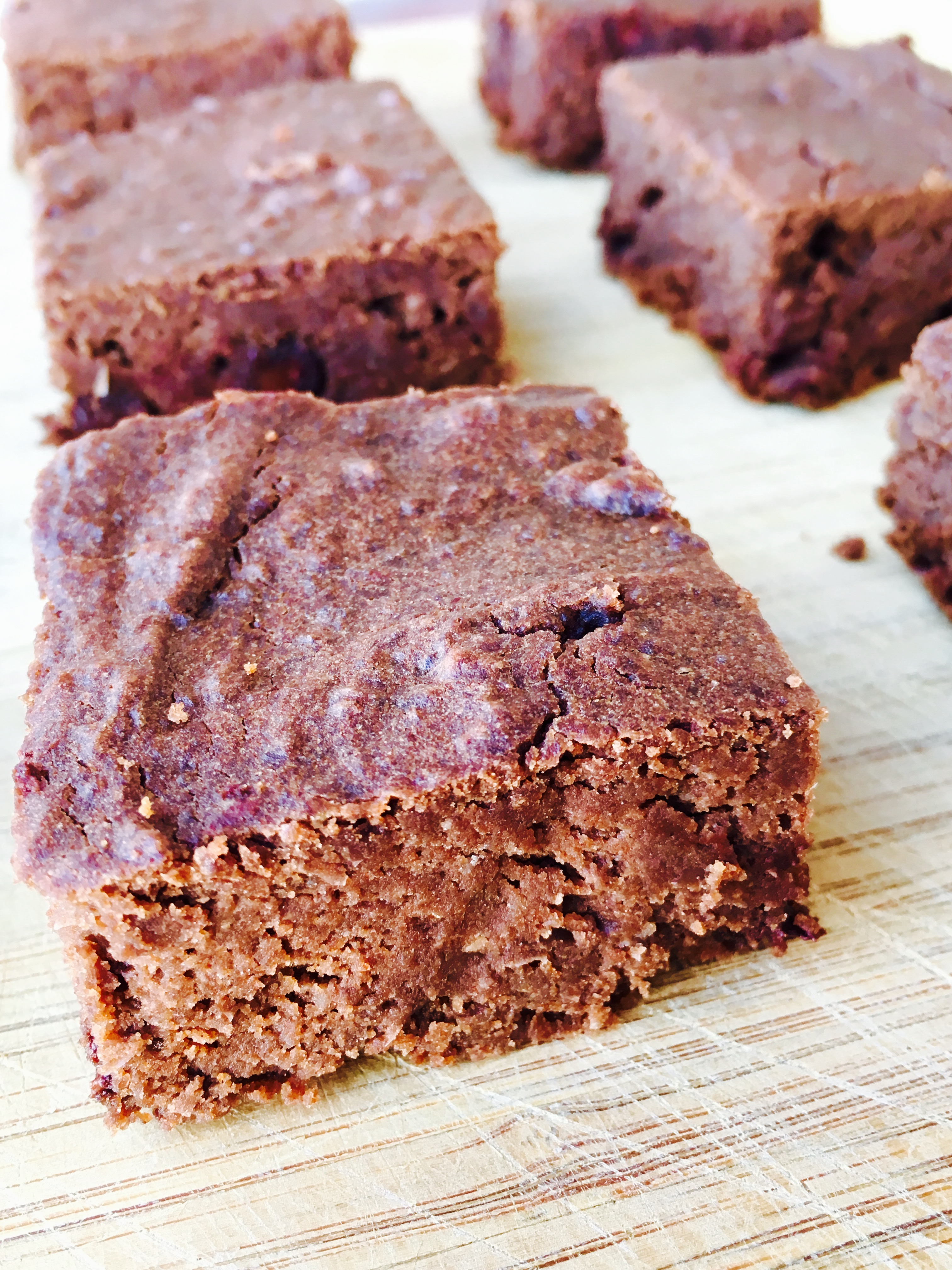 Back to the chocolate though.  I'm also a fan of the rich dark chocolate that cocoa powder gives baked goods.  That combined with a hint of peanut butter makes these basically my ideal dessert.  Add in a few chocolate chips and I'm in dessert nirvana.
Oh, and they're sugar free.  This hardly even counts as a dessert… so you should just go ahead and pair it with with red wine.  😉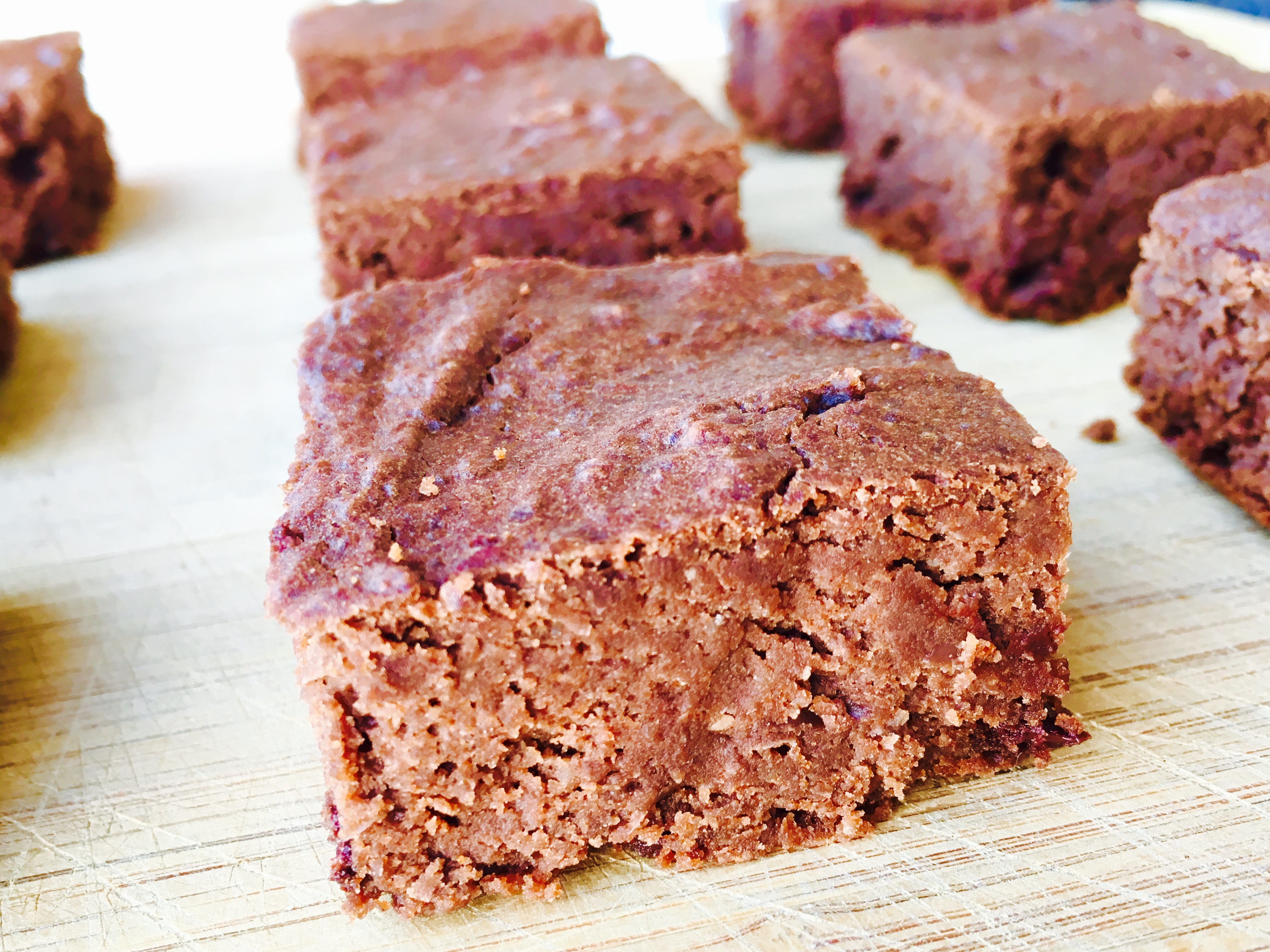 Flourless Pinto Bean Brownies
Prep Time: 15 mins
Cook Time: 20-25 mins
Keywords: bake blender dessert gluten-free sugar-free vegan vegetarian low-sodium coconut oil eggs peanut butter cocoa brownie healthy
Ingredients (12 servings)
2 C pinto beans, cooked
2 whole eggs
2 T coconut oil, melted
3 T peanut butter
1 T vanilla
2 T VitaFiber syrup (can use honey or agave)
1/2 C xylitol (or other granulated sugar)
1/3 C cocoa powder
1/2 tsp cinnamon
1/2 tsp baking soda
1/4 C dark chocolate chips (optional)
Instructions
Preheat oven to 350°F. Lightly grease a 9×9 Pyrex dish and set aside.
Place all ingredients, except the chocolate chips, in a food processor and process until smooth. You may need to stop and scrape down the sides periodically.
Fold in chocolate chips, then transfer batter to prepared dish.
Bake for 20-25 mins until the edges start to crisp up and pull away from the sides. A toothpick will come out *mostly* clean. Bean brownies are meant to a bit fudge-y.
Allow to cool for 15 – 20 minutes before cutting into squares.
Approximate nutrition: 129 calories, 6.7 g fat, 142 mg sodium, 15.5 g carbs, 4.3 g fiber, 1.4 g sugar, 4.3g protein
***



I was going to have these for Thanksgiving… but they're gone.  Oops.
Do you sneak veggies into your family's meals?
Have you ever made bean brownies?