Flavor overload.
A line needs to be drawn.
Lays flavors have gotten out of control.  I mean… I can see a Wasabi Ginger chip.  I can even stretch it to Mango Salsa.  But Cappuccino?!  No.  One review I read described them this way: "They smell like a tomb, and taste like stale crackers dusted with International Delight-brand instant coffee."
I'm all for #strangebutgood… but really?!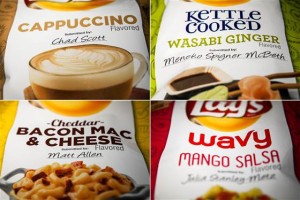 BUT… this is even worse than anything Lays could ever come up with.
Chicken Wing ICE CREAM?!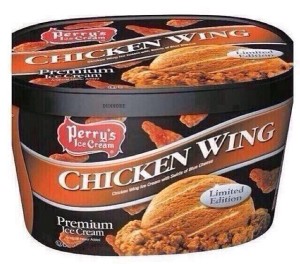 ---
This WIAW was bursting with flavor.  An overload in a good way. 😉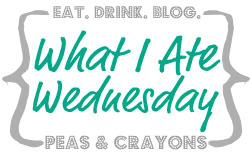 Read on for my eats, and then check out Jenn's blog for everyone else's delicious creations!
---
Breakfast:
My morning cocktail was followed by a muffin that I forgot to picture.  I've begun going to the gym before work, so I have a small snack.  I just can't eat big that early in the morning.  Never mind that I consider 9a early.
When I was done with my workout, I was ready to EAT.  I made an XL protein shake.  It was an electric shade of green thanks to spinach, but it was peanut butter flavored.  I blended peanut butter protein powder (don't ask which one – I don't love it so I've just trying to use it up), cinnamon, almond extract, spinach, almond milk, ice… and a (vegan!) Zucchini Banana Protein Muffin.  Then I topped it with another 1/2 a muffin.  Mmmm… muffins… 
Lunch:
I made a Turkey Hummus Salad.  Sounds fancy, no?  It wasn't.  I shredded up some no-salt deli turkey and mixed in hummus.  Then tossed in some sugar peas.  Boom.
Mid-Afternoon Snack(s):
It was a long afternoon…  I bar'd it up.  Love the buffalo jerky from Onnit.  It's super-moist.  I also really liked this Mojo Bar.  The Coconut Almond was really good.  I loved that it was just hint of fresh coconut – not like suntan lotion.
Then a dinner-ish snack of a trout salad.  I mixed up my Sizzlefish trout with bell peppers, parsley, greek yogurt, nutritional yeast, turmeric, and cayenne.
Working out in the morning means I work even later, so pre-gaming for dinner is a must.
Dinner:
Swordfish was on sale at Whole Paycheck.  I roasted it simply with lemon juice, black pepper, and rosemary.  Meanwhile, I sautéed shallot, mushroom, and cabbage, tossing it in my healthy BBQ sauce at the very end.
But the BEST part?  I made a PERFECT savory falafel waffle.  I want to try it once more to simplify the ingredient list before posting it… but it was fluffy and delicious and – most importantly – it didn't do this again.
Dessert:
I can't even… kabocha bowl of flavor heaven.  I roasted a kabocha.  Filled it with greek yogurt, peanut flour, gelatin, cinnamon, toffee stevia, and almond extract.  Topped it with bacon sprinkles, actual sprinkles, and a drizzle of chocolate syrup.  Followed by a moment of silence.
Note: I order peanut flour from iHerb.  Use my discount code – USO924 – for $5-10 off your order!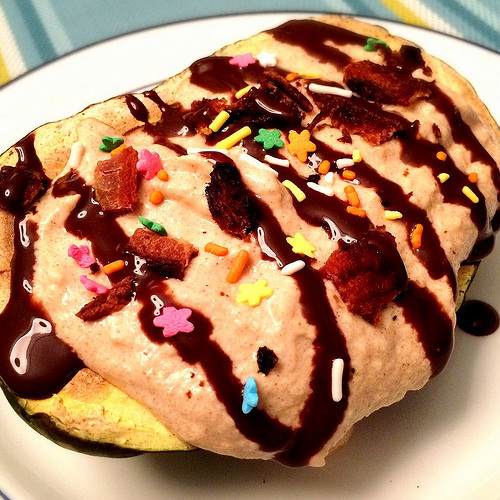 ***
It's hard to believe it's already September… or that it's already Wednesday.  Hooray for short weeks!
Would you ever try chicken wing ice cream?  
What is your favorite snack bar?