DIY Fireball Gummy Bears are exactly when you need this summer.  With just 3 ingredients, they're as simple as jello shots and much easier to eat!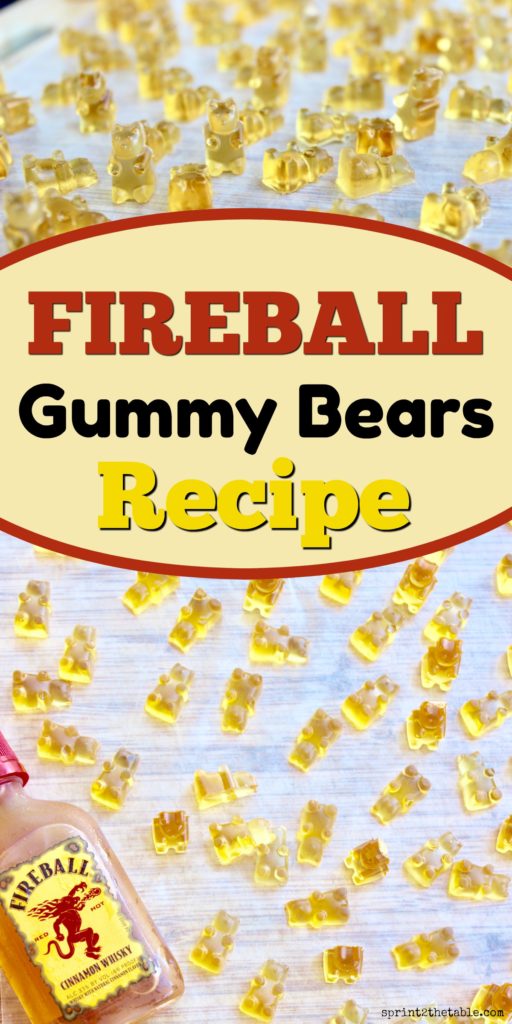 When I first heard that actual adults were drinking fireball, I judged.  We all know judging is wrong… I honestly hadn't even tried it.  Remembering the saying "don't knock it 'til you try it," I gave it a literal shot.
Here's the thing.  Fireball may sound trashy, but it's GOOD.  #sorryimnotsorry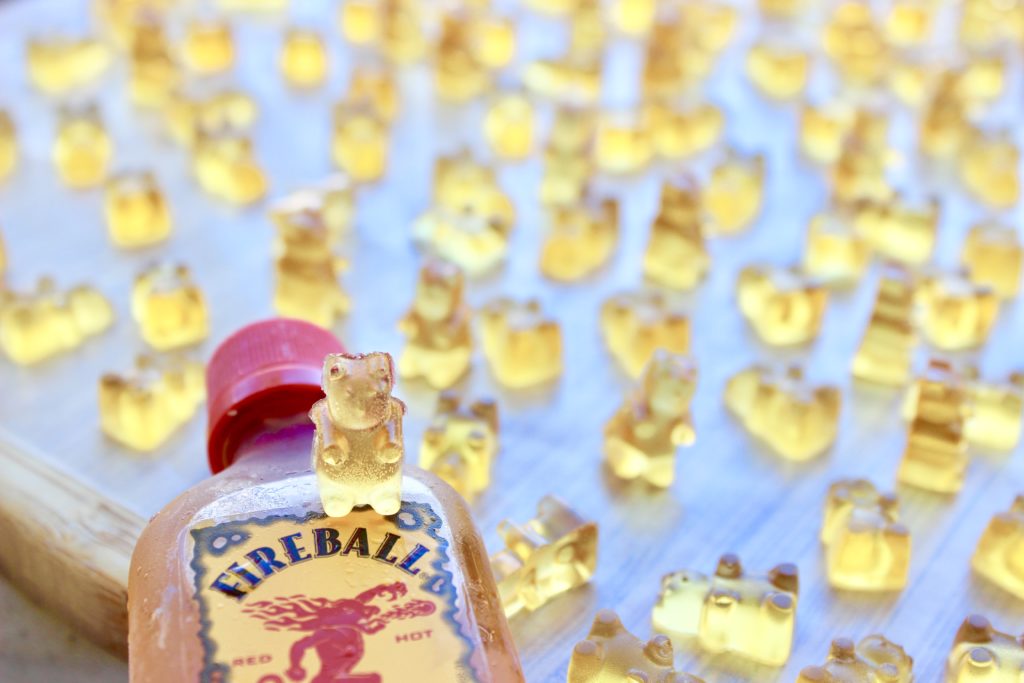 Fireball seems to have caught on even more in the past few years.  Since we always have a bottle in our freezer (I know, I know…), I decided to see if the cinnamon whisky could be eaten.  You see wine-based gummies all the time (I even made some).  So why not whisky?
I bring you Fireball Gummy Bears you can make at home!  Not going to lie – this is sure to be dangerous.  Gummies with a boozy, cinnamon-y kick of Fireball whisky is an addicting adult version of the childhood treat.  Who says adulting can't be fun?!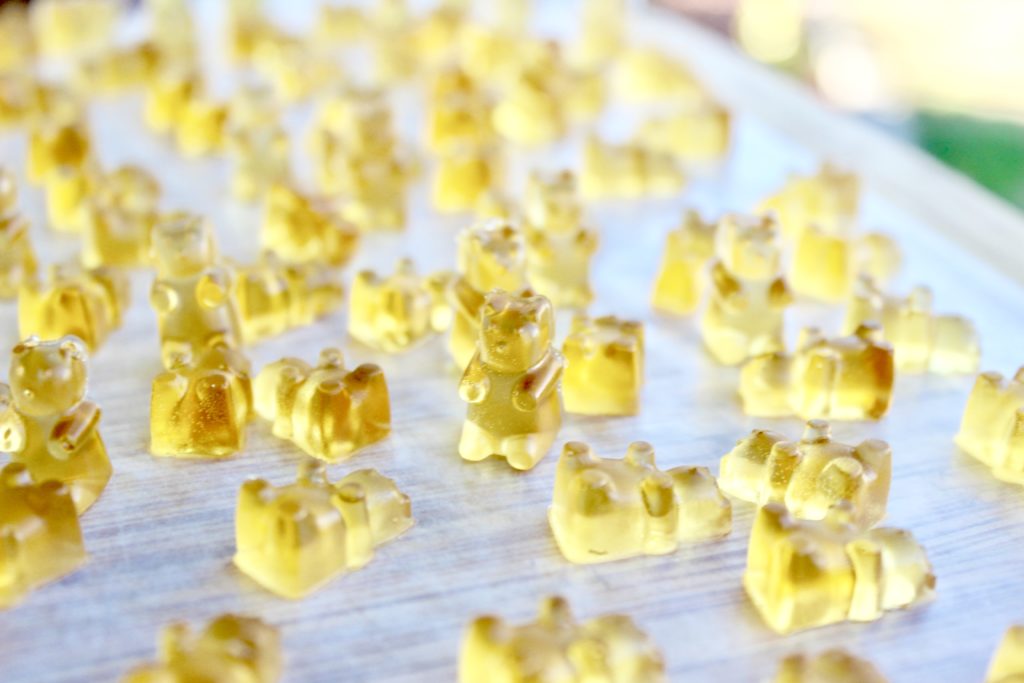 Don't be intimidated by homemade gummy bears.  Get some bear molds on Amazon, and get your gummy on.  You only need 3 ingredients!  You put at least this much effort into jello shots in college (or last weekend… no judgement here).
Bonus: they are much easier to eat than jello shots.  None of the weird tongue maneuvers to loosen the jello from the mini plastic cups.  Just pop a gummy in your mouth and go!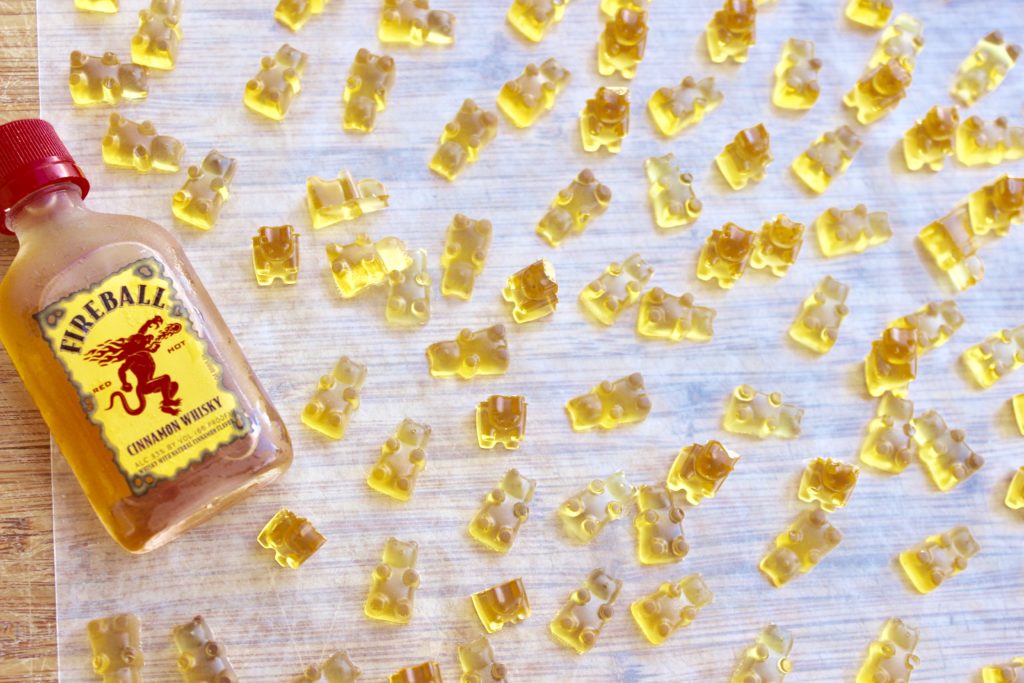 Warning: watch how many you eat.  I cook them slow, over low heat so the booze doesn't cook out.  You may want to house all 150 of them in one night, but you'll have some serious regrets in the morning.  I got a little tipsy just licking my fingers while making these!  Not that I'm complaining.
Like Fireball, these are best served chilled.  Store them in the fridge for best results.  Preferably out of your kids' reach.  These gummies are R-rated!
---
150 gummies
adjust servings
Make adulting fun again with these cinnamon whisky gummy bears!
Ingredients
1

C Fireball

1

T sugar

3

tablespoons gelatin
Instructions
Place Fireball, sugar, and gelatin in a saucepan over medium low heat. Keep it below 90 degrees if you want to retain the alcohol content (definitely don't let it bubble). Whisk for ~5 minutes, until sugar and gelatin dissolve.
Transfer the mixture to a glass measuring cup with a spout. Carefully pour over the molds. Using the flat edge of a knife or spatula, distribute the excess and ensure molds are filled.
Refrigerate for 45 minutes to an hour. When set, pop the bears out of the mold.
Store Fireball gummy bears in an airtight container in the refrigerator.
***
I always forget how easy these are to make.  We might need margarita gummies next!
Do you like Fireball?  Be honest…
What flavor gummy bear would you make?