I have a few confessions:
I abuse the 5 second rule… yet I'm not a religious floor-cleaner.
I ate a giant piece of flour-less chocolate cake this weekend.  It was sprinkled with flaky sea salt and drizzled with olive oil.  And it was worth every sugar-y calorie.
Sometimes rather than washing the sheets I just wash the pillowcases.
It's not unusual for me to "fluff" the laundry no less than 3 times.
My least favorite part of blogging is taking and editing pictures.  Can't I just Instagram everything?!
I spaced out and missed last week's Meatless Mondays from A-Z challenge.  Sorry Heather.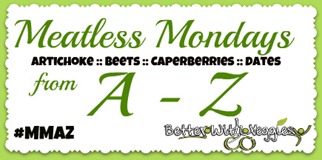 Last week's theme was edamame, which I LOVE.  I did link up a tasty old recipe – Edamame Jicima Salad – I still felt like I owed Heather a little something extra this week… so I went for the 1-2 punch with the ingredient themes.
You might remember when I did this with the Overachieving Cauliflower Crust Pizza.  I used all 3 of the first ingredients – artichokes, beets, and capers.
For my recipe this week, I made a gain salad of Kamut berries (see this post for more info on Kamut), edamame and figs.  Never one to eat a mild dish, I spiced this up with my favorite flavors: cilantro and sriracha.
I know there are a few of you who aren't fans of cilantro.  Basil or parsley would also work well here!
The figs may sound a little odd to add to this combo (another Strange But Good candidate?), but their sweetness worked well to tame the sriracha heat.  The slight sweetness of the edamame also had a cooling effect.  I am a texture feign, so I especially adored the chewy Kamut berries with the crisp edamame and soft figs.
I wanted to keep it vegan for Heather, but another great add here would be some Greek yogurt.  Kamut berries are high in protein.  The yogurt would give you even more protein, and also add a luscious creaminess.
Aren't figs gorgeous?
---
Workout Recap
It has been quite the workout week!  Monday's leg day with my trainer left me damn near paralyzed.  My second-day-soreness on Wednesday left me gripping the handicap rail in the bathroom.
BUT… it's paying off.  This exciting news this week came on Saturday (leg day #2).  I got the green light from my trainer.  I AM competing in November!!!!!!
No, I won't be to the point we want yet.  I'll probably be the leanest person there (read: too lean), but I'm going to work even harder to grow between now and then (and maybe have another piece of chocolate cake).  BAM.
Workout Recap (9/10 – 9/16):
Monday – Legs (w/ trainer), 2 mile walk
Tuesday – Rest, 2 mile walk
Wednesday – Back/Triceps, Calf raises, 3 mile walk
Thursday – Shoulders/Butt, 2 mile walk
Friday – Chest/Biceps, Calf raises
Saturday – Legs (w/ trainer), 2 mile walk, 50 push-ups
Sunday – Rest-ish… 2.8 mile sprints
---
Fig and Edamame Kamut Berries with Sriracha-Lime Vinaigrette
2SERVINGS, EASILY DOUBLED
adjust servings
Instructions
In a small bowl, whisk together cilantro, lime juice, oil, sriracha, and cumin to make the vinaigrette.
Place berries in medium bowl and toss with vinaigrette.
Stir in edamame and figs.
***
Time for important decisions… like what color should my suit be.  Blue?  Green?  Aqua?
What is your confession today?
Is your next-day or second-day soreness worse?