We are half way through the SP Cleanse! I have to say… I am surprised at how much I have enjoyed it.
What I have learned so far:
Eating clean does wonders for my energy level (hello, 7 mile run!)
It also helps me to sleep like a baby
I can be pretty creative with finding a variety of foods to eat
I like love spaghetti squash
My mom is a fun person to cleanse with (and is an amazing cook… but I already knew that)
When I don't eat enough/often enough, I get headaches and I over-eat
Carbs (even rice) at lunch cause me to crash hard at about 230p like clockwork
Lentils get old really fast (If I ever see another lentil again, it will be too soon.  No joke.)

I don't crave things I thought I would: pizza, beer, totchos, meat (except for lamb and pork, oddly enough)
Things I do crave are mostly healthy: oats, hummus, crusty bread, ice cream (weird – I am more of a cake person), red wine, good cheeses (mainly gouda and herbed goat cheese)

I actually do possess some self-control
The point of this was NOT to lose weight, but to cleanse my system and jump start some better habits.
That being said, I am down a few lbs and I am damn happy about it! 🙂
---
Ok.  I am about to post the best cleanse-approved recipe so far.
We had a roasted butternut squash in the refrigerator begging to be used. Despite our veggie diet, we had not made a good soup yet.
Hours after she ate this Butternut Squash Apple Soup, my mom kept saying "Laura, that soup was amazing."
(This really meant a lot – see above comment about what a good cook she is!)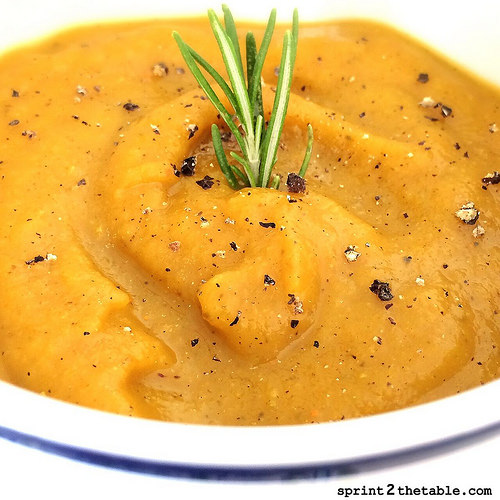 This recipe is on the sweet side due to the apples, but packs a little heat on the end thanks to the red pepper-infused olive oil.
Local product shout-out: I love Sweetwater Growers' infused olive oils. They carry them at Whole Paycheck Foods and Kroger in Atlanta – I'd be interested to know if you have seen them in other states!
---

Butternut Squash-Apple Soup
1 T Red pepper infused olive oil
3 Garlic cloves, minced
1 Butternut squash, pre-cooked and diced*
2 Apples, diced (I used Gala)
1/4 C Yellow onion, diced
1T Rosemary (fresh)
5 C Vegetable broth
1/4 tsp Turmeric powder
Salt to taste (I used 1/2 tsp)
Freshly ground pepper
Heat olive oil in large pot over medium heat.  Add minced garlic and roast until just beginning to brown.
Add pre-cooked* butternut squash, apples, onion, rosemary, and veggie broth and stir to combine.  Bring to a boil, reduce heat, and allow to simmer for 10 mins (until apple is tender).

Using a hand mixer or blender, puree ingredients.  Add additional seasonings – turmeric, salt, and pepper.  Mix and allow to cook 5-10 mins more.
Pour into bowls, drizzle with rosemary-infused olive oil, garnish with fresh rosemary spring, and enjoy!
Makes 4 servings

Notes: You can use regular olive oil and add red pepper to taste. Be creative with the seasonings!  I would love to try this with some cinnamon and nutmeg, or with so cumin and smokey paprika for a spicier soup.  Don't be afraid of the salt – it does a lot to bring out the sweet apple taste (I used a blend of sea salt and herb-infused).
*To pre-cook squash: Cut in half (soften in the microwave if too hard to cut).  Place cut side down in a baking dish and fill with ~1 inch of water.  Roast in 350 degree oven for 45 mins, or until outside skin is soft to touch.
***
Time for my experiment of the day: Will running errands in my running clothes mean that I will go to the river for a run before heading back home? 😉
Is your mom a good cook?
Do you like a sweet 'n spicy combo?