Today is a Piedmonte region day!  I'm excited to have a free(ish) day to wander around and explore (read: shopping).  This region is arguably one of the prettiest… and you know I'm on a truffle hunt.  
Alba's white truffle is considered the best in the world and they are in season now.  The winter black truffles from this region are supposedly incredible as well.  (But really… what truffles aren't good?!)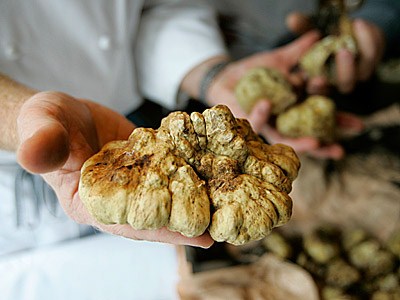 Not to be left out of the excitement, Sarah @ The Smart Kitchen has written an awesome guest post for today.  This girl is the most creative blogger out there.  She is the queen for turning the ordinary into extra-ordinary.  She's a huge inspiration for me (her yogurt creations inspired my own Sweet Potato Greek Yogurt), and makes me laugh with her morning-post musings.
______________________________________________________________________________
Howdy, y'all! My name is Sarah (aka Miss Smart) and I blog over in The Smart Kitchen… where sometimes I'm smart, and sometimes I'm just stumbling upon greatness.*
*In the case of the photo below…a pretzel and Nutella milkshake! 😉
I'm extremely honored to be guest posting for Miss Laura today, while she's eating and drinking (and celebrating and…singing? dancing? kayaking? what else does one do in Italy?) her way through Italy.
But, truth be told, guest posting can be uber-stressful.*
*Yes, I use the phrase "uber." I also say "dude" in real life.
You hope that when you "arrive" you'll be greeted like Belle at the mansion, and all the other bloggers (who may or may not be transformed into kitchen gadgets and housewares) will dance and sing and welcome you with open arms. But to do that, you've got to compose the epitome of post perfection…something to hook potentially new readers and blog friends* immediately and make them actually click over towards  your  blog home.
*I do not use the phrase "blends."
But that's futile. You'll like me or you won't.
So here's a picture of me eating a hamburger.
It was good.
Just like the rest of this post will be.
————–
Over on my blog [slash] in my "real life" I'm working on tackling a number of cooking and eating 'feats' as part of my Culinary Bucket List. One of those was to "start with dried beans" in a recipe. But after successfully making (and baking) a relatively 'traditional' [sans frying in oil, of course] falafel, I couldn't get an idea out of my head: Why stop with just falafel, when you could have falafel…
..on a WAFFLE!?
This recipe pretty much encapsulates me as a blogger: a mindset focused on "playing with my food" and a tendency towards the seemingly bizarre that somehow just…works. The fact that I was fixated on making a dish simply because it rhymed…well that just shows how I constantly feel like a small child trapped in a 27-year-old's body.
Also, I am obsessed with my food processor.
Although I could have just eaten my Baked Falafel on the not-to-sweet waffles I had purchased, I just had to be difficult (as usual) and reinvent the wheel. If there are chickpea fritters for afternoon and evening…why not bean balls for breakfast?
2 cups of chickpeas, soaked overnight* + 1/2 cup mashed banana + spices + honey
*Alton Brown says for falafel you must used soaked, uncooked garbanzos. I'm not going to tell him if you cheat.
Process until smooth…scraping the sides once or twice as necessary.

Once the dough starts to stick, you're ready! It will be pretty wet and goopy.

Set up a Henry Ford-inspired assembly line with a small bowl of flour in between your processor and your sheet pan.*
*Or your cutting board…if you are embarrassed by the state of your sheet pans and don't particularly want to photograph them.
Roll the Banana Falafel in the flour, just to get a light coating to hold them together.

Bake on a coated baking sheet for about 20 minutes at 350 degrees. The tops won't brown too much…

…but their bottoms will brown quite nicely.*
*Anyone else just get an image of the Coppertone sunscreen bottle with the baby and her bum?…No?  (Editor's note: yes… wasn't that Jodi Foster's bum?!)
What's Falafel on a Waffle without syrup, though?
Or in this case….Ta-honey Sauce?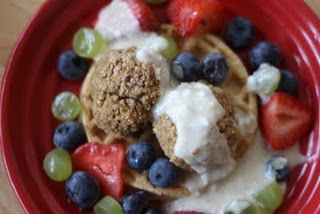 Also known as "another time I made up something based on a quirky name,"  Ta-honey Sauce is a mix without exact proportion of roasted tahini, honey, and yogurt and/or almond milk, warmed up a smidge in the microwave.
Let's just say…this is a breakfast worth eating.
And repeating.*
____________________________________________________________________________
Falafel on a Waffle
(Banana Falafel with Ta-honey Sauce)
2 cups chickpeas, soaked overnight (from approximately 2/3 cup dried)
1/2 cup mashed banana (1 small)
1 tsp. vanilla extract
1 tsp. ground cinnamon
1/2 tsp. ground nutmeg
1/4 tsp. salt
2 tsp. honey
1/4 cup flour
Waffles
Berries
Ta-honey Sauce (method follows)
1. Combine all ingredients (except flour) in food processor. Process until mixture holds together when squished.
2. Put flour into a small bowl.
3. Roll falafel 'dough' into balls—it will be very wet—and coat in flour to help maintain shape.
4. Bake falafel on a baking sheet prepared with cooking spray for 20 minutes at 350 degrees.
5. Serve falafel on waffles, topped with berries and Ta-honey Sauce.
To prepare Ta-honey Sauce: Whisk together approximately 2 Tbsp. tahini, 1 Tbsp. honey, 2 Tbsp. yogurt, and 2 Tbsp. milk to taste, heating in the microwave if necessary. Pour over falafel on waffles!
***
Isn't this lady a creative genius?  I wish I could think of things like breakfast falafel.
What's the craziest combo you've ever tried?
Do you like to shake up your breakfast or are you a creature of habit?