Facebook may lead to eating disorders.
Last week it was narcissism, this week it's eating disorders.  Poor Facebook is taking a hit!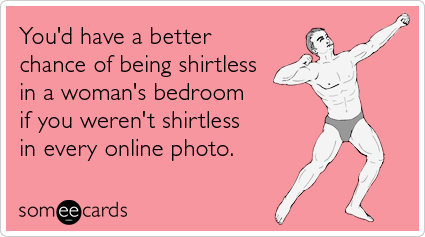 A new study that found that "51% of respondents felt more self-conscious about their physical appearance after looking at pictures of themselves on Facebook."  These Facebook users are checking out their friend's photos, which leads them to be more critical of their own physiques.
I don't know about this… you can compare yourself to other people just walking down the street.
Read the full article on Newser by clicking here.
 ______________________________________________________________________________________
Want to know how to feel better?  Eat some veggies!
Yesterday I asked you all to join me in the Green Giant Veg Pledge to add an additional cup of veggies to your daily eats.  Jenn @ Peas and Crayons is also taking part in the challenge, so this month her  What I Ate Wednesday theme is…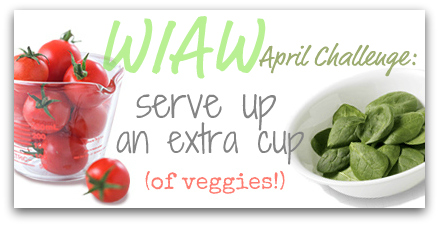 Check out my veggies below; then click here to see how everyone else incorporated extra servings.
Breakfast:
Do you ever wake up starving?  After Sunday's jam-packed day of softball and plyometrics, I was in need of an extra-filling breakfast.  I mixed this concoction and let it sit in the fridge to thicken (~15 mins) while I downed a glass of water and got the coffee started.
Those blackberries on top were incredible – the first perfect berries of the season!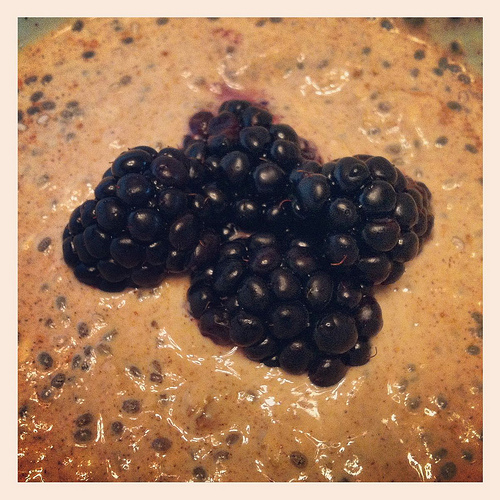 In my oat bowl:
Rolled oats
Chia
Greek yogurt
Chia seeds
Unsweetened almond milk
Vanilla extract
Cinnamon
Blackberries
Lunch:
I failed to take a picture of the final result… but here's what my veggie-centric lunch consisted of:
I am fully aware that gazpacho is easy to make yourself… but with my crazy schedule, Whole Foods' soup had to happen.  It was delicious with some red pepper flakes and avocado (unpictured) on top.
I devoured this with some spinach, broccoli slaw, and ak-mak crackers.  These crackers were new to me – they were delicious and reminded me of Wasa crisps.
Snacks:
It was a snack-y sort of day – handfuls of this and that here and there.  A few munchies:
Dinner:
I was starving by dinner time.  You know what that means…
All that remained were 2 strips of tempeh when I remembered to take a pic.  My cousin and I hit up a local vegetarian spot called World Peace Cafe for dinner.  It was my first time there, but certainly won't be the last!
That tempeh was sitting on top of a huge salad with shredded beets, carrots, and tomatoes.  On the left is a bowl that held a delicious mushroom–kale–lentil soup.  The crumbs around to bowl belonged to a slice of rye toast.  The tea pot in the background was filled with lemon-gnger tea.
We also split a piece of vegan chocolate-almond cake.  It was divine.
***
Adding veggies isn't so hard… I think I could eat edamame all day long.
Did you incorporate an extra veggie serving to your day?  If so, how?
Any thoughts on the Facebook story?  Do you think it's any worse than the millions of other way you can compare yourself to others?