My family loves a party.
To say the least.
Last Saturday would have been my dad's 59th birthday.  I froze him in my head at 52… it's weird to think he would have been almost 60 this year.  It may seem weird to some people, but we decided to have a little party in his honor with some close good family friends.
My dad loved people.  He also loved good food and good wine.  We made sure all were present!  We laid out snacks while prepping the grilled goods.  Cheese, crackers, soppressata, grapes, and figs:
I brought a bottle of wine I'd obtained from that time I hijacked a wine tour in Montalcino, Italy a few years ago.  I have a nasty habit of hoarding wine.  "Special" bottles stay in my wine fridge of way too long and I let them go bad.  Life is short!  Drink the good wine… and share it with those you love!
This bottle was perfect.  A 2006 Brunello di Montalcino from il Cocco, full of memories.
We drank more wine.  A bottle I brought mom from my recent trip to Burgundy – another delicious treat.
We made more snacks.  Heirloom tomato salad with cotija cheese and basil.  There was a balsamic reduction added post-pic.
Finally dinner was served.  We had a little bit of everything.  (Read: Mom and I are single-handedly keeping Whole Foods in business.)
I made my watermelon cotija salad.  We smoked lamb and salmon on the Big Green Egg.  There was bread.  Mushrooms sautéed in red wine.  More wine.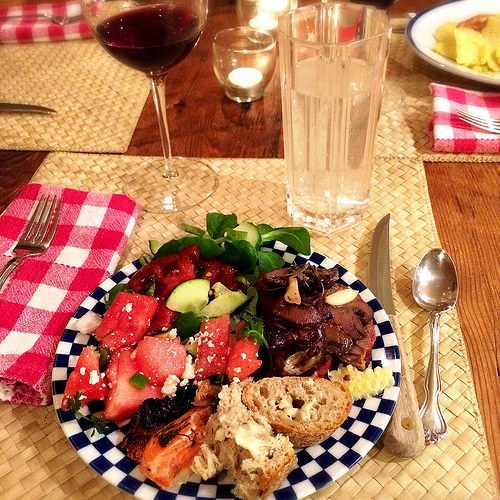 It was a marvelous evening, full of old memories blended with new fuzzy ones.
Sunday morning I miiiiiight have had a slight hangover (how much wine did we drink?!).  In lieu of bouncing out of bed to do my grocery shopping, I did a little shopping from my couch.  With coffee.  Lots of coffee.
I order a lot of staple items from iHerb – it's great for hard-to-find stuff and they have the best prices!  My order included: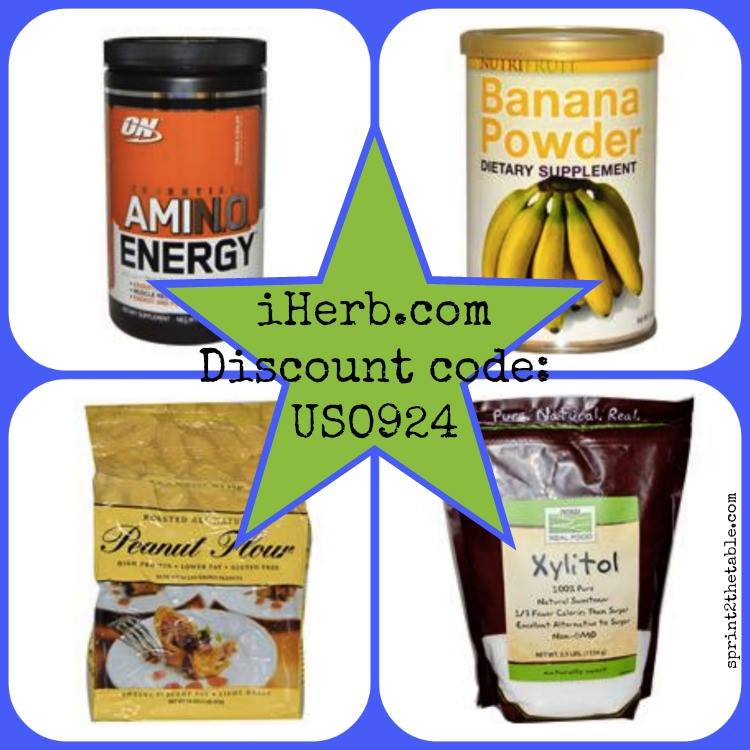 Aminos – Th

ey go in my "cocktail" every morning. Love the energy boost!

Banana Flour – This is new to me… looks too cool to pass up!
Peanut Flour – It's defatted peanuts. In the words of the hot sauce lady, "I put that shit on everything."
Xylitol – This is my favorite plant-based sugar substitute for baking. It's also good for the teeth!
Use my discount code – USO924 – for $5-10 off your order!
Having recovered from my hangover, I set out for my weekly grocery trip.  I hit Atlanta's massive Your DeKalb Farmer's Market.  Somehow I ended up in the wine aisle…
YDFM doesn't allow photos but I couldn't resist a pic of this:
Whaaaat?!  This might be worse than drinking white zin (which I admittedly drank the hell out of my Sophomore year of college).  I elected not to find out.  LOL!
***
My liver and I are actually glad it's Monday.
Does your family love to entertain?
What is your favorite wine?