Traveling a lot has made me pretty good at using up ingredients.
Despite the cool weather having gone by the wayside, I'm ready for fall and craving hearty soup.  My preference is a thick soup – to me, broth is often just taking up space in the bowl.
Exceptions made for really incredible broths, like the authentic ramen found at Yakitori Jinbei.  It's not your college 99 cent ramen.
This soup really is everything but the kitchen sink – I had lot of veggies, fresh herbs, and some vegetable broth to use up, along with some forgotten dried chickpeas.  Soups are the easiest way to get 'er done.
Don't be afraid to play with spices and herbs.  Add some garam masala and your soup can have an Indian flavor… or some cumin and chilis for a Mexican flare… or herb it up for an Italian feel… or get some white pepper and mustard powder (or even pour a bier in it!) for German warmth… most soups are like blank slates!
This was sort of unintentionally vegan, though I'm sure it would be good with beef broth and/or shredded chicken.  I also like grating cheese on top of warm soup.  The gooey nuttiness that ensues is particularly satisfying to me… like a melty grilled cheese.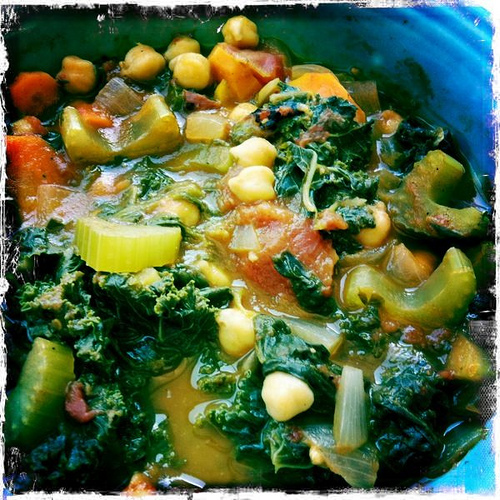 Bonus: I'll have soup waiting for me when I land tomorrow night.
_____________________________________________________________________________________
Everything But the Kitchen Sink Soup
3 cloves garlic
1 tsp olive oil
2 C vegetable broth (I used low sodium)
1 C water
2T apple cider vinegar
1/2 tsp adobo chili powder
1 T fresh thyme
~8 basil leaves
1 bay leaf
S+P, to taste
1 C cooked chickpeas
14.5 oz or 1/5 C diced tomatoes (I used Muir Glen Fire Roasted)
1 carrot, chopped
3 large celery stalks, chopped
1/2 medium yellow onion, diced
~5 kale leaves, torn apart
2 C spinach
In a large pot, saute garlic with olive oil over low heat until just turning gold.  Add broth, water, spices, and herbs, stirring to combine.  
Bring to a boil and then allow to simmer ~15 mins so that flavors combine and intensify.
Add veggies to mix broth.  Stir to combine and bring to a boil.  
Reduce heat to medium and simmer for ~20 mins, until veggies become tender.
Adjust salt and pepper to taste (I also sprinkled some red pepper flakes on mine).  Ladle into bowls and enjoy!
Makes 3-4 servings.
***
8 more days and I'll be in Italy eating lots of hearty soup creations!!!
What is your favorite "kitchen sink" meal or creation?
Do you prefer a thick or more broth-y soup?