Who doesn't love a grilled cheese?
Besides me at age 6… I didn't like cheese… IDK.
As strange as it is not to like cheese, I eventually grew out of it and embraced cheese's goodness.
Vegas and I got to attend a cheese a wine class as part of the San Diego Bay Wine & Food Festival a couple of weeks ago.  The class was called "Cheese: A Class to Make You Melt"… and melt we did!  How could you not when the class starts out with a plate of cheese a a generous wine pour?
The class was lead by cheese guru Laura Werlin and pairings were presented from Ferrari-Carano.
Side note: totally jealous of her hair.
So where does the strange bug good come in?  With her sandwiches.  She did a couple of simple things that I could kick myself for nothing thinking of on my own.
Chips and Queso Grilled Cheese.  You might guess the fillings – cheese, mashed avocado, bacon.  But the outside.  That's what made it.  She crushed chips, mixed them with melted butter, and used the chip butter on the outside of the bread to grill it.
*Stunned. Silence.*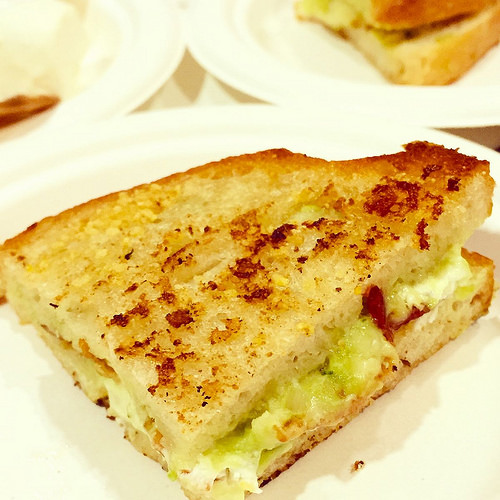 Did you ever pick the crispy burnt cheese bits off of a pan or edge of a pizza when you were a kid?  I loved it.  Still do.  So why not take that concept to a grilled cheese?
For her next brilliant trick, Laura added cheese to the butter on the outside of the sandwich to create the burnt cheese effect. The crunch on the outside and the yummy melty cheese and tomato jam… I could have rolled around in that deliciousness.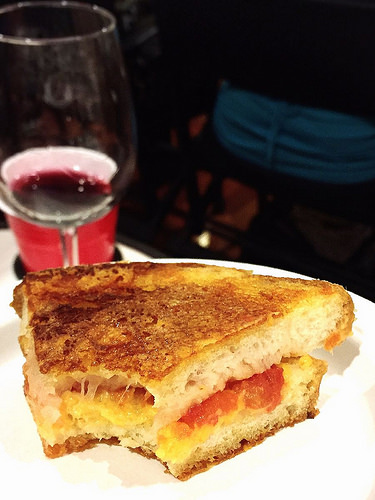 I won't oversell it, but I'll end with an final genius tip:
Cover pan while cooking your sandwich.  It keeps the air around the sandwich hotter, melting cheese faster so you don't have to cook too long and risk burning the bread.  
Whaaaaat?!
---
How have you enjoyed making co-workers, friends, or family stare with strange but good creations this week?  The link up rules can be found here or by clicking on "Strange But Good" in the menu bar above.  In short, I want to see what concoctions have earned you weird looks from co-workers, family and friends!  Post your Strange But Good creations, grab the logo below for your blog, and link up here.
Remember to use #strangebutgood in any Tweets and Instagrams of your creations. 🙂


***
I have a feeling this will be the winter of the grilled cheese at our house.  Vegas' eyes rolled back in her head.
Did you know the cover the pan trick?
What's your favorite addition to a grilled cheese?